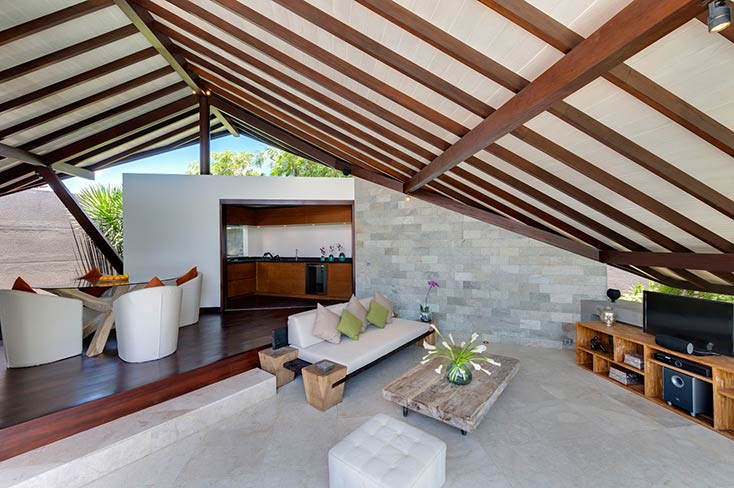 Burçem Bengisu I, Turkey
,
18-May-2023
-
20-May-2023
Exceptional - The villa was super cool. Very kind and helpful staff. Everything was great. It was our honeymoon and they decorated the room and the bathtub. Definitely recommended.
Liam W, United States
,
28-Dec-2022
-
04-Jan-2023
Fantastic holiday at the Layar - Tranquility in your very private ambient space plenty of room for 5 adults. Very friendly and cooperative service and excellent staff. We used Andi from Bali tour driver for 4 of our full day trips he was very knowledgeable accommodating and an efficient and safe driver so we would highly recommend Andi and a stay at the Layar
Donald F, Australia
,
21-Jun-2019
-
28-Jun-2019
A wonderful holiday with special thanks to your wonderful staff, thank you.
Inez Felicia, Indonesia
,
19-Dec-2016
-
21-Dec-2016
Decoration villa is unique yet comfortable. Its like living on the deck of a ship. And the privacy is good. We able to used accommodation transport from villa to Seminyak area in a day (drop off only) . Sometimes the tropical animals/insect usually come up in the night at the bathroom area. Overall the villa is very very comfortable, we can enjoyed our stay there. Hope we can back again.
Jenni O, Australia
,
05-Dec-2016
-
10-Dec-2016
Loved the villa - everything was superb Thank you.
Ben Callegari, Australia
,
04-Nov-2016
-
09-Nov-2016
Our first stay at The Layar exceeded our expectations. The villa was beautifully presented and designed. The gardens and pool were amazing. We loved the breakfast every morning, great selection and quality. We also really appreciated the free buggy service.
Deborah and Tony Wilson, New Zealand
,
20-Apr-2016
-
27-Apr-2016
Lovely friendly staff. Great location. We had an amazing time and would recommend the layer to everyone. Very romantic getaway.great large sized villa and beautifully designed.
Won Choi, South Korea
,
17-Apr-2016
-
21-Apr-2016
Our honeymoon stay at the Layar Resort was awesome and our experience there was memorable. We liked the interior design of our villa, not to mention the atmosphere of the pool and garden decoration with colorful plants and trees. Although the villas were located at the heart of Seminyak, we felt well rested in a quiet, natural, healing environment. All of the staffs are amicable and pleasant.
Kate F, Australia
,
11-Apr-2016
-
16-Apr-2016
Absolutely stunning villa. Felt like a newly developed villa complex. Lots of privacy and short stroll to the main Seminyak shops. Also was very impressed with the buggy service into town.
Mohd. Zamir Bin Syed Ahmad Ghouse, Saudi Arabia
,
23-Jan-2016
-
24-Jan-2016
Exceeds our expectations , we even asked for a swan float and it was ready in our pool the minute we arrive. Keep up the good work
Mr. Naresh S,
,
09-Jan-2016
-
12-Jan-2016
It's a gorgeous villa in great location of Seminyak eventhough it's not on the beachfront. The design is so unique. We had a wonderful stay here.
ZHI YONG C, Singapore
,
29-Dec-2015
-
03-Jan-2016
My wife and I stayed at the 1BR villa for 5 nights for our honeymoon and we were really glad to have chosen The Layar Villa to stay at. The villa itself was amazing, had an awesome pool, outdoor living area was great that comes with a full functional kitchen for cooking, The bedroom was really comfortable, and the outdoor toilet was awesome. The staff were really friendly and helpful in ensuring our stay was a smooth and pleasant one. The restaurant (settimo cielo) serves awesome breakfast too! Will definitely come back again when me and my wife visits Bali again. Thank you to all the great team and staff at The Layar Villa! Cheers, Zhiyong & Joey
Steven R, Australia
,
24-Dec-2015
-
03-Jan-2016
Villa very comfortable and clean- staff responded quickly to any needs when contacted, enjoyed that when do not disturb sign was on door this was respected by all staff, used in house spa service and found that to be relaxing and professional, Settimo Cielo - highly recommended and convenient to have on site.
Maurice T,
,
21-Oct-2015
-
24-Oct-2015
Marvellous and quiet one bedroom villa with a large pool and open bathroom! Really beautiful to unwind! Also, the food at the Italian restaurant Settimo Cielo was just mouth-watering. Overall, a perfect place to stay in Seminyak!
Yuxuan Si, China
,
18-Oct-2015
-
20-Oct-2015
Lovely staff lovely villas, surely will come again
Don M, Australia
,
18-Sep-2015
-
03-Oct-2015
A really well thought out facility. The villa is spacious, well appointed and include nice fittings such as door handles and taps. The staff were friendly and attentive. Nothing was a problem. Having access to the buggies was a nice touch and helpful. The pool area was really pleasant with a good variety of plantings. The frangipani trees and travelling palms are spectacular
Matthew M, Australia
,
05-Sep-2015
-
15-Sep-2015
The villa was not only beautiful, but pristinely maintained. All the staff at the Layar were so friendly and lovely, and went out of their way to enhance your stay.
Alex Cooper ., Australia
,
01-May-2015
-
09-May-2015
Absolutely stunning villa, beautiful gardens and well equiped kitchen. The staff were wonderful and very attentive, they really made our holiday so easy. I would recommend to everyone, it was paradise!
Rebecca G, United Kingdom
,
30-Mar-2015
-
02-Apr-2015
We so enjoyed our stay at Layar Villas - can't recommend it enough!
Katie Hornery, Australia
,
15-Mar-2015
-
20-Mar-2015
We absolutely loved it & we cannot wait to come back to show it off to our friends!!
Dirk H, Australia
,
15-Jan-2015
-
22-Jan-2015
Great location and great villa. The staff was very friendly and helpful even with arranging a doctor for some stitches... :-) we would definitely come back .... We had an amazing 8 days.... !!!
Amanda R, Australia
,
16-Dec-2014
-
22-Dec-2014
Loved it best holiday we have ever had in Bali staff great room was amazing.
Peter W, Netherlands
,
15-Nov-2014
-
19-Nov-2014
I stayed in the Layar for 4 nights and had an absolute fabulous time. The service and quality of the villa I stayed in was unmatched with any other hotel or villa I stayed in.
Jess D, Australia
,
21-Oct-2014
-
31-Oct-2014
Great Location - nice big spacious villa for a couple
Brooke / Michael and Erica Wedding, Australia
,
10-Oct-2014
-
14-Oct-2014
Staff were incredible! for the second part of my trip I booked another villa and ended up cancelling and coming back as the Layar was so great!Highly recommend.
Ivana Koller, Singapore
,
10-Aug-2014
-
18-Aug-2014
I have Great Time and will is perfekt
July Wardana, Indonesia
,
26-Jun-2014
-
29-Jun-2014
Everything is great. We have a wonderful stay.
Ronak Sethi, India
,
12-May-2014
-
16-May-2014
Perfect setting for our honeymoon! Couldn't have asked for anything better!
Vanessa O, Australia
,
10-May-2014
-
13-May-2014
One of the most beautiful comfortable villas I have ever stayed in, with everything to make a perfect holiday..
Marie C, United Arab Emirates
,
19-Apr-2014
-
23-Apr-2014
A wonderful stay at The Layar Villa. The location is perfect if you want to enjoy the Seminiak lifestyle and be close to all the entertainment area while staying in a quiet place and lovely house. The staff is very professional and helpful and does everything with a smile! Overall a great stay in a very nice environment.
Wolfgang K, China
,
03-Apr-2014
-
07-Apr-2014
Perfect place to relax. Very friendly and service oriented stuff. Recommendable!
Tamim Ataya, Australia
,
16-Mar-2014
-
20-Mar-2014
Lovely villa, Perfect for couple . Good privacy.Great architecture, spacious . Loved that the pool is expose to the sun and not in the shade. The tropical trees , waking up to the scent of the frangipani was magic.