Shousugi Chalet
The villa you chose is no longer available for rental from us but we have a portfolio of Elite Havens in various locations around South East Asia for you to choose from. Alternatively feel free to send us an enquiry and it'll be our pleasure to help you find the perfect villa for your next holiday.
4 Bedrooms
12 Adults
Nestled in Japan's exclusive St. Moritz neighbourhood, just one kilometre from the Hirafu ski lifts, Shousugi blends naturally into the surrounding environment and represents the rare occasion when form and function combine to provide the perfect four-bedroom mountain retreat experience.
Meticulously renovated in 2023, the subtle, chic luxury of the interior offers a sense of warmth not often found in modern homes. Large windows offer views of Mt Yotei, while a subdued colour palette and wood finish showcase the harmonious artwork that reflects the beauty of the mountains and silver birch trees outside. The chalet's considered design provides everything needed for a stress-free winter holiday or a tranquil space to enjoy in summer.
Shousugi's spacious living areas, homestead-style kitchen, a soft leather couch you can get lost in and other bespoke furnishings provide a sense of the warm comforts of home in a unique, luxuriously stylish setting.
With Hirafu just a short drive away Shousugi is an ideal base for winter adventures and summer fun. The lodge sleeps 12 adults comfortably with parking for three vehicles making it perfect for a couple of families or larger groups of friends.
The 10-seat dining table, open kitchen with a professional gas range and large deck makes it the perfect place for entertaining or indulging in one of the in-house catering menus provided by Niseko Gourmet. Come, find your space in this plush mountain home set amidst Niseko's serene surrounds.
Read more
This haven includes
Unique features

Cinema

Dry Room

Art Gallery

Bunk Room

Centralised Heating System
Location
Shousugi sits in a tranquil forest area of St. Moritz, an exclusive estate only one kilometre from Hirafu's ski lifts in Niseko, Japan. The chalet's location allows for easy access to Hirafu's world-class shopping and dining and at the same time is away from the hustle and bustle of central Hirafu and its nightlife.
Shousugi also has a variety of local restaurants and cafes within walking distance. In St. Moritz, Green Saso serves delicious coffee and Elements restaurant provides family-friendly dining. Internationally renowned Japanese tea company Lupicia has its flagship restaurant just down the road with an adjoining art gallery and bakery. The world-famous Gemtemstick Snowboard Shop is just across the road as you leave St. Moritz.
More information for Things to do
Shousugi Chalet's concierge team is on-hand to give you all the information you need. They can also make restaurant reservations for you (if availability permits) or help rent sports equipment as well as arrange ski lift passes. With our competent team at your service, leave all your worries behind. Though the area has a plethora of activities, here are our top choices for things to do in Niseko, regardless of the season you visit:

All year round
As Hokkaido has opened up to international tourists, the region has gained popularity for its pristine surrounds and the amazing local produce that comes from the land and the sea. Local and international chefs have flocked to the area to take advantage of these great products and Niseko has become a food lover's paradise. Shousugi Chalet is perfectly positioned to enjoy the fantastic restaurants from Annapuri to Hirafu and Kutchan. Options range from small yakitori shops run by old families to world-class fine dining restaurants.
For a bespoke dining experience, Niseko Gourmet can arrange for a special meal to be cooked in your own chalet by one of Japan's finest chefs. From a traditional sushi bar to an intimate sukiyaki meal, this is indulgence to the next level. Gourmet food delivery and grocery shopping are also offered in case you prefer to self-cater.
Acclaimed as Hokkaido's premier health and wellness destination, Niseko is blessed with a number of atmospheric thermal hot springs, known as onsen, renowned for their relaxation and rejuvenation properties. Head into Hirafu for Hirafutei onsen that overlooks the ski fields or further afield to Makkari Onsen with amazing Mount Yotei views.
Niseko's striking mountains and four distinct seasons has attracted many artists to the region over the years. There are many art galleries in the region showcasing local talent and artists from around Japan. Gallery Ram is nearby at Lupica and nestled in the Hanazono Hills is Somoza Gallery, built in a 150 year old farmhouse displaying artefacts from Hokkaido's first settlers and art from around Japan.
For a night out around town, we suggest heading to cosmopolitan Hirafu Village and sampling rare Japanese whiskies at Bar Gyu or the vast selection of Japanese craft beers at Mick's. If you still have energy left, be sure to check out Wild Bill's for live music and late-night DJ sets.
The Nikka Yoichi Distillery is a popular place to visit and learn the workings of the world-renowned whisky's first distillery, opened in 1934. Some use it as a halfway point to Otaru, the quaint harbour city known for is well-preserved canals, café culture, glassworks, music boxes and street side stalls plying amazing seafood.
For something more urban, Sapporo City is abuzz 24/7. Japan's fifth largest city is known for its wide, tree-lined boulevards, ramen and great beer, as well as the annual snow festival in February featuring art and sculptures made of snow and ice, including snow slides.

Winter 
Widely acclaimed as Japan's powder playground, Niseko enjoys an average of 15 metres of snow annually, which, combined with fabulous infrastructure and a buzzing international vibe, makes it one of the most sought-after winter experiences in the world. Here are some tips to make the most of your stay in the snow season.


Shousugi Chalet is just a short distance away from the ski lifts in Hirafu so getting on the slopes in the morning is a breeze. Niseko Village is also just around the corner and is recommended for beginners, or for the more advanced skiers there are great powder lines early in the morning.
Gentem Snowboard shop is five minutes walk from Shousugi Chalet. The snowboards sold in this shop are works of art. Uniquely designed specifically to handle Niseko's deep powder snow, they are amazing to ride, and look fantastic too. The earlier models are fast becoming investment pieces. There is a café there as well so you can sit and contemplate which model you want.
Driving a snowmobile is an exhilarating way to explore Niseko's incredible scenery. From adventurous guided tours speeding down forested trails to skidding along the snow on a raft, there are plenty of options available for safe and exciting family fun.
For those more adventurous, we can recommend Niseko's specialist mountain guides. Hiking up Mount Yotei and skiing powder snow down into the caldera is a rare and rewarding experience you will not forget.
How about whisking across the sparkling snow on a reindeer sled just like in fairy tales? This is one experience the kids will cherish. The whole family can also join a jumbo sled tour, on a custom-designed snowmobile sled which seats up to six people.

Spring and Summer 

As the snow melts, the landscape explodes with wild flowers, making Niseko the perfect base for hiking. Enjoy the crisp clean air as you ramble across the moors or climb Mount Yotei to enjoy a 360-degree panorama from the trail that winds around the caldera.
Autumn in Hokkaido is a special time, as the leaves change colours across the countryside. It is the perfect time for a hike or drive, taking photos to capture the unrivalled beauty of Hokkaido's autumn leaves.
Play a round of golf while enjoying glorious scenery and spectacular views of Mount Yotei at Niseko Village Golf Course, which was named Japan's Best Golf Course at the World Golf Awards in 2014.
Treat the whole family to a day of fun at Pure at Niseko Village – a nature activity centre with the longest zip line in Japan. You can also enjoy horse riding, panoramic views of Mount Yotei and the Niseko mountain range from a hot air balloon. The little ones will love 'Pure' Adventure the park's newest attraction, which has an inflatable playground, filled with mazes and slides.
Regularly hosting Japan's largest cycling race – the 'Tour de Hokkaido' Niseko is a popular cycling destination with a wide variety of trails suitable for all levels, including exhilarating downhill mountain trails via gondola. Got something more leisurely in mind? Quiet country lanes are ideal for gentle family biking.
Picturesque lakes and rivers make fresh water fishing, canyoning and rafting popular summer pastimes. Shiribetsu River offers some of the best rafting in Asia and you can expect stunning alpine scenery and crystal clear water. Alternatively, head to the nearby Shakotan Peninsula where sea kayaking reveals a magical ocean colour known as Shakotan blue.
LEAVE THE PLANNING TO US
Shake off the stress of holiday planning. Let the Elite Concierge take care of all your bookings and arrangements, from transport, tours and restaurant reservations, to any special requests for your arrival. We're here to make your holiday experience extraordinary.
Quick facts
Location
St. Moritz Kabayama, Niseko, Japan.
Capacity
12 adults (Three ensuite bedrooms: one king, two with twin beds (one of which is air-conditioned) and bunk bed room for 6 adults).
Living Areas
Large open-plan lounge; dining area; dining table for 10 people; homestead style kitchen, opulent bespoke furnishings, stunning artwork throughout, dedicated theatre room.
Staff
Greeter upon check-in (8am to 6pm).
Dining
Shousugi is self-catering. A private chef may be booked in advance for a unique in-house dining experience, or a hamper can be ordered for delivery (upon guest account). Please visit
Niseko Gourmet
for further information.
Communication
Wi-Fi broadband internet access.
Entertainment
Theatre room; Sonos home audio system
For Families

Shousugi is ideal for families, with the open living areas offering space to connect and discuss the day's adventures. The theatre room downstairs allows kids to enjoy screen time in their own space. A large garden in a low-traffic estate. Fun-filled cultural activities can be booked in advance.
Transport
Shousugi is located one kilometre from Hirafu village, a short drive from a wide selection of restaurants, shops and entertainment venues. The property has three outdoor car parks.
Additional facilities
Secure dry room; washing machine; floor heating; outdoor deck; barbecue.
The layout
This chalet features:
Open plan living area with heated floors and large windows
Four spacious bedrooms including a bunk bed room for six
A dedicated theatre room for movie nights after a day on the slopes
Stunning interior design showcasing bespoke artwork
Opulent leather furnishings blended with modern comfort
Considered and functional layout suited to a ski resort
Direct street-level second entrance to secure drying room with boot dryers
Large windows with stunning views
Homestead-style kitchen with a professional range
Large 10-seat dining table for delicious meals shared family style
Spacious deck next to the dining area
Large garden area, surrounded by silver birch trees, perfect for families with kids
Outdoor parking for three vehicles
Five toilets including ensuites
Quiet, exclusive area 1km from the ski lift
The rooms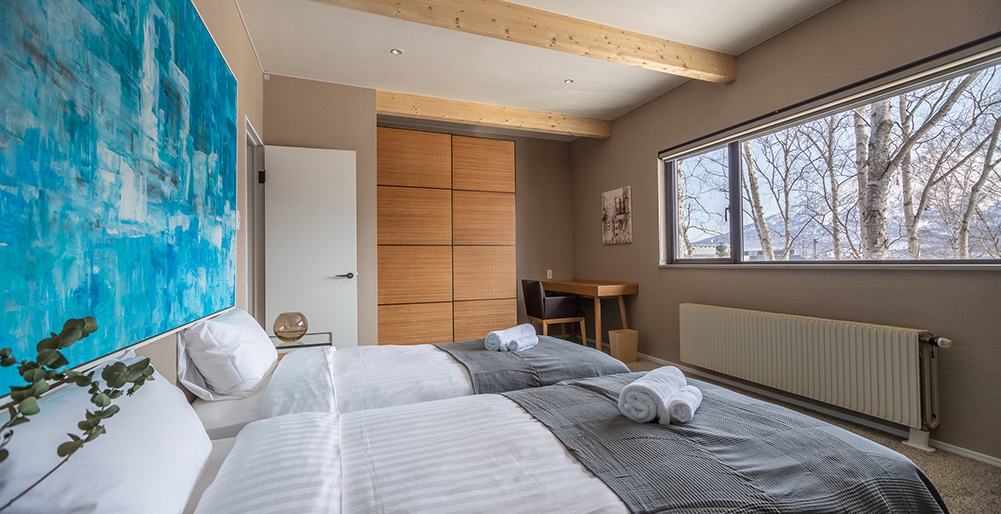 Bedrooms
King-size ensuite master bedroom with sweeping views and a beautiful feature wall
Large second ensuite twin bedroom
Third ensuite twin bedroom
Six-bed bunk room, ideal for large groups
Indulgent bathtub in the ground floor bathroom
Dining
Each elite haven in Niseko is self-catering. With a gorgeous fully equipped modern kitchen at your disposal, you will be tempted to stir up your favourite dishes or perhaps something for the little ones. Our partner, Niseko Gourmet offers provisioning services wherein handpicked Hokkaido produce will be brought to your doorstep, along with all the groceries you need.
However, a day on the slopes can get tiring. If you're not in the mood to cook, why not order in a gourmet meal? Choose from Niseko Gourmet's tempting menu and enjoy delicious food in the comfort of your living room. For an indulgent experience, ask our Concierge to set up a Niseko Gourmet dinner in your chalet. Sit back and relax as a master chef cooks up a storm within your holiday home and serves you delectable meals including a live display of handmade sushi or an intimate sashimi, tempura & soba noodle experience. Extravagant five or seven-course dinners for adults and two-course dinners for children can also be prepared.
If you feel like heading out, you'll be spoilt for choice with some of the best restaurants in the area a stone's throw away. Niseko has a flourishing food scene, with exciting bars, smart eateries and even some fabulous food trucks for a quick bite. Our Concierge will be happy to offer guidance about the best places to eat around your chalet, depending on your personal preferences. They can also make reservations on your behalf, if availability permits.
Visit Niseko Gourmet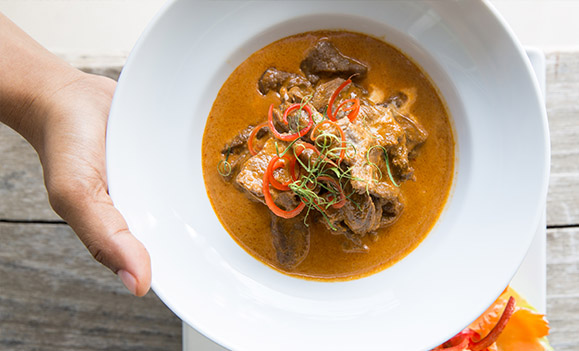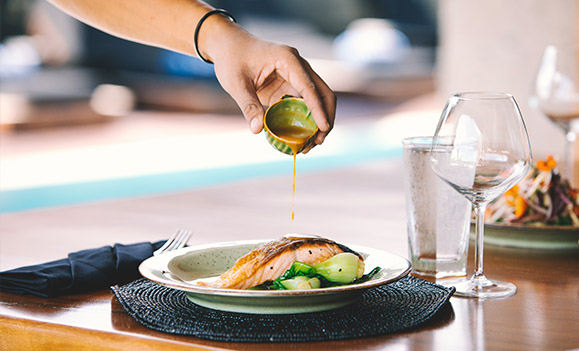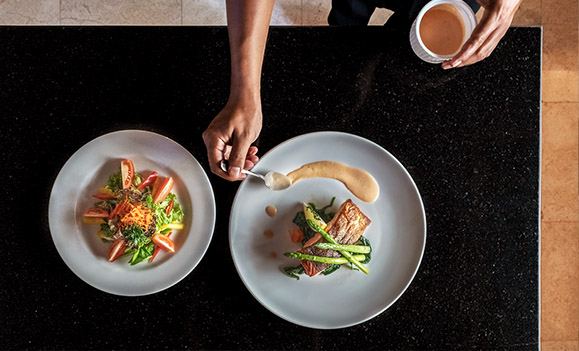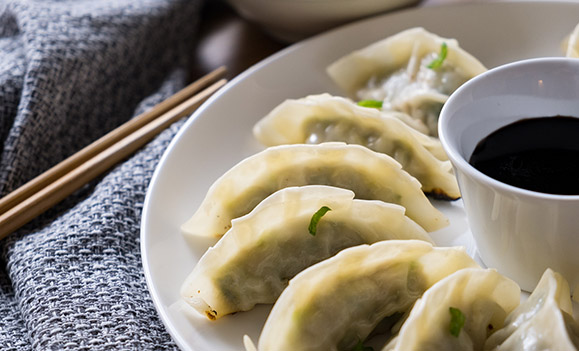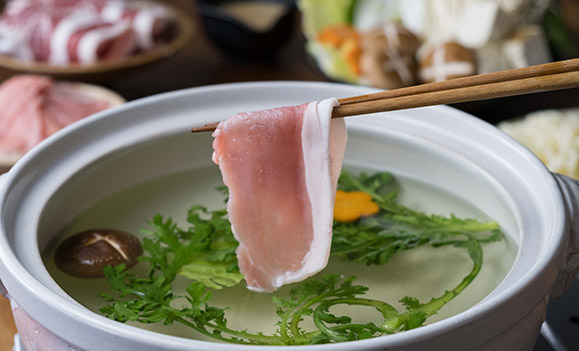 Need more inspiration?
We're at your service