Going on a holiday with the family is all about making lasting memories. Choose one of our family villas in Koh Samui for your next holiday and make memories for a lifetime. Aside from the host of facilities for everyone to enjoy, our villas' spacious living areas, accommodating in-villa staff and the many outdoor activities to revel in and make the whole trip all the more delightful.
Here's our pick of the 10 best family-friendly villas in Koh Samui:
1. Tawantok Beach Villas
With 10 bedrooms in total, Tawantok Beach Villas is a stunning beachfront property. The twin, mirror-image villas, Villa 1 and Villa 2 contain master suites with mezzanine bedrooms within them, making ideal family suites. Expect astonishing sea views throughout your stay thanks to the glass walls and experience relaxed socialising in the living-and-dining areas, with large rustic tables and comfortable sofas. If you prefer open-air, tropical lounging and dining, there are two spacious salas next to the water and for active guests, the villas share a well-maintained tennis court. With direct beach access and friendly in-villa staff, what more can you ask for?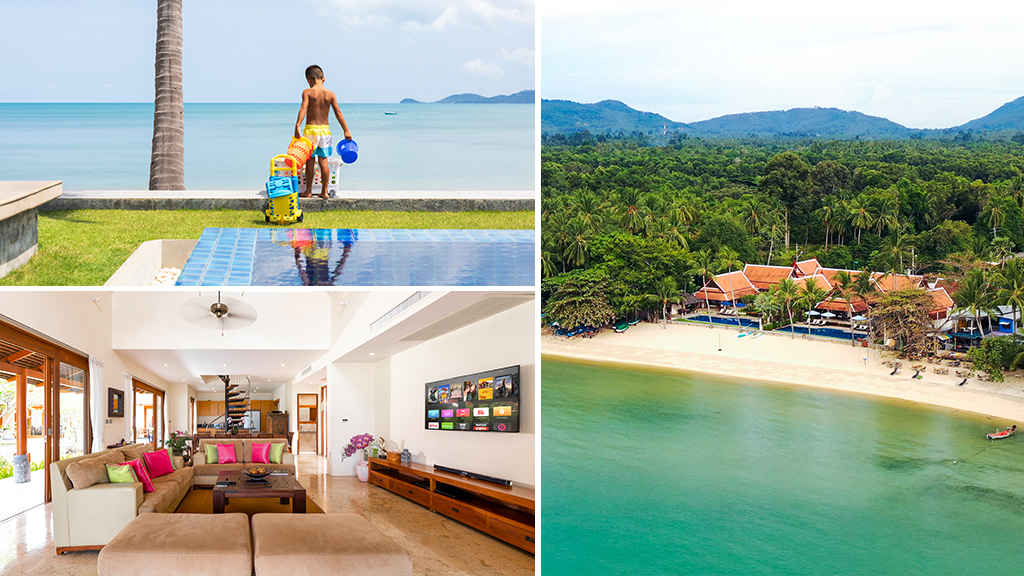 2. Suralai
Suralai is a Thai-style six-bedroom property located on Bophut Hills, north coast of Samui. The villa houses six ensuite bedrooms, all of which are appointed with a king bed. This fully staffed family villa in Koh Samui is equipped with gym, modern entertainment facilities, show kitchen, breakfast bar, barbecue facilities, Thai-style sala and a 25m swimming pool.
3. Ban Suriya
Feel at home when you stay at six-bedroom Ban Suriya. With six generous ensuite bedrooms that are capable of sleeping up to 16 people, this villa is made for families. Keep your loved ones entertained with the well-stocked library, computer room, video and games room and the open-air cinema for a different kind of movie experience. The large dining room will surely bring everyone together while feasting on delicious meals prepared by the professional chef. Truly a home away from home nestled in the tropics.
4. Villa Riva
Villa Riva is a seven-bedroom, staffed villa in Koh Samui's Laem Noi district. With access to a semi-private beach, the villa also contains seven ensuite bedrooms, spread across three Thai-style pavilions. There's no dearth of entertainment with a gym, massage room, dry sauna, a 32-metre freeform infinity pool, and home cinema.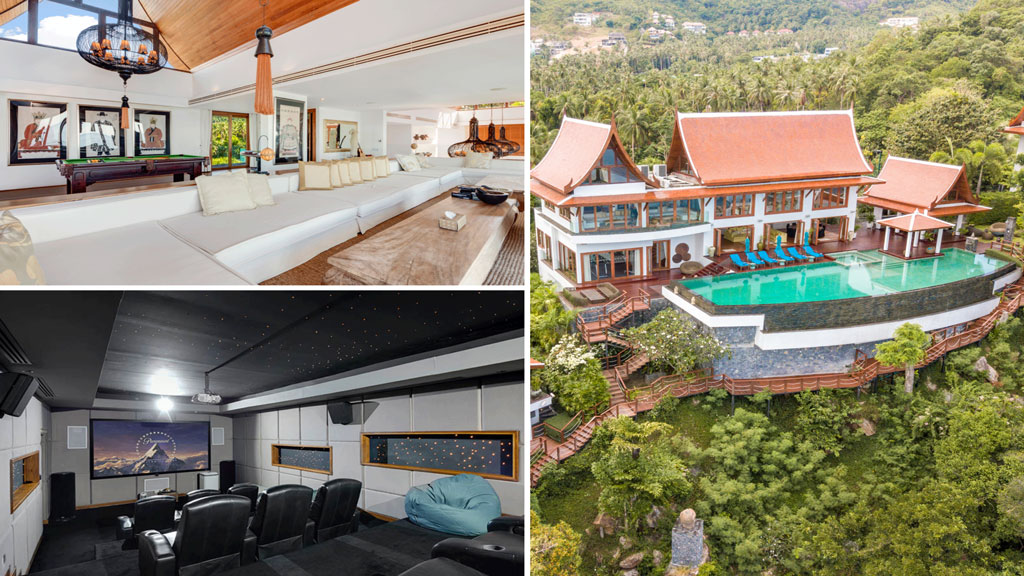 5. Element of 8 at Cape Laem Sor Estate
Element of 8 is an exceptional pool villa with six ensuite king bedrooms set in a spectacular hillside location on Koh Samui's unspoilt south-west coast. Breathtaking sea views and stunning sunsets define this fully staffed villa which will appeal to groups of up to 12 + 2, as well as wedding planners.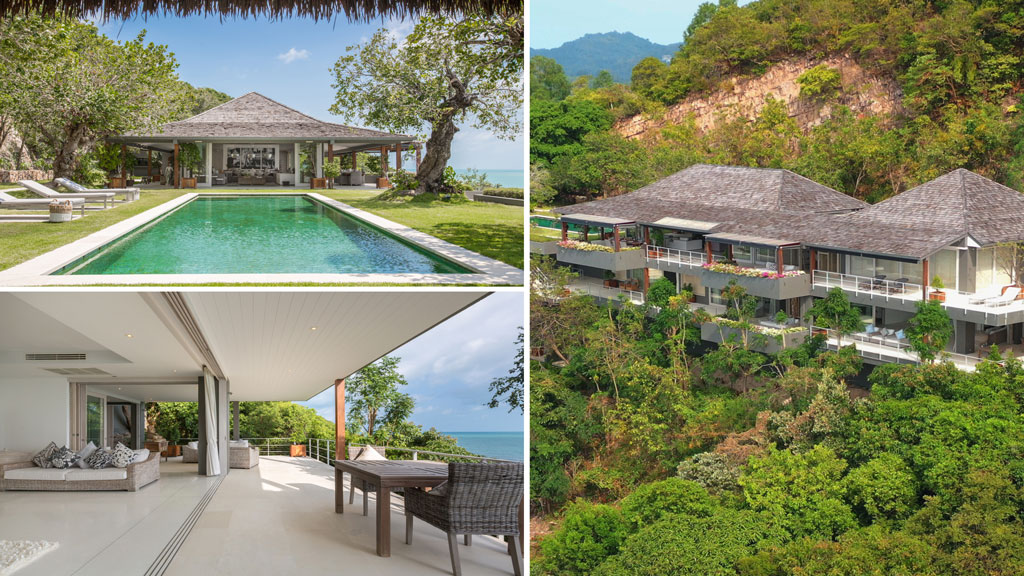 6. Baan Puri
Exuding beachside living at its absolute best, six-bedroom Baan Puri is the place to be when looking for a get-away-from-it-all kind of experience. It has six ensuite bedrooms, where attention to detail never fails to impress, opening either onto the beach or to the long rectangular infinity pool that stretches towards the sea. A dazzling pool and manicured lawn slope down to the powder white sand beach with safe, shallow water bringing peace of mind to parents with young children.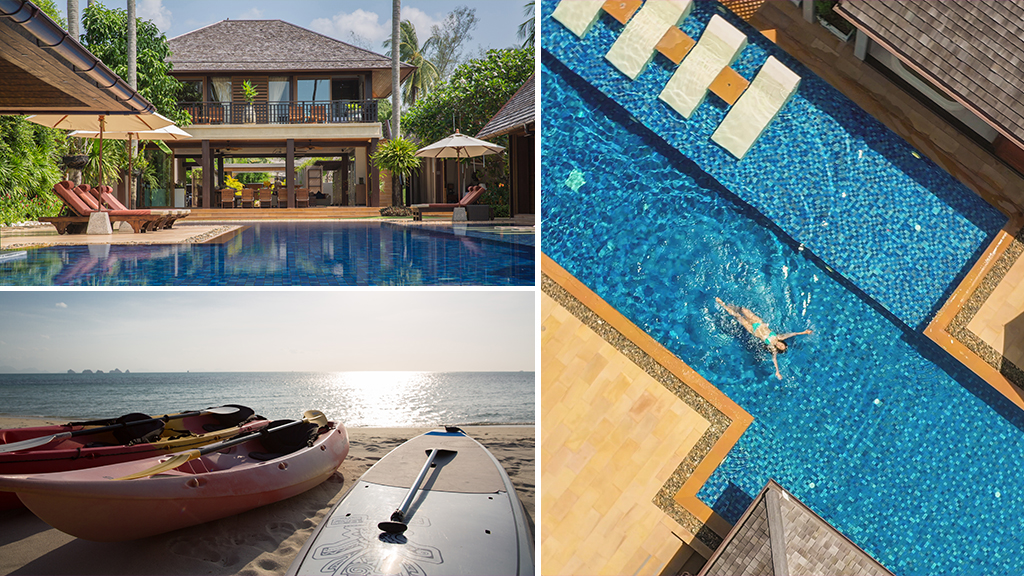 7. Villa Chi Samui
With a beachfront location and long infinity pool, five-bedroom Villa Chi Samui has a whole lot to offer families with young adults. Flawless indoor-outdoor living areas are bordered by coconut palms and fragrant frangipani trees. Enter a state of calm as you step through a double wooden gate and be greeted by a meditative statue of Lord Buddha. Low-rise pavilions housing the main living and dining areas lead to a wide beachside deck overlooking the magnificent sea. With airy living pavilions and a plethora of entertainment options such as a billiards table and jacuzzi, this is the perfect party pad.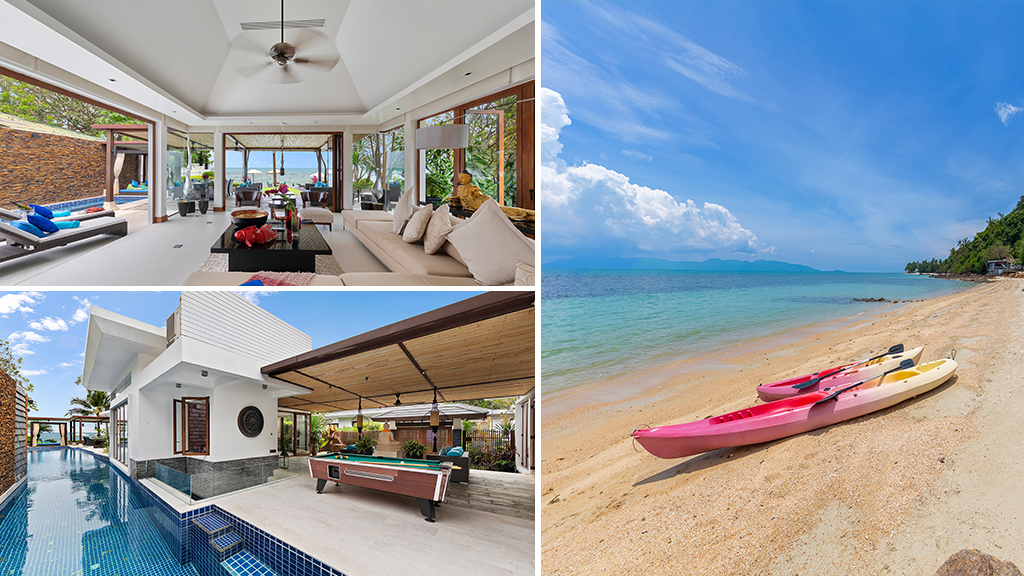 8. Villa Waimarie
It's hard not to want to be outside all the time at a place like Villa Waimarie. There's a glittering 15-metre beachside pool, panoramic ocean views, a large shady sala next to the pool and a poolside lounge. Come back inside and rest your tired bones in any of the six ensuite bedrooms, configured between three cottages, each with a connecting door so that families can stay connected while having their own private space.
9. Akuvara
Modern and well-kept, four-bedroom Akuvara is a glass-encased abode that takes full advantage of delightful sea views. Families will love the 13-metre infinity view pool, spacious poolside deck and beachside sala. Experience the same fun indoors with entertainment options such as a TV and video room, iPod and iPhone docking system and a library for those who would want to catch up on their favourite novel.
10. Inasia Beach Villa
From low-rise beachfront garden villas to three-level ocean view retreats, Inasia Beach Villa is more than ready cater to your family's every need. With separate living and dining areas at the heart of the beachfront garden villa, you can enjoy the serene L-shaped infinity pool and the lush lawns that gently slope down to the beach. And don't forget the breathtaking view that stretches beyond the soft sands, making your family beach holiday an unforgettable experience.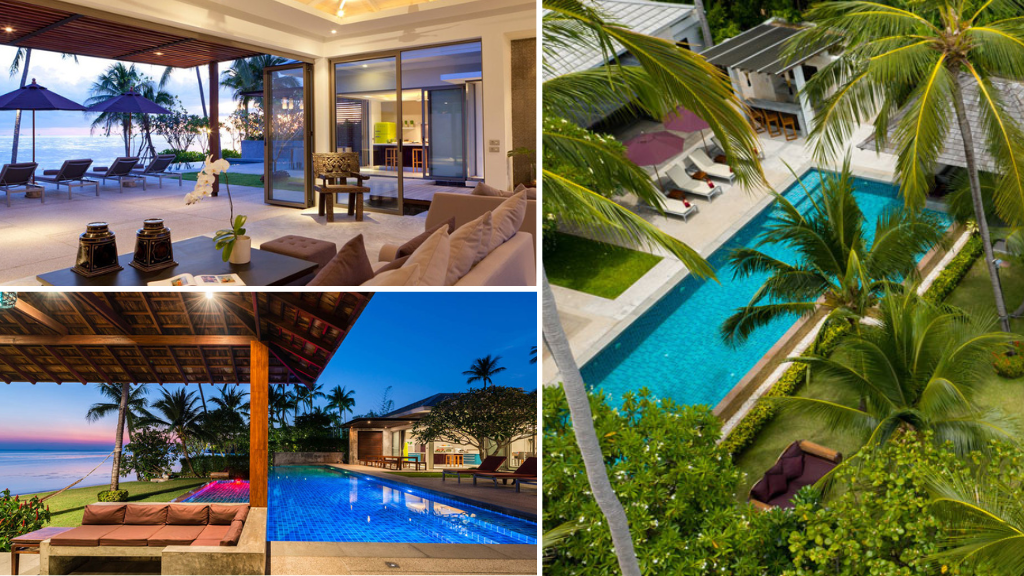 11. Villa Sila Varee
Villa Sila Varee – where luxury meets tranquility in an exclusive, secluded haven. If you're looking for an ultimate escape, Villa Sila Varee is here to cradle you with sophisticated relaxation, barefoot luxury, and unrivaled privacy for families or groups of friends. In here, you can embrace nature and savour panoramic ocean views from every corner of this enchanting villa.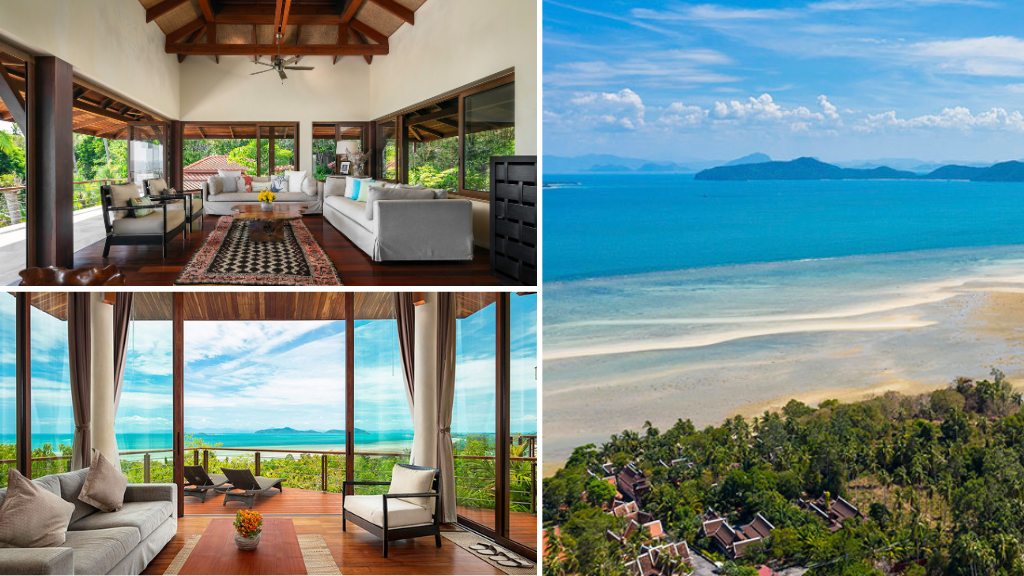 12. Villa Solana

Create memorable family movie nights in your private cinema or engage in epic gaming showdowns in the opulent wood-paneled games room, complete with a lounge, bar, and a spacious TV for sports and event screenings. Villa Solana also houses to a fully-equipped gym, rejuvenating sauna, and steam bath. In the evenings, the family can bask in the serenity of the pool terrace, all set against the backdrop of the endless sea and the soothing rhythm of waves caressing the beach below. It's your family's oasis of delight.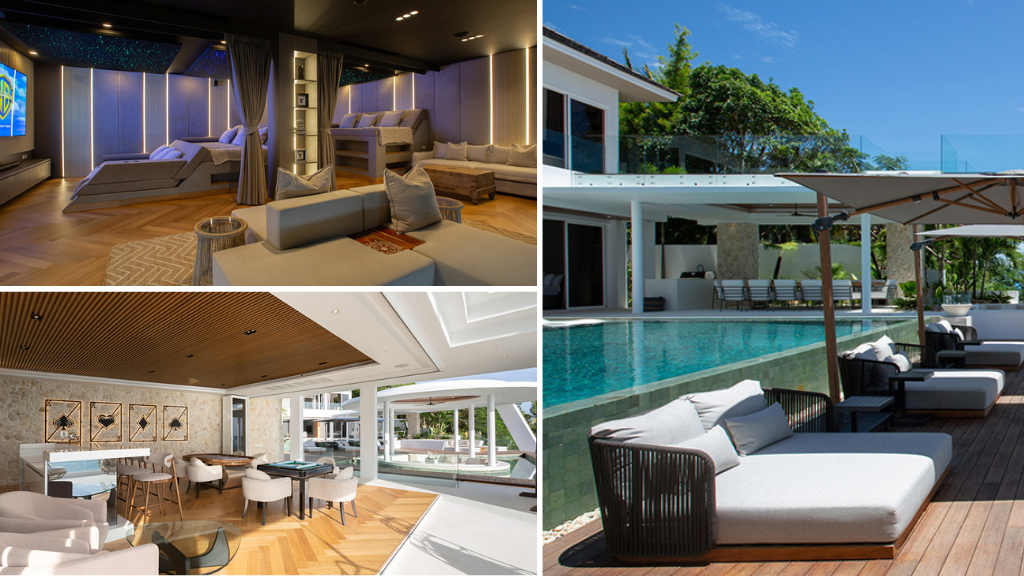 Excited to plan your Koh Samui trip? Treat your favourite people to the ultimate holiday getaway and head to Koh Samui for a fun family staycation.