Planning a trip to Japan with the family and weighing the pros and cons of various accommodation options? Here are 7 top reasons why you should book a chalet in Japan, instead of staying at a hotel in Niseko (and surprisingly, affordability is one of them):
Space
Japanese hotel rooms are notorious for being rather small and cramped, though thankfully this is slowly changing in recent years. This is especially true for Niseko where the luxury traveller has demanded larger rooms but they come with higher rates. Nevertheless, unless you're in a penthouse, most hotels will not be able to beat the space afforded when staying in a luxury chalet.
Consider a romantic one-bedroom holiday home such as SeiSei. How about a two-bedroom family chalet like Casi67 West? Or a spacious three-bedroom chalet such as Yamabiko to fit in your entire group. With plenty of room to spread out, you will not be left wanting for space.
Family Friendly
When you're travelling as a family, hotel prices can stack up quite quickly. Instead of booking multiple rooms in a hotel, choose a chalet where your entire family can be accommodated. Chalets also offer the luxury of a living room, full-service kitchen, drying room, fireplace and private onsen (some!). The last three are a very welcome perk for alpine winters. Access to a kitchen lets you cook for the little ones or fry up a quick breakfast before you hit the slopes. A separate play area for kids is godsend as is the option of putting the kids to bed and relaxing in the living room with your partner at night. Picture this: you and yours, cosy with mugs of hot chocolate (or mulled wine – we won't tell) in front of the fireplace, by the picture window watching the snowflakes fall this December. Only possible in a private luxury chalet in Japan.
Privacy
Niseko can get busy. On the slopes, and in Hirafu or even Kutchan town. Thus it is all the more important to have a space to retreat to after a day of jostling with the ski crowds. Your personal chalet in Niseko offers privacy to spend quality time with friends and family. That too, without worrying about prying eyes, or about the kids making too much to disturb other guests.
You can gather in the living room and recount your day, or play games in the media room such as this one at Olaf House. Pitch in to cook a delicious meal together, or simply order one via Niseko Gourmet. Set the kids free outside to build snowmen and make snow angels in the garden, as you watch over them. Live out your dream holiday, the way you want to.
Kitchen & Dining
All of our chalets in Japan come with fully equipped kitchens. You'll be able to make the best of Hokkaido's stellar produce: from succulent seafood to rich dairy and marbled meats. Take it home and cook up a gorgeous meal for the family.
If cooking is not your thing, sit back, relax and let Niseko Gourmet do all the preparations and cooking for you. Their professional chefs will serve a delicious multi-course meal in the comfort and convenience of your dining room, like this stylish space at Mizunara. You can also order food hampers or avail of their grocery stocking service, so the home can be stocked with staples such as milk, coffee, eggs and bread for your use.
Location Location Location
Step off the tourist circuit. Our chalets are located in a variety of settings to suit different moods. In the heart of the town, within walking distance from bars, next to the ski slopes or even in the middle of a forest. Chalets offer the opportunity for adventure beyond the hotel clusters and for you to see different parts of Niseko.
You could have the floor-to-ceiling views of Mount Yotel at Seshu Chalet, be in the heart of nature at Birchwood, or be within walking distance of Hirafu's most happening restaurants and bars at Gouka. All you have to do is step out of your front door. If you're concerned about getting to and from the slopes in the wintertime, never fear, Elite Havens has a complimentary shuttle service to take you to the base of the mountain and pick you up when you're done. This service runs from 8am – 6pm in winter, so you could even use it for aprés ski drop-offs to an onsen or watering hole in Hirafu.
Facilities & Service
Are you a seasoned winter traveller, or a parent travelling with kids (or both!)? Then, you'll know that in a hotel room, there is never enough space to unpack your luggage and gear or dry them after a day out on the mountain. What to do with all the coats, scarves, salopettes, ski boots, balaclavas, gloves, socks and hats? But in a chalet, that concern is gone with the wind. Most luxury chalets in Japan, like Ukiyo, offer not just storage and drying rooms, but also laundry facilities which include a washing machine and tumble dryer. Other things one might appreciate in a chalet? How about a barbecue to char-grill those melt-in-the-mouth Hokkaido Wagyu and Makkari pork steaks? Don't worry about the cleaning and tidying up, most chalets have housekeeping services every other day, so you'll be well taken care of.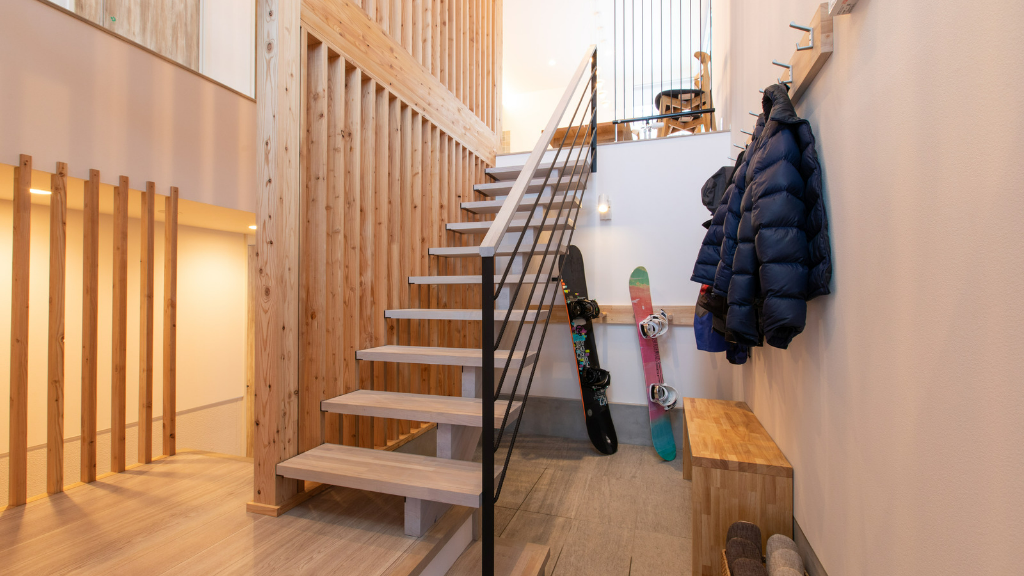 Cost
The cost of three hotel rooms vs the cost of a luxury three-bedroom chalet in Japan? It's a no-brainer. Prices for a single standard luxury hotel room can be equal to the price of a luxury three-bedroom chalet, such as Ajisai. Meaning, getting three hotel rooms could cost three times more than booking a three-bedroom chalet. Weren't expecting that, were you?
Concierge
When you book with Elite Havens, you have the luxury of using the complimentary concierge service to help plan and smoothen out any kinks in your trip. From transportation bookings to restaurant reservations, entertainment and cultural experiences, to spa services. They can even rent ski gear for you or help enrol you in beginner ski lessons. And if you know how busy Niseko gets, you'll know this is a perk that will be most helpful for your trip and one that's missing when you book a hotel.
Book a chalet in Japan for your next trip and enjoy the best that the region has to offer. Take the first step and begin your Niseko chalet shortlisting here.