Request Online Inquiry
If you require any further information please do not hesitate to ask. Our reservation specialists are well versed on all our villas, however in the unlikely event they cannot answer your question immediately they will endeavor to respond as quickly as possible.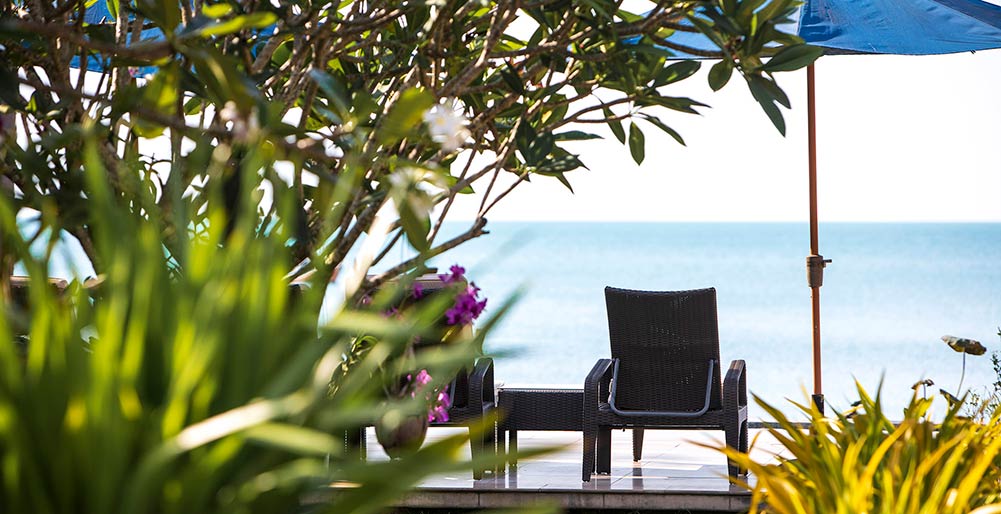 Soft white sand, the caress of the sun, warm, glittering blue sea dotted with islands, two opulent infinity-edge pools and two stunning villas from which to enjoy it all.
What more could a person want? Ah, tropical sunsets? Tawantok Beach Villas on Lipa Noi Beach, Koh Samui, have those, too. In fact, that's what tawantok means – "sunset".
These two wonderful Samui villas – adjacent mirror-image twins – evoke the era, not long ago, when all homes in Thailand, no matter how grand, were built in timber, and craftsmanship was at a zenith.
All rooms, from the stunning master suites to the lounge and dining pavilions, sit beneath traditionally elegant Thai roofs. Most of the walls are glass, opening to the garden and letting in the astonishing ocean view.
Together, the villas offer 10 bedrooms – two master suites with mezzanine bedrooms above (making ideal family suites), and behind them eight guest rooms. With extra beds, up to 28 guests can be comfortably accommodated.
The living-and-dining areas, with their large rustic tables and sink-into-a-reverie sofas, are centres for relaxed socialising. And if you prefer open air tropical lounging and dining, there are two spacious salas next to the sea.
The staff – villa manager, chef, housekeepers, gardeners and security guard – seem to know what you want before you even realise you want it.
For more energetic guests, the villas share a beautifully maintained tennis court, and are equipped with kayaks, stand-up paddle boards, beach volleyball and goals for beach football.
The villas are perfect for families, with children of all ages catered for. Then there's the rest of Samui to explore – if you can ever tear yourself away from these delightful Lipa Noi villas.
To find out more about Tawantok Beach Villas: Villa 1 and Villa 2, or to see how the villas can be combined to meet your holiday requirements, visit the website.

Read more
Back to top