Request Online Inquiry
If you require any further information please do not hesitate to ask. Our reservation specialists are well versed on all our villas, however in the unlikely event they cannot answer your question immediately they will endeavor to respond as quickly as possible.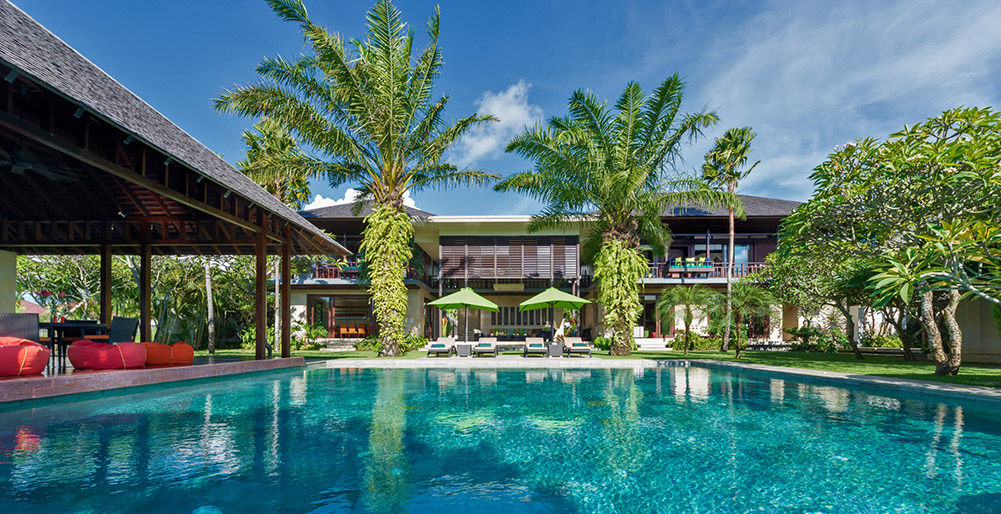 Bendega Villas comprises two contemporary-style, luxuriously appointed villas, including a romantic one-bedroom individual suite, which altogether sleep up to 18 guests in nine bedrooms. Villas are connected to each other by gateways in their private walled gardens, and can be combined to offer from three to nine-bedroom villa options, with up to three swimming pools. This flexible arrangement allows multigenerational groups privacy within a shared environment, making it a great venue for retreats, reunions and weddings.
The larger of the two villas, Bendega Nui has five bedrooms while Bendega Rato has four. Rato's one-bedroom pavilion, set within its own walled garden with a plunge pool, may only be booked in combination with one or both of the other villas, and suits couples or independent teens within a larger group looking for a little extra privacy. It also serves as a great honeymoon suite.
Bendega Villas seamlessly merge Balinese architecture with clean, modern design aesthetics. Each bedroom is spacious, stylishly furnished and equipped with an ensuite and a balcony, terrace or private garden. The villas feature luxurious open-plan living and dining areas, smart modern kitchens, a library or media room and games room with a pool table, as well as over an acre of lush tropical gardens sprinkled with koi carp ponds, terraces and cushion-strewn balés.
A staff team, including an exceptional chef, takes care of guests around the clock, and the villa menu lists an extensive range of enticing dishes. Dining out is also an appealing option since the villa's location in Canggu presents many excellent restaurants within strolling distance, and most of these are located on Canggu's world-famous surfing beach.
Click on these links to find out more about the indulgent four-bedroom Bendega Rato and lavish five-bedroom Bendega Nui. Or visit the Bendega Villas website to see how the villas can be combined to meet your holiday requirements.
Read more
Back to top