Request Online Inquiry
If you require any further information please do not hesitate to ask. Our reservation specialists are well versed on all our villas, however in the unlikely event they cannot answer your question immediately they will endeavor to respond as quickly as possible.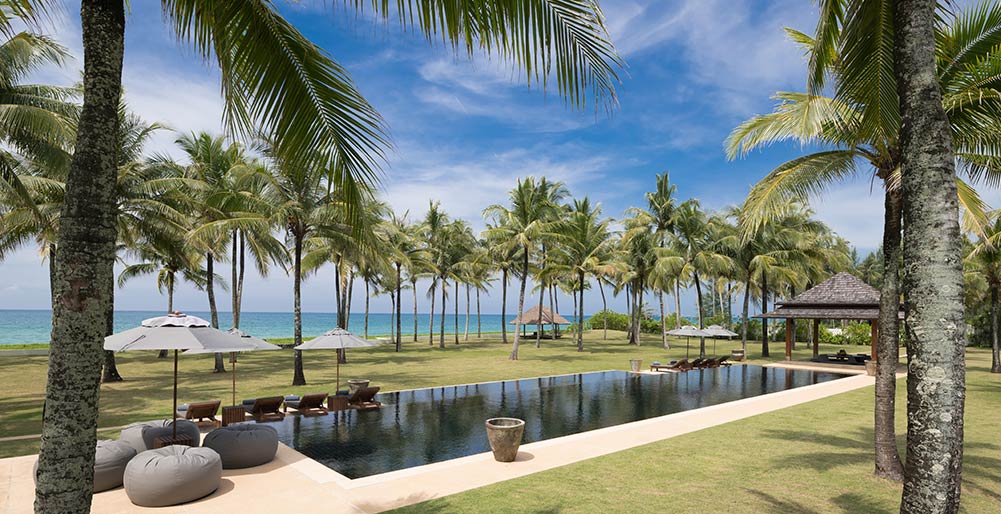 The exclusive Jivana Beach Villas estate comprises two magnificent six-bedroom beachfront villas and one seven-bedroom villa, situated on the secluded Natai Beach in Phang Nga – a pristine white sand paradise less than half an hour's drive from Phuket International Airport.
Each of the three luxury villas is sprawled across 6,400-9,500sqm land, with between 60 - 90m of private beachfront. Contemporary Thai-style accommodation, offering numerous indoor and outdoor lounging and dining options, is arranged in elegant pavilions with all the modern conveniences and facilities one would expect from a five-star resort. Split-level infinity pools, 25-metres long and with shallow sections for children, lie at the heart of emerald lawns punctuated with swaying palm trees, while beachfront salas beckon for sunset spectacles and cocktails.
When rented together, these three stunning properties, with a total of 19 bedrooms, can be combined to sleep up to 36 adults and 4 kids. Each features a fully equipped kitchen and opulent living spaces with comfortable furnishings and rich teak wood features. With their vast sliding glass doors, the pavilions are designed for both tropical open-air living and air-conditioned comfort. The ensuite bedrooms are all set apart affording privacy and space, whereas common areas include everything one might need to be comfortably entertained – WiFi, plasma-screen TVs with surround sound, libraries and more. Villa Jia has the added attraction of an entertainment room with a projector screen and a snooker table.
With a full team of welcoming staff including professionally-trained Thai chefs, friendly villa managers and service/housekeeping staff, guests will find Jivana Beach Villas to be the pinnacle of luxury beachfront living.
Click on these links to find out more about Villa Shanti, Villa Ananda and Villa Jia , or visit Jivana Beach Villas' website to see how the villas can be combined to suit your holiday requirements. Whether booking one villa for a holiday retreat or all three for a memorable event, guests will find unparalleled luxury and comfort at Jivana Beach Villas.
Read more
Back to top