Request Online Inquiry
If you require any further information please do not hesitate to ask. Our reservation specialists are well versed on all our villas, however in the unlikely event they cannot answer your question immediately they will endeavor to respond as quickly as possible.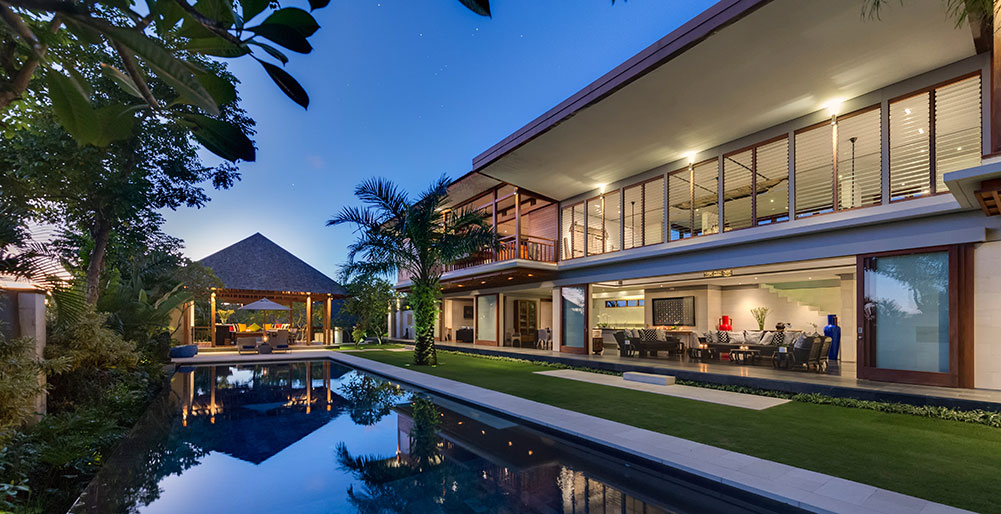 Bendega Rato is a stunning villa located amidst the rice fields of Canggu, minutes from a surf beach and popular restaurants and bars. For a four-bedroom villa, the sheer amount of living space is surprising. Everything is oversized for optimum sociability and comfort, from the double-height living room with huge sofas and a dining table that seats 12, to the stately bathtubs presiding over rice field views. There's an air-conditioned media room, a poolside pavilion with comfortable seating and dining for 10, and a huge second-level terrace with rooftop bale for private sunbathing, sunset cocktails and star-gazing. With so many large living spaces, this villa encourages social interaction while at the same time offering many private corners for those who want to slip away and claim one of the many daybeds and beanbags scattered around.
For a spot of privacy, the villa also offers a gorgeous one-bedroom suite located in its own individual walled garden, with a personal plunge pool. The villa may be rented as a four-bedroom unit along with this suite, or a three-bedroom haven minus it.

Stunning antiques, artefacts and textiles from across the Indonesian archipelago add a heritage patina to Bendega Rato, while state-of-the-art gadgets such as Sonos music system, 55-inch plasma TV, Apple TV and Blu-ray DVD add 21st century polish. And animating this space is a team of staff (shared with Bendega Nui) – among them two chefs who create magic with an extensive suggestion menu. Five minutes beyond the villa are famed surfing beaches and Seminyak is only 20 minutes away by car.
Bendega Rato will suit a group of eight or six, who appreciate space to spread out. There are three spacious master bedrooms in the main building– all with supremely comfortable four-poster beds, glamorous bathrooms and private terraces. And there's also the option of adding the separate, stand-alone master suite to the villa rental, accommodating two more guests in considerable luxury. For even larger groups, the five-bedroom Bendega Nui next door can be added too, giving a total of nine bedrooms, making it ideal for weddings and retreats. See Bendega Villas' website for details.
Read more
Back to top