Indonesia is an archipelago of over 17,000 islands, each more stunning than the next. No wonder that Indonesia has secured its spot on many people's bucket lists of places to visit, and Bali is on top of the list. The tropical island has retained its ability to enchant visitors over the years. This is thanks to its combination of stunning scenery, a spiritual thread which runs through every street, rice field and temple and some of the friendliest locals you could ever meet.
There's so much to see and do in Bali that a short stay just won't cut it. The island is extremely diverse geographically. It flows from coastal shorelines to rugged mountains and lush rice-growing terraces. Give yourself at least a couple of weeks to fully immerse yourself in this magical isle. Only then will you discover why Bali sets the gold standard in offering travellers the complete tropical island holiday experience.
Back to black
The first thing you realise about Bali is that this is an island dominated by its volcanic past and present. Mount Agung is an active volcano and responsible for some of the black sand beaches you'll see around the island. It's a switch-up from the usual white sandy stretches of coastline you may be used to. The black sand beaches provide for some gorgeous unusual photo opportunities. There are limestone cliffs too, world-class surfing breaks and dramatic water spouts which form out to sea at certain times of the year.
Head off the beaten track away from the popular Kuta and Nusa Dua strips. Discover your own perfect remote beach along the Candidasa and Canggu coastlines. Villa Zelie, a heritage chic holiday home is just 150m from Canggu Beach. Come here to enjoy holiday living on a grand scale. You'll love the beautiful teak and ironwood buildings. These are inspired by traditional Javanese joglo pavilions. The villa also showcases handcrafted furniture and treasures selected by the owner around every corner.
Head for the hills
After experiencing the beach life for a week, it's time for a change. It would be a crime not to spend time getting to know Bali's cultural heart – Ubud. There's a completely different vibe in this delightful town in the island's interior. You would already be familiar with a temple at every corner in the south. But in Ubud, the innate creativity and islanders' dedication to their culture finds its most glorious expression.
Every surface, doorway and chair is carved and made beautiful. The scent of incense and piles of offerings at temple gates make you feel like you've wandered into a film set. Artistic ability seems to pour out of the Balinese effortlessly. This makes Ubud a great place to pick up unique works of art by some of the town's many artists and artisans. Don't miss the chance to join a culinary masterclass in Balinese cuisine – Ubud hosts many such classes. You'll soon be an expert in spotting the best babi guling (roast suckling pig) on offer – and a lifelong fan as a result.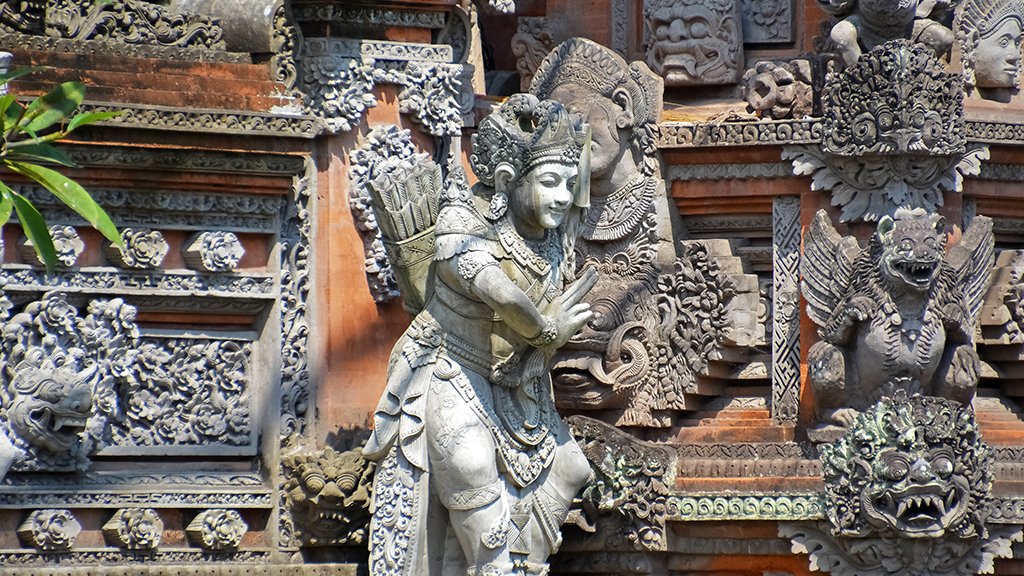 Clifftop living
If you get a taste for living at altitude, book a stay at Pandawa Cliff Estate – it's the ideal choice if you're travelling with a group of friends or family as it's a collection of four exceptional private villas, sleeping up to 42 guests. Located high above the ocean on Bali's southernmost tip, this is one of Bali's most sought-after wedding and special events venues. Unforgettable.
Food, glorious food
Bali has a naturally fertile landscape and frequent tropical rainfall. This makes it the perfect place to grow produce such as rice, exotic fruits and vegetables. Being an island also lends it to freshly caught, sensational seafood. Street food is a popular option here (don't miss satay sticks fresh off the grill and charred sweetcorn, the perfect snack to enjoy as you explore on foot). However, there are also many top-class international restaurants on the island. Bali has long been a drawcard for famous chefs from around the world who are attracted to create new dishes on this verdant and ingredient-rich island.
Enjoy the greatest benefit of renting a villa – the option to relish delicious food cooked just for you. Asian and western cuisines can be prepared where and when you desire. If you're keen to experience Bali's delicious cuisine, we suggest a long stay at Bendega Villas. Allow yourself to be pampered by a full-time chef. The cook will delight you with beautifully presented dishes at mealtimes. From roasted vegetable salads and Balinese chicken curry to nasi goreng (fried rice) and perfectly cooked steak and chips, there's no limit here. Don't miss the desserts either. Bendega has its own pizza oven, which produces some wonderful gourmet pizzas to order. If you prefer to eat out on occasion, the villas are just a short stroll from Canggu's hipster cafes which have a growing reputation for serving up some of the island's most delicious food.
Rest and reconnect
Of course, it's possible to spend your extended stay in Bali at one of our beautiful villas. For instance, Villa Simona Oasis in Canggu makes it almost impossible to drag yourself away. You will love this villa surrounded by two sacred streams with the ever-present tropical jungle and tiered rice terraces nearby.
Reconnect with your loved ones at this five-bedroom retreat. Spread over 5000sqm, this private, cloistered paradise is designed by Elaina Myers. Settle into this cool, contemporary villa or throw a pool party in the 13-metre pool. Capitalise on the many opportunities for alfresco dining and drinking, thanks to the dedicated staff at the villa. Relax, rejuvenate, get a massage (or a few). Spend long days and elegant evenings reconnecting with your inner self and the people who matter most to you. Why rush around when you can stay awhile?
Plethora of activities
Enjoying cocktail evenings and gazing at sunsets never gets old. But if you're itching for more action, Bali has plenty to keep even the most extreme thrill-seeker occupied. Experience water sports like jet skiing, surfing (including lessons for newbies), wakeboarding and even jetpacking here. If you want something more relaxed, try leisurely water-based activities like snorkelling and stand-up paddleboarding.
Yoga is big in Bali too, thanks to the deeply spiritual vein running through the whole island. We can arrange for a specialist yoga instructor to come to your villa for private lessons in tranquil surrounds. For animal lovers, head to nearby Menjangan Island, also known as Deer Island, or a little further afield to Komodo to spot the fearsome 'dragons'.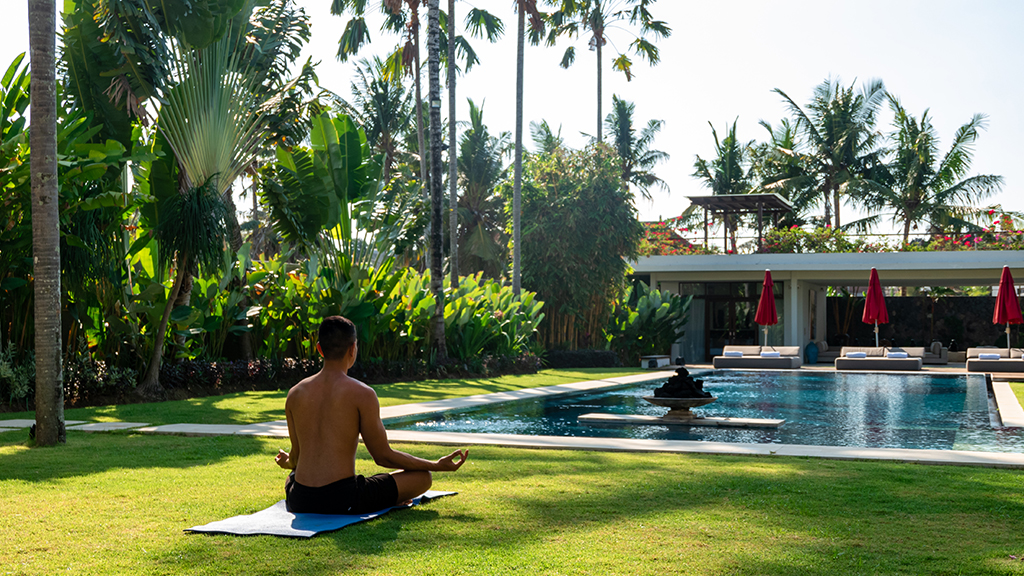 Why limit your trip to one island? Stay longer and spend a week in Lombok or Nusa Lembongan after you are done exploring Bali. Cocoon yourself in this unspoilt and pristine world, gorgeous islands that offer a slower pace of life. Enjoy uncrowded beaches and pristine reefs to dive and snorkel over. Get an additional discount when you book a second villa for the same vacation. It is the perfect excuse to island-hop. Turn one vacation into a series of mini-holidays? We can't think of anything more exciting.
Spirit and faith
The Balinese are extremely spiritual people. Discover a temple in every house, honoured and decorated daily without fail. Take a temple tour and you'll gain insights into this fascinating, ancient culture. Explore sea temples, simple urban shrines and stunning complexes overseeing the mountains. Why not take a tour to discover various aspects of Bali's history and culture. The Elite Concierge will be happy to arrange a half or full-day excursion during your stay.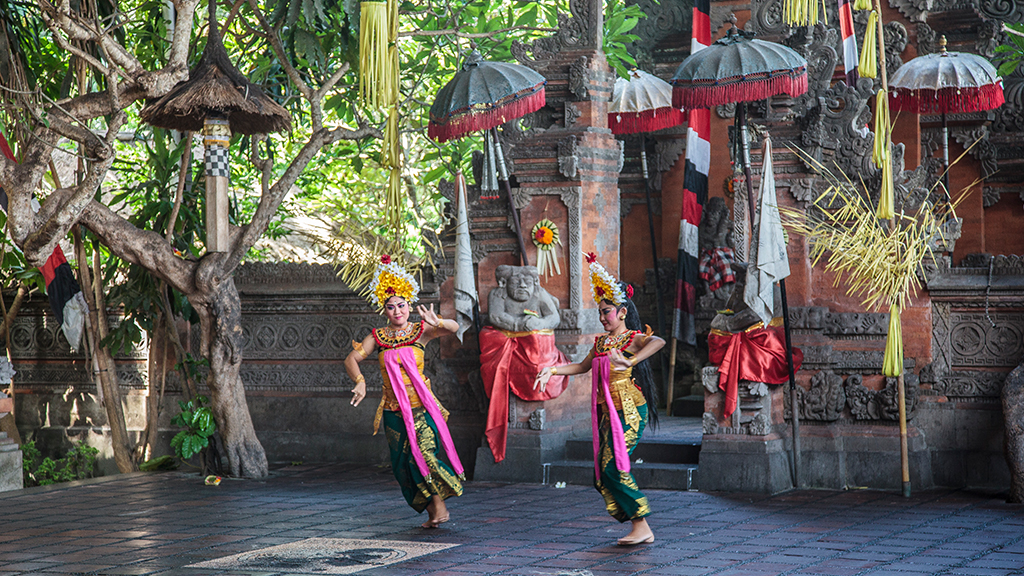 Instead of rushing in and out, stay in Bali for a while. Let it reveal itself to you. Understand this unique destination more intimately. In truth though, it would take a lifetime to fully immerse yourself in the Balinese experience, no amount of time is too much. So, make a start on this journey of discovery – it will be one of the most rewarding vacations of your life.
Keen to book a long stay in Bali? Ask the friendly Elite Havens Reservations Team for details on how to make the most of your time in Bali. Perhaps one week in Canggu and one week in Ubud? Explore more of the island, now that you're here.