When it comes to destination weddings, the location doesn't get much dreamier than Bali. Which other place can offer a marriage of stunning backdrops, exotic décor, highly experienced event planners and spectacular destination-in-themselves villas? And all this without breaking the bank.
As you step off the plane and breathe in the ocean breeze, get ready to be enchanted by Bali. If you or a family member are celebrating an engagement, or are in the early stages of planning a wedding, we wouldn't blame you for dreaming to say "I do" here on the island of the gods. Or perhaps even nearby Lombok.
Weddings come along just once in a lifetime and deserve all the attention they can get. As you plan this momentous occasion, make sure that the main elements are well taken care of. Here are five things you should invest in, when planning the wedding of your dreams.
Still need persuasion? We've got you covered.
Top 5 reasons you should choose Bali for your destination wedding:
1. A Magical Setting
Just imagine exchanging vows on a clifftop, with the sound of the surf crashing below. Declare your love on the beach, sand between your toes, as waves lap the shore and the setting sun flames the sky. Or seek the seclusion of a rural oasis and celebrate your union on the rim of a mountain ravine, surrounded by rice terraces. There's no need for fake backdrops and over-the-top flower decorations. Bali's natural setting is stunning enough to make for an unbelievably picturesque wedding backdrop.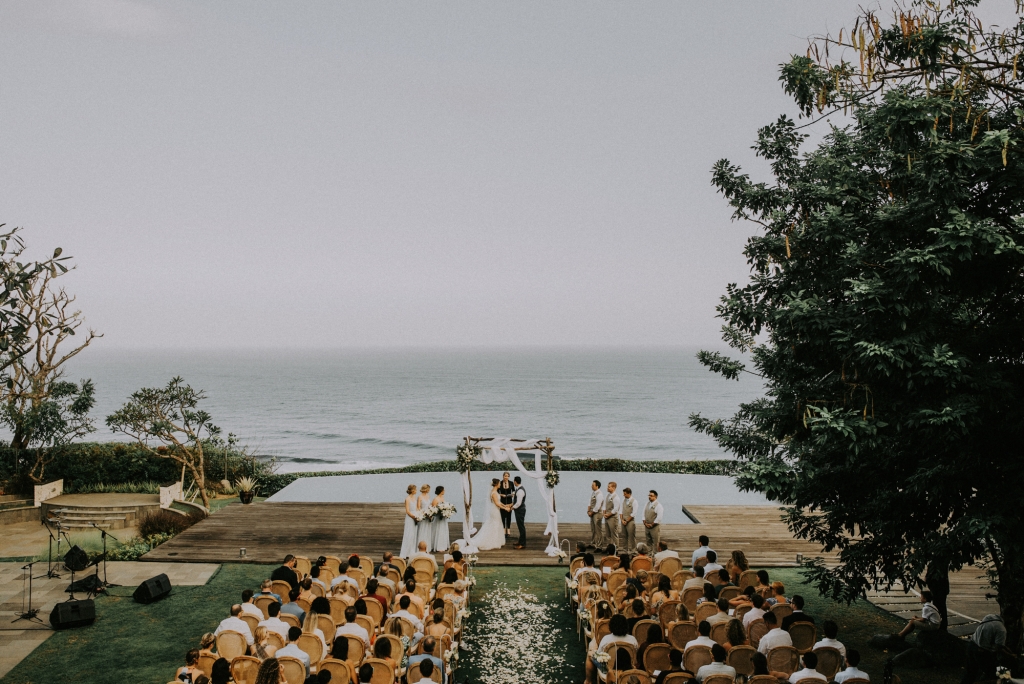 2. An Exotic Touch
Say goodbye to the ordinary and embrace the extraordinary. Everything in mystical Bali is exotic and fascinating. Imagine the details – delicately woven palm-frond decorations and penjor flags framing your ceremonial space; three-tiered temple parasols and tropical blooms; flaming bamboo torches and candles amidst a garden of colossal foliage; the hypnotic sound of Gamelan music; a lattice of party lights strung like pearls illuminating the darkening sky. And within that enchanting setting, professional photographers arranged by the Elite Concierge recording your first moments together as husband and wife.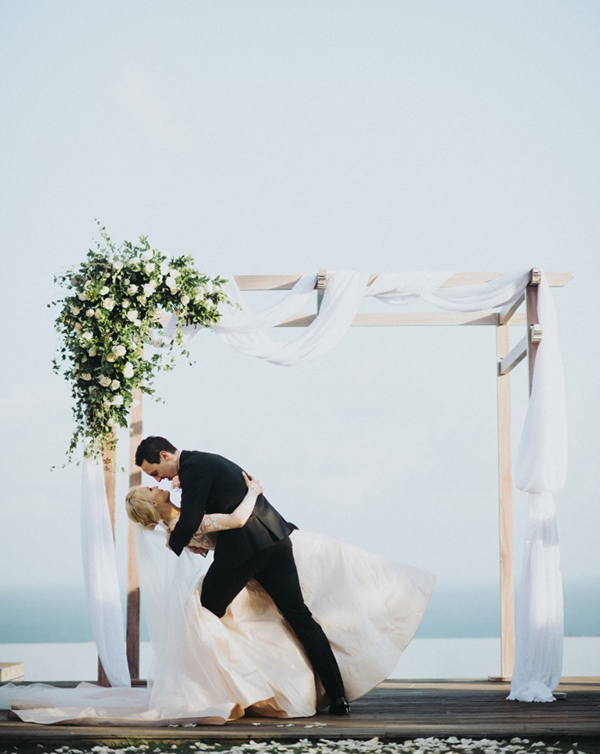 3. Celebrity Style
Visualising the romance of the occasion comes easy in this culturally rich landscape. No wonder then, that famous celebrities from around the world flock to Bali to tie the knot. Don't believe us? What if we told you that Mick Jagger himself got married to Jerry Hall at an elite haven in Bali? Do it celeb-style and plan a spectacular wedding event in Bali for your upcoming nuptials.
4. Professional Wedding Planners
Another compelling reason for a Bali wedding is stress… or rather the lack of it! You're on island time, with skilled beauty therapists and all kind of professionals on-call. The Elite Concierge can help you hire Bali's best event organisers and wedding planners to ensure that your group is taken care of royally. Celebrate with family and friends while seasoned event planners fine-tune the logistics and orchestrate florists and makeup artists, caterers and sommeliers, bartenders and bands, photographers and videographers to organise the perfect wedding.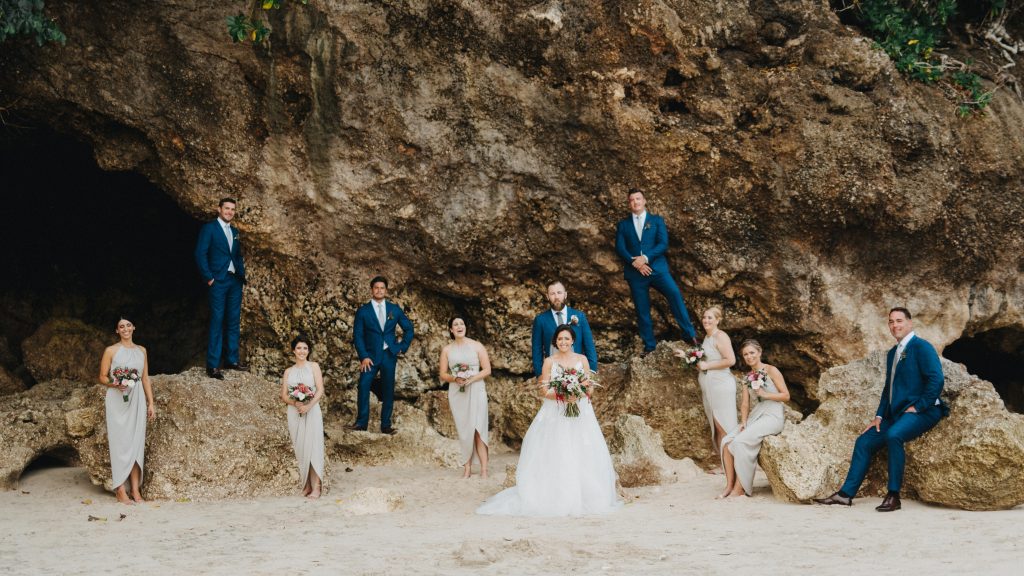 5. Affordability
The great news is that you get more bang for your buck in Bali; so you can choose how much to save or splurge. Happily, this applies both if you wish to stage a low-key wedding for close friends, or the most elaborate bells-and-whistles event for hundreds.
If these reasons are not enough, think about the venue – perhaps a bride's most important decision, after the dress of course. Here Bali comes up trumps, with a stellar cast of destination villa venues in jaw-dropping settings and an insane choice of accommodation for wedding guests. On the beach, perched on a cliff, hugging the mountainside; ultra-modern or traditional Bali-style; barefoot chic or full-blown luxury; a family villa or 50-bedroom multi-villa estate – there's an elite haven just perfect for your dream wedding. We've curated a list of our Top 5 Wedding Villas in Bali. If these don't get you dreaming, we don't know what will.
Best Wedding Villas in Bali
Pandawa Cliff Estate
With its dramatic and romantic clifftop setting overlooking the Indian Ocean, wide lawns, large purpose-built decked garden areas and superb guest facilities, Pandawa Cliff Estate is a dream wedding and event venue for up to 200 guests. The estate is a collection of four luxurious villas with stunning ocean views. When all four villas are rented together, Pandawa offers a total of 21 double bedrooms, and can accommodate up to 42 adult guests, plus numerous extra beds for children. This rare ability makes it a great venue for wedding parties where you wish to have all the guests conveniently staying on-site.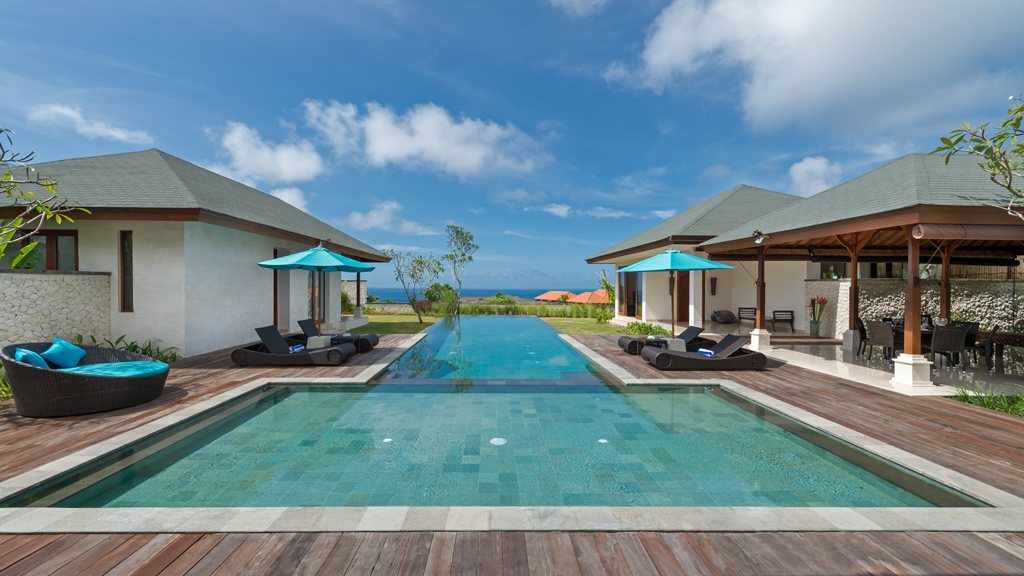 Seseh Beach Villas
With two villas in the estate that can be hired together and combined, Seseh makes a prime venue for large weddings with up to 200 guests. Allow your wedding to spread out owing to the sheer spaciousness of both the villas and the grounds – with an abundance of outdoor areas for relaxation and rejuvenation. Coupled with the gorgeous setting of the pools and the manicured gardens overlooking the ocean, Seseh Beach Villas are an ideal venue for romantic weddings par excellence.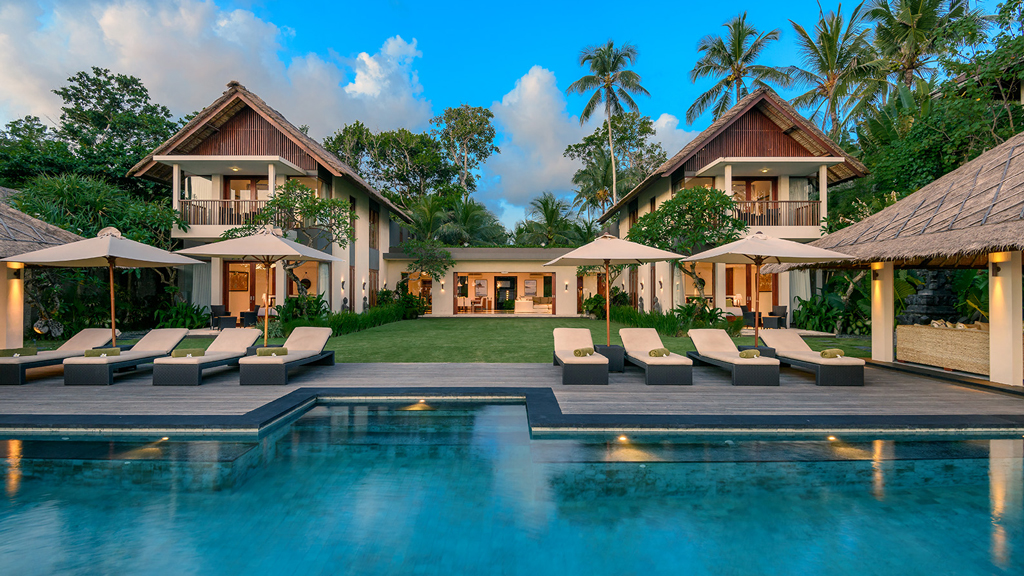 The Iman Villa
How about something completely different? Bali's all about paddy views, is it not? Plan a paddy view wedding with 100 guests at The Iman Villa, a fabulous modern minimalist property with five individually designed ensuite bedrooms equipped with state-of-the-art technology. The combination of chic modern design aesthetics and a picturesque Balinese setting amongst lush rice fields, towering palm groves and leafy banana plantations, gives The Iman Villa an undeniable 'wow' factor.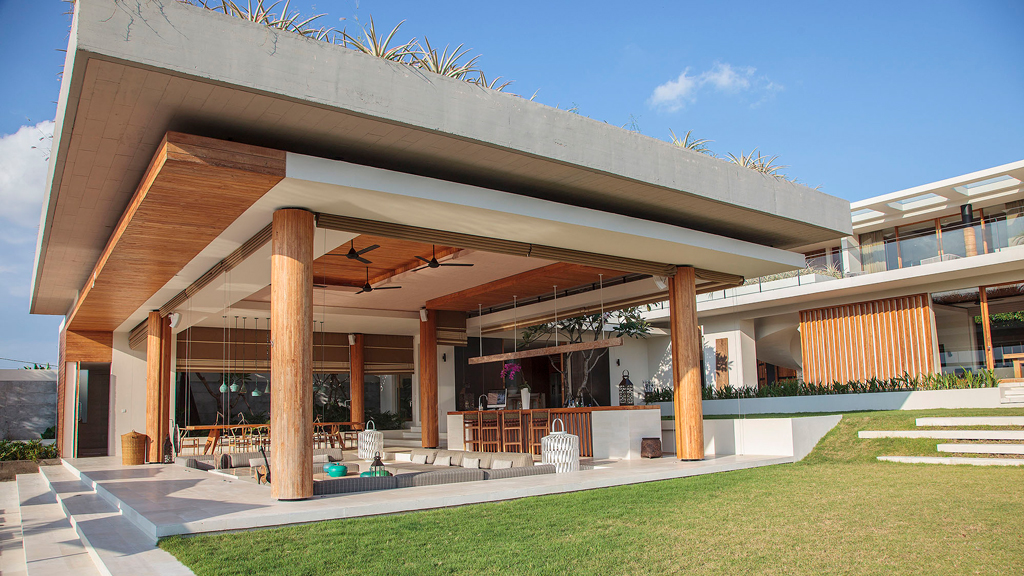 Arnalaya Beach House
Close to The Iman Villa, Arnalaya Beach House is also in Canggu but right on the beach. A divine residence of contemporary design and fabulous living set, find your place within the five generous bedrooms of this stunning villa, spread over an acre of lush beachfront land on Bali's chic sunset coast in hipster Canggu. The villa provides numerous event opportunities for up to 150 guests.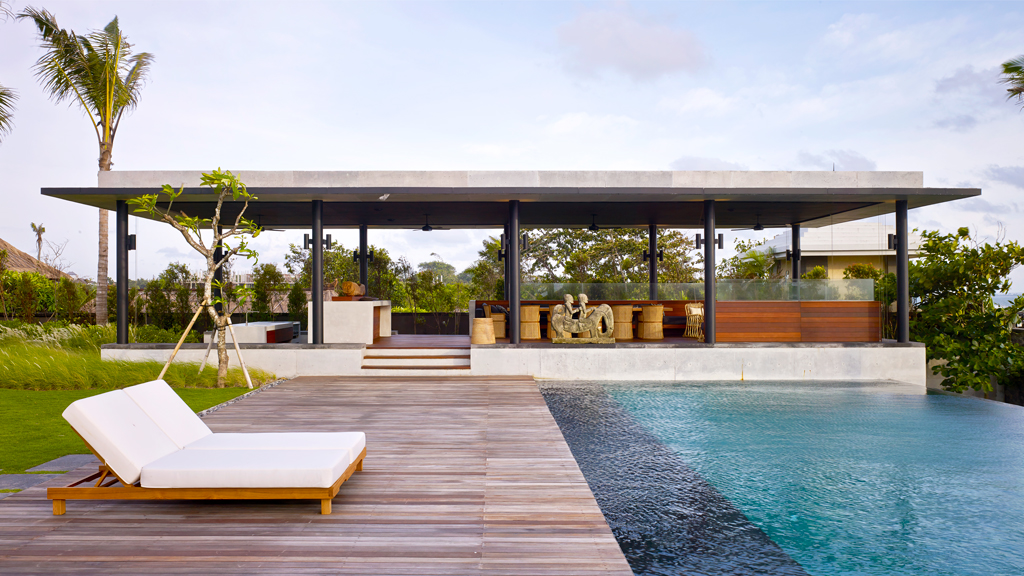 Taman Ahimsa
This list would be missing something if we didn't mention Taman Ahimsa. There is no better setting for a wedding than under the swaying coconut palms. Add to that, the rolling green waves of the Indian Ocean as a backdrop. And Taman Ahimsa, with its expansive gardens abutting the beachfront that can host up to 100 guests, is the ideal location if you're seeking a wedding with a spectacular natural backdrop of a black sand beach.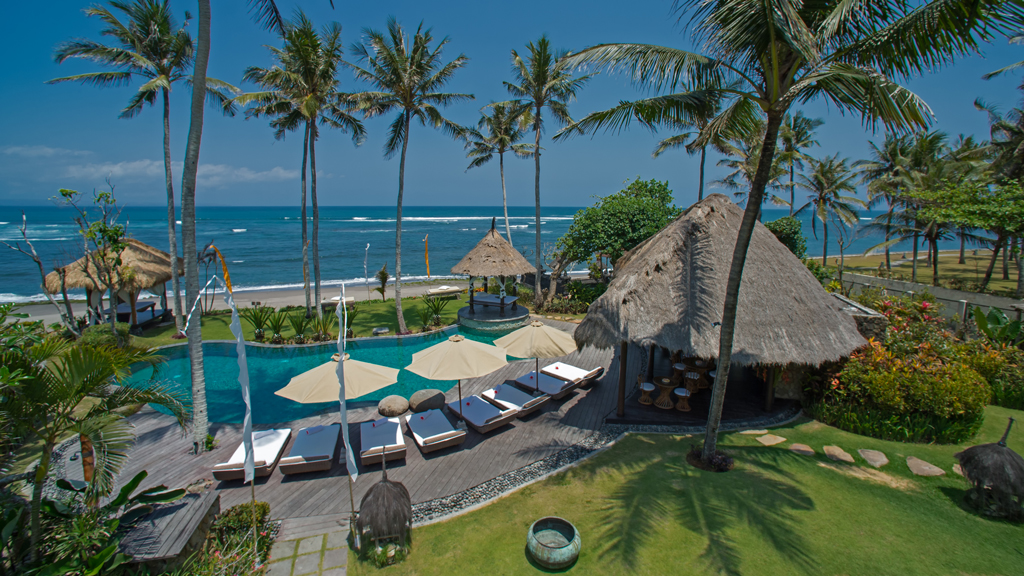 Elite Havens offers an extensive portfolio of heavenly villas to serve as your wedding venue. Whether you want a view overlooking the sea or in a secluded oasis cradled by green rice fields, each of our venues is set in a magical setting with luxurious rooms and manicured lawns fit for ceremonies with a small or large group. Contact our events team to get started on planning your dream wedding.