Experience Sri Lanka's captivating allure through the lens of art and culture. Titled as the world's number one literary festival by Harper's Bazaar, the Galle Literary Festival 2024 is set to make a landmark return, just a two-hour drive from the capital and close to some of the country's most stunning beaches.
Scheduled from 25th to 28th January 2024, it will be hosted on the southern coast of Sri Lanka – in UNESCO-listed Galle Fort and nearby locations like Matara, Ahangama and Hikkaduwa. Browse through our curated list of luxury villas in the area and book your top choice when you attend the Galle Literary Festival 2024.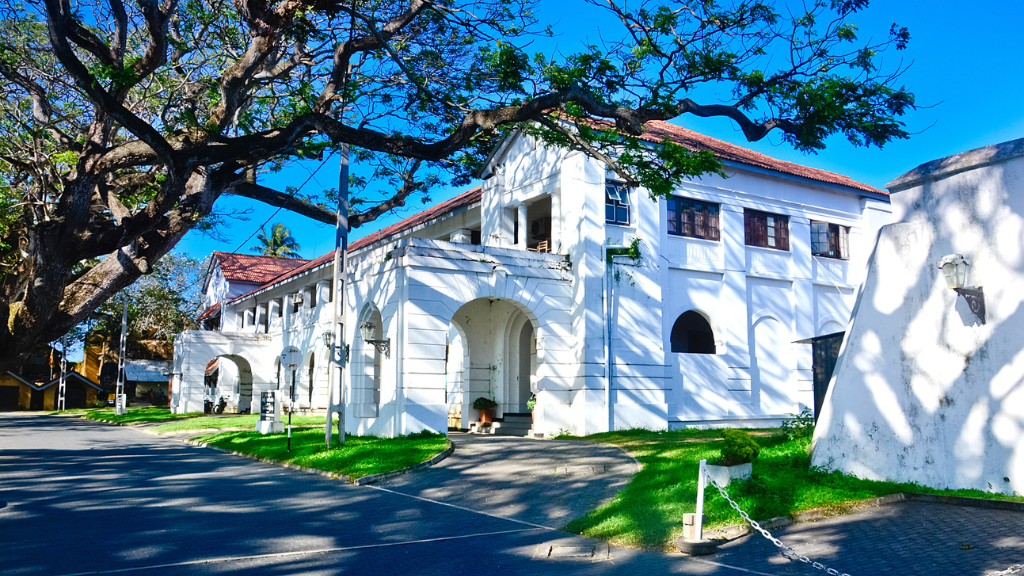 What to expect?
Galle is steeped in history and culture, boasting age-stained Dutch-colonial buildings, colourful boutiques and bustling restaurants. It has long been a hub for local artists, musicians, writers and photographers, making it the perfect venue for this literary extravaganza.
The Galle Literary Festival first graced the stage in 2007, rapidly evolving into a meeting point for renowned wordsmiths and performers from around the world. After a hiatus, it's set to make a comeback, weaving together eminent artists and international writers to showcase their work.
Watch the festival unfold a tapestry of art forms – this time focusing on travel and tourism. Experience an array of cultural programs, music shows, fashion events, literature exhibitions and immersive modern art workshops. The festival aims to present Sri Lanka's local identity and heritage to a global audience. Among its distinguished speakers are Booker Prize-winning authors, Shehan Karunatilake and DBC Pierre, and Ukrainian writer, Andrey Kurkov.
Inviting readers and enthusiasts of all age groups, the event has a dedicated children's festival where younger attendees can find inspiration, partake in creative workshops and interact with authors and storytellers.
Art enthusiasts can revel in the Art Trail, wherein Galle Fort will transform into an artistic canvas with its heritage homes and vintage hotels turning into galleries showcasing contemporary art. Gourmet Galle will offer celebrity masterclasses, beach-view dining and delicious meals amidst lush paddy fields. You can also see international chefs whip up culinary delights using local flavours.
Where to stay?
Live in the lap of luxury. With Elite Havens, you're never too far from the Galle Literary Festival 2024. Inspired by classic Sinhalese designs, our villas combine high-end luxury with the warm hospitality of in-villa staff. An ideal setting for families and kids, they feature plush facilities such as private pools, picturesque views of the sea or verdant foliage, and high-speed internet. Away from heaving crowds, you can retreat to your personal haven after a day well spent at the festival.
Stay in the centre of the action at No.39 Galle Fort. One of the select few historic houses located inside the fort walls, this rare find offers a dose of nostalgia and from two to three bedrooms. The house retains its old world charm, with long, shaded verandahs, pleasant gardens and high, timber vaulted ceilings.
Extend your Sri Lanka stay and spend a few days in Bentota to round it up. The beaches are never far from delightful Saffron & Blue, and the food is downright delicious. You will love the outdoor pool and jacuzzi just as much as the food cooked by the resident chef who has been trained by a celebrity chef and can whip up a dream in no time.
Let our dedicated staff pamper you for an exceptionally rejuvenating time. The Elite Concierge can help arrange transport for you to explore Sri Lanka's vibrant hotspots. Ask your Villa Manager for local insights or hidden gems. They can also brief you on family-friendly activities.
Whether you're in the mood for the island's famous curries or craving winter treats, your private chef stands ready to customise your dining experience for you. Those who'd like to enjoy a quiet afternoon indoors can luxuriate in an in-villa spa experience. Our therapists are well-versed in the ancient healing practices of Ayurveda.
When in Sri Lanka – Things to do
1. Take a stroll through rolling tea farms
Don on your hiking shoes and take a walk through lush tea farms. 30 mins from Galle Fort, the Handunugoda Tea Estate in Ahangama offers the most exclusive and hand-picked tea varieties. It's known to be one of the closest tea plantations to the sea, but that's not all that makes it extraordinary. Hailed as the Virgin White Tea Factory, it follows an ancient Chinese tradition, where tea was harvested only by virgins who never touched the leaves with their bare hands. The product was then presented to the emperor as a gift. This tradition now, however, is solely applied to the tea and not to pluckers. The resulting white tea is believed to be the healthiest in the world.
A long five-hour drive from Galle, but worth the visit, Ceylon Tea Trails in Hatton also hosts private tea tours with expert guides.
2. Go whale and dolphin watching
Witness the otherworldly majesty of the Earth's largest mammal. Sri Lanka is among the premier destinations to catch a glimpse of the magnificent blue whale. It's also home to sperm whales. The whale-watching season is from November to April when you can head to the tranquil Mirissa Harbour, a 50-minute drive from Galle. A quick 20–30-minute boat ride offshore, you'll find yourself in the company of playful dolphins. Make sure to check with the concierge team for the best sail operators and experience these beautiful creatures in all their glory.
3. Check out the famous lighthouse
Set amidst rustling palm trees, the famous Galle Lighthouse is a must-visit when in Sri Lanka. This picture-perfect marvel is one of the most recognizable landmarks of the Galle Fort. Dating back to 1848, this white-washed beacon was rebuilt in 1939 and serves even today as the guiding light for ships entering the harbour.
Witness its timeless charm, unwind on nearby beaches and indulge in a variety of water activities. You can also discover the area's other historic treasures, including the Dutch Reformed Church and Clock Tower.
4. Enjoy thrilling water sports
Sri Lanka's idyllic beaches are a haven for water sports enthusiasts. Experience diving and deep-sea fishing, best enjoyed from November to April. Embrace its teeming marine life, keeping an eye out for reef sharks, corals and turtles. Experienced divers can venture into azure depths and discover hidden shipwrecks in Hikkaduwa, 20 kilometres from Galle.
Sri Lanka has also recently become a playground for surfers from around the globe, with numerous beaches like Devata, Ahangama and Midigama inviting those of all levels.
5. Experience the country's diverse wildlife
Explore well-preserved wetlands and wildlife sanctuaries, perfect for the entire family. Take a boat excursion and discover the region's fascinating fauna. Visit Hikkaduwa Marine Park for glass-bottom boat rides and ornamental fish. Embark on a peaceful river canoe between Ahangama and Welligama. Paddle inland on a two-seater canoe and witness its spectacular wildlife, including water monitors, monkeys and a wealth of birds. These trips typically are an hour or two long and commence early in the morning or evening to avoid the heat.
Experience Sri Lanka like never before. Attend the Galle Literary Festival 2024 to immerse yourself in art, culture and literature, with the comfort of returning to your very own luxury villa.