Art lovers will agree that one of the best things about our private villas in Bali is that no two villas are the same. Forget uniform lobbies, drab bedding and boring white walls. Think fascinating artefacts and colourful furnishings. Amazing art and unique designs from around the world that represent the heritage and lifestyle of their owners. To give you an idea of the delights on offer, we've scoured Bali for 'art-full' villas that will please even the most sophisticated art connoisseur.
Villa Asada, Candidasa
Villa Asada is a contemporary expression of Balinese style, filled with antiques and wooden furnishings. Every corner is an example of simple elegance and luxury, lovingly strewn with Oriental decor elements. Buddha and other personalities of Asian heritage take centre stage. Little pockets of space prove that in decorating, as in life, less is truly more.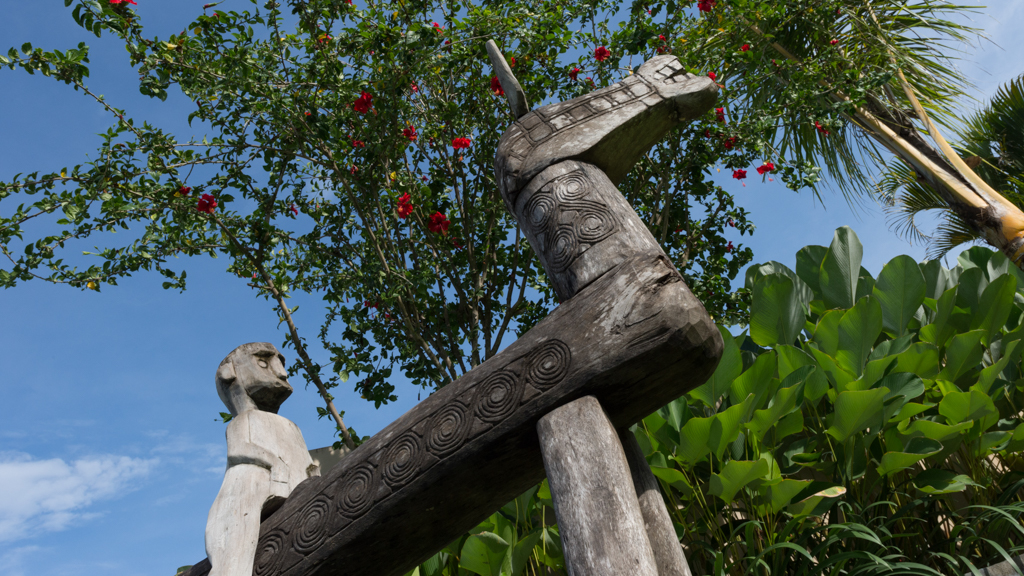 Villa Canggu, Canggu
Indonesian contemporary artists turn Villa Canggu into a living exhibition that could easily compete with many art galleries around the world. Eddy Susanto's visual interpretation of the heritage of the Mayan people, who scandalised the world with their 2012 Armageddon prediction, is displayed here just around the corner from Yudi Sulistyo's interpretation of modern-day life: a hanging metal spaceship titled World Without Sea. Art lovers may recognise Ronald Apriyan's series of three paintings representing how modern-day women can choose to be whatever they want to be. Grab a glass of wine and start exploring.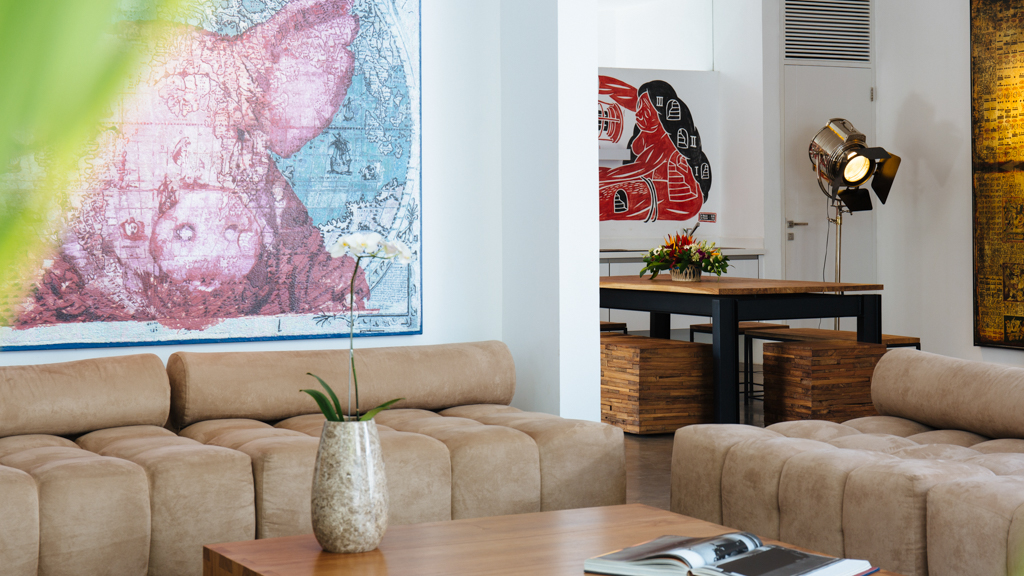 Kaba Kaba Estate, Tabanan
The owners of Kaba Kaba Estate have been avid art collectors for more than two decades, and the villa showcases many of their beloved treasures. You'll find fascinating antiques and contemporary works of art displayed throughout the gardens and pavilions. These include Cai Zhi Song's Ode to Motherland #5, a striking 2013 bronze of a male figure, inspired by an ancient image of a Qin dynasty warrior; Sohan Jakhar's Untitled (2009), which hangs above a guest bedroom headboard; and Hannes D'Haese's sculpture Just a Dog, a pink resin bulldog that, along with its yellow counterpart, guards the entrance of the guest house.
There's also the surprisingly recent (three decades old) eight-foot-long Indonesian carving of paddlers in a boat, displayed above a puckish Dodit Artawan oil on canvas depicting Barbie dolls and liquor bottles; Dadi Setiyadi's White Goat, a 2011 canvas that reimagines Caravaggio's John the Baptist as a loincloth-clad figure festooned with swirling Dayak tattoos; and Ye Zheng-Hua's exuberant painting The Sky, with its frolicking figures drenched in bold hues of azure, magenta, and cream against a backdrop of buttery yellow and cornflower blue. You'll need at least a few days to explore this living art space.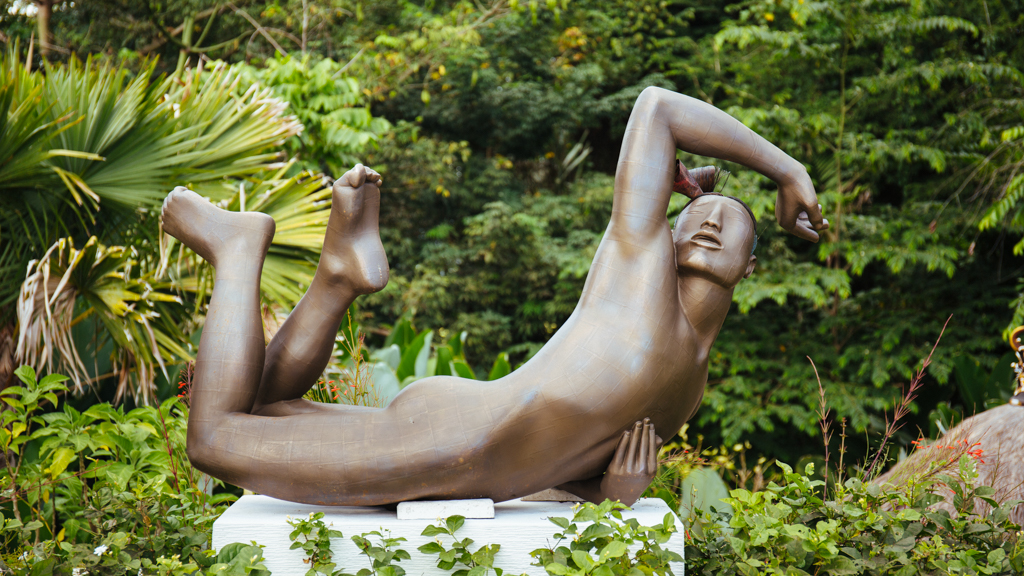 Villa Zelie, Canggu
Both rustic-chic yet wonderfully modern, Villa Zelie is a favourite amongst guests looking for an authentic Balinese experience. While the architecture is inspired by Javanese palaces, it is exquisitely furnished with French flair. This delicate balance of east and west offers visual delight as you walk through the villa. Antique furniture, tribal décor and original art from around the world give Villa Zelie a unique personality. Not quite traditional. Not exactly colonial, either. Everything is perfectly put together to achieve a timeless elegance.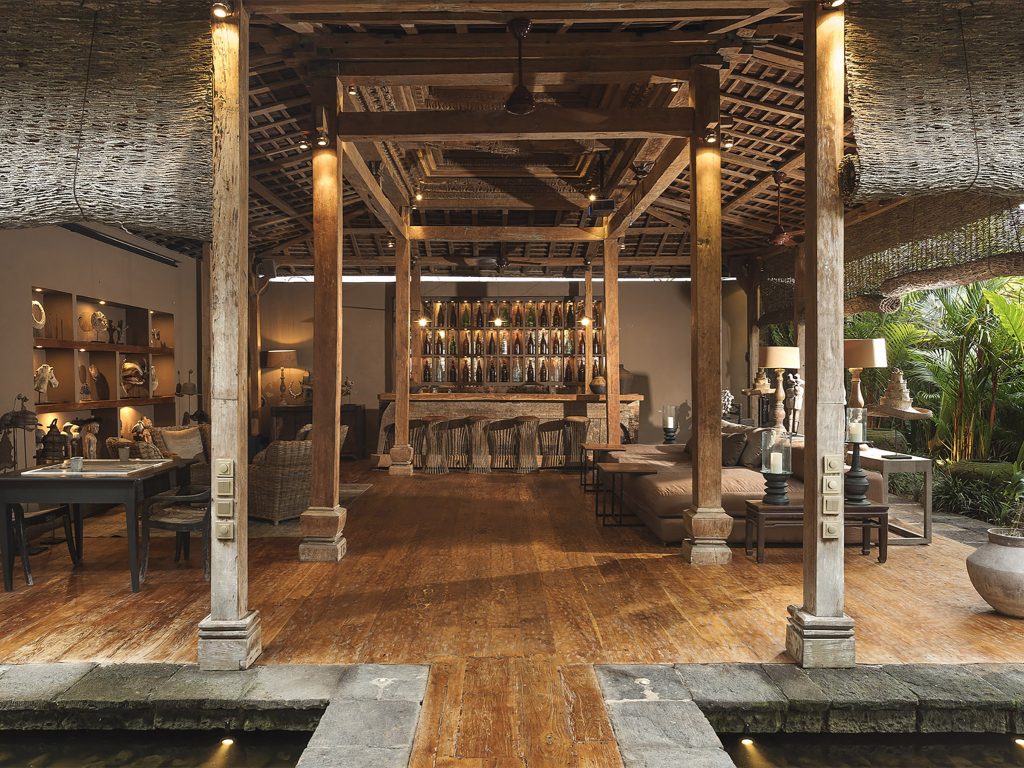 This is just the tip of the iceberg. Our villas are a crash course in Balinese heritage and design styles. Book a Bali villa and discover a world full of art, beauty, and history.