With its sandy beaches, thriving culinary culture and unhurried lifestyle, India's sunshine state remains a much-loved, evergreen vacation destination. Retreat to the privacy of our carefully crafted private villas nestled amongst the serene landscapes of Goa. Unwind and reconnect with what's really important. Because it's time to make space for the extraordinary in life. 
Goa's real allure lies in its deeply ingrained Indo-Portuguese culture. So, you must consider exploring its fascinating colonial history, delectable cuisine, and charming countryside. Immerse in the spirit of Goa through its many festivals. There's one for every mood, from religious to culinary and artistic to literary. So prepare for a deep dive into India's coastal paradise. Flow with ancient traditions, savour delicious flavours and sway to the rhythm of the moment. Feel Goa seduce you softly, quietly, magically. Let Elite Concierge seamlessly arrange everything for you. From reservations to transportation and everything in between. Let the exuberance of Goa festivals carry you away.
1. Goa Carnival
The Goa Carnival is a much-awaited annual event that takes place in February every year. It attracts locals and tourists alike, evoking nostalgia for the 18th-century Portuguese colonial era. King Momo, the mythical king of Carnaval, kicks off four days of pure revelry before Lent, a 40-day fasting period preceding Easter Sunday. The massive street party is a sensory extravaganza of vibrant sights and joyous sounds. Think Mardi Gras-like theatrical performances, dramatic floats, community feasting, evening balls and all-night merrymaking. People dressed in extravagant costumes dance to the rhythm of the upbeat music. The frenzy culminates with the Red-and-Black dance, where revellers flaunt striking outfits in red and black. Get swept away by the infectious energy.
2. Sao Joao Festival
This traditional fiesta dedicated to Saint John the Baptist is celebrated on the 24th of June every year at the onset of the monsoon season. It is customary for Goans to dress up in colourful costumes, sing, dance, and play folk music with 'Gumott', a melodic percussion instrument. People crown themselves with flower tiaras and downing shots of Feni, the cashew liquor of the region. The most exciting ritual is the "leap of joy", where people jump into wells and water bodies to retrieve gifts and prizes thrown into them. This tradition alludes to the baptism of Jesus in the river Jordan, emphasising the spiritual significance associated with water. Head to the festival's epicentre in Siolim to witness a grand float parade along the river. 
3. Christmas and New Year
With its large Christian population, Goa outshines the rest of the country during the festive season. Christmas cheer is everywhere with carol singing, midnight masses, twinkling lights, baubles, fake snow, mangers and cribs. Visit the beautifully decorated churches, especially in Old Goa, where the story of the Lord's birth is narrated through performances. Restaurants organise gigs, and hotels offer sumptuous Christmas feasts with traditional goodies like roast turkey, pork sorpotel and an assortment of grilled seafood on the menu. Remember to leave room for Goa's favourite dessert, Bebinca. Beaches like Baga or Calangute in the North or Colva and Bogmalo in the South are hotspots for fireworks displays over the water, with impromptu dancing and parties on the sand. The holiday fun continues in full swing until the New Year. 
4. Spirit of Goa Festival
This three-day spectacle in April/May for food, fun and feni showcases local brews, distillers, infusers and authentic cuisines. Look forward to live demonstrations on the heritage brew feni, made using cashew and coconut, cashew stomping competitions and master classes by celebrated chefs. Try out locally produced wines from home winemakers from grapes and other fruits. The entertainment line-up includes standup comedy, folk dances, comedy shows and music performances ranging from Portuguese and Konkani classics to modern jazz, rhythm & blues. Foodies can tantalise their taste buds with mouthwatering local delicacies and beverages.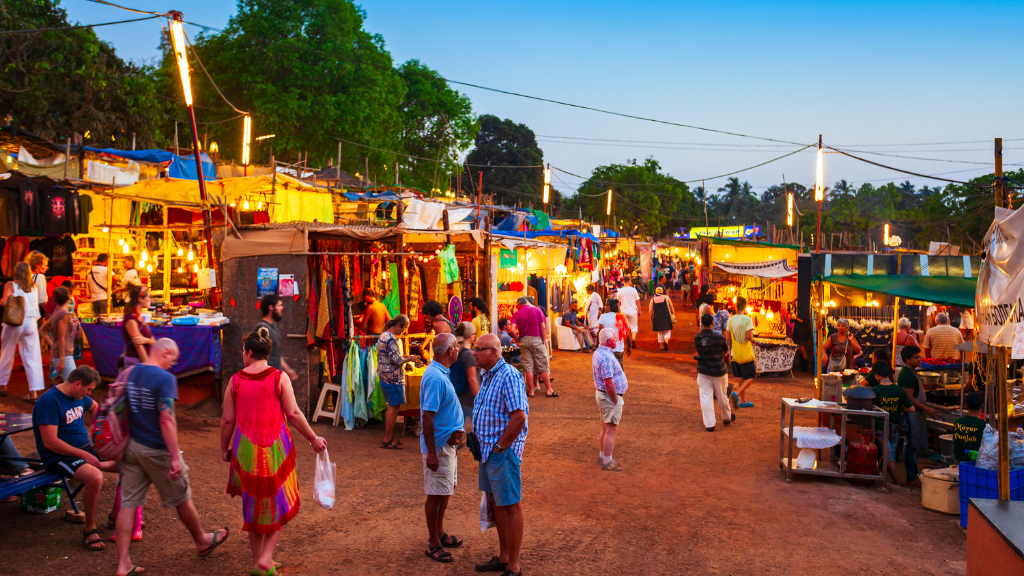 5. The Grape Escapade
The Grape Escapade is where music, wine and food meet. The fiesta is usually held in January every year in the courtyard of Inox Theatre in Panjim. Hotels, restaurants and chefs present their culinary delights, while artists enthral audiences with live performances and Goan designers lay the red carpet for slick fashion shows. It is a grand spectacle for gourmands, wine connoisseurs and international winemakers. Hoteliers and professionals from the entertainment, food and beverage and lifestyle industries come under one roof during the festival. Exclusive wine-tasting sessions are conducted. People can indulge in fun stomping and clomping of grapes for the traditional crushing. The four-day festivities conclude with the 'Grape Escapade Queen' crowning. 
6.
Serendipity Arts Festival
Artistic meets culinary in this multidisciplinary festival focussing on sustainable products, innovative art installations and eye-popping exhibitions. Historic buildings, auditoriums, private lawns, public gardens, galleries, and other areas across the city become stages for a vivid celebration of arts, crafts, music, food, dance and films. Artists, curators and enthusiasts have much to look forward to over the eight-day-long event held in December. Eminent personalities curate workshops, food experiences, concerts and performances. Famous restaurateurs design creative food menus. From cocktail masterclasses to spiritual storytelling, the quality of presentations continues to raise the bar with every passing year. 
7.
Sunburn Festival
Millions flock to Goa every December to attend Asia's Premiere Electronic Dance Music (EDM) Festival. Goa's biggest music festival started in 2007 as a three-day music festival and has taken India to the world stage as a prime dance festival destination. An eclectic mix of music, entertainment, experiences and celebration over the past decade, Sunburn is a platform for renowned international and Indian artists to entertain dance music lovers across the world. Sunburn has brought the world's top 10 DJs to India, including Swedish House Mafia, David Guetta, Afrojack, The Chainsmokers, Paul Van Dyk and Nicky Romero. The 3-day bash promises cutting-edge production quality with lasers, SFX and pyrotechnics, state-of-the-art acoustics, eye-catching visuals, and a gigantic stage featuring the world's finest artists dishing out some of the most loved radio hits. 
8.
Goa Arts and Literature Festival
The annual Goa Arts and Literary Festival, held in December, is amongst the premier gatherings in the nation's intellectual calendar, with a dazzling list of achievements over the past decade. Organised by the International Centre Goa, the festival focuses on Goan literature and diaspora. It has hosted eminent and famous writers such as Amitav Ghosh, Amish Tripathi and Teju Cole. Literature, art, music, and theatre buffs can immerse in painstakingly curated workshops, book launches, panel discussions, and performances by artists, writers, and musicians worldwide.
Time your visit to Goa with one of these vibrant festivals and discover a unique and exciting side to this beautiful beach destination every time. Book an elite haven for a luxurious private villa stay and leave the rest to us.