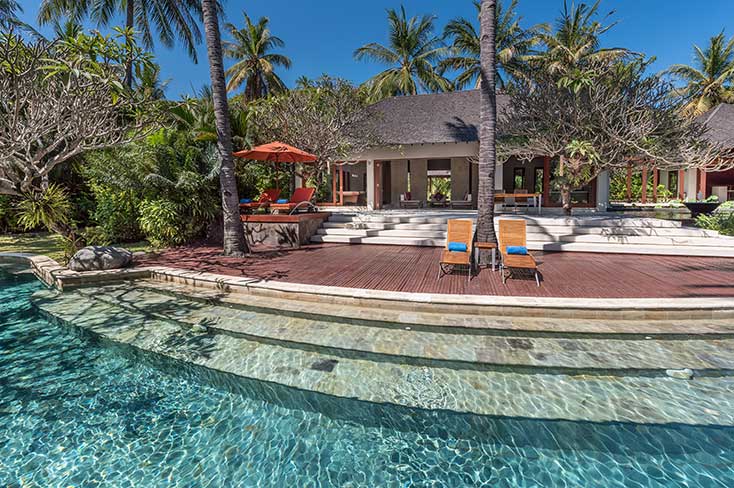 Aleksander K, Russia
,
02-Dec-2022
-
04-Dec-2022
I liked everything very much! Thank you, The Anandita
Francois V, France
,
03-Sep-2022
-
06-Sep-2022
What an amazing experience! Everything was to perfection: the kindness of the staff ,the fantastic food cooked be our chef and the beauty Of this villa We love to come back soon and enjoy another memorable karaoke night with our local friends. Take care and see you soon!
Jens E, Germany
,
28-Aug-2022
-
03-Sep-2022
It's not only the fabulous scenery and villas that make this location so spectacular but the incredibly hospitable staff members. We truly loved the beach, the magnificent pool, the tours and last but not least, the perfectly authentic Sasak food. Our idea was to find a different spot after 10 days in Ubud and Jimbaran, and all our wishes came true. Sad to leave now but extremely happy to have visited the Anandita and made many new friends!
Philippe L, France
,
08-Aug-2022
-
13-Aug-2022
At the anandita we very quicly lost track of time! This is exactly what we were looking for after 10 days exploning in bali and wonderful lombok! so big thank you to the team :gusti ,arya ,aldi ,the kitchen ,garden , and the security teams!
Wolfgang H, Germany
,
29-Jun-2022
-
06-Jul-2022
Thank you for amazing time in this villa we stayed here with family, kids, and friends. The service was absolutely great. The food was delicious and the massage was very relaxing the garden and the beach were very well maintained. Arya and Aldi the service menu played games with our kids and had a lot of patience with them. Thank you gusti the manager take care of all our issues thank you so much to the whole team anandita. we'll love to come back.
Stacey H, Austria
,
12-Jun-2022
-
19-Jun-2022
Thank you team Anandita. We have had lovely relaxing time here, enjoying the volleyball, pool, table tennis and beach. the staff has been so friendly, attentive and welcoming, making this experience so memorable. Lombok has been such an incredible experience, having the pleasure to visit a temple and immersing ourselves in the Indonesian culture. I had an amazing 18th birthday dinner, by the beach got given a traditional head piece, truly a birthday i will never forget.
Irfita Karina K, Indonesia
,
04-May-2022
-
07-May-2022
Another wonderful time at The Anandita villa. The staff is making those stays always special. Thank you to all of them. We will be back.
Bernard L, France
,
06-Apr-2022
-
09-Apr-2022
Another wonderful time at Anandita Villa. The staff is making those stays always special. Thank you to all of them. We will be back.
Rizal S, Indonesia
,
20-Jan-2022
-
24-Jan-2022
This is definitely the best holiday we have had in a long time.This would not have been possible withou the attentiveness, support and welcoming nature of the team here. It has been amazing 5 day trip. The food, ambience, the calmness and the beauty of nature that surround us is amazing. We will definitely be back. Hopefully soon.
Marcantonio P, Italy
,
27-Dec-2021
-
03-Jan-2022
Thank you team Anandita for making our holiday memorable. One of the best time we have had in a while! We really appreciate it. SUPER HOLIDAY. THANK YOU A MILLION.
Rob S, United Kingdom
,
06-Aug-2019
-
13-Aug-2019
Thank you for a lovely stay. To all the staff of Anandita - those we met and those in the background who work so hard to keep everything looking so beautiful. Many thanks for your help and organizing. We enjoyed our trip to Gili and the snorkeling. The golf course next door is amazing too.
Omar O, Pakistan
,
03-Jul-2019
-
10-Jul-2019
This was a very special stay at The Anandita - most caring and attentive staff. The villa offers everything from the most enjoyable and comfortable holiday to the gorgeuos pool and all the sports available. Also, having the Gilli island nearby for diving was a great bonus. We hope the people of Lombok are able to regain their use wood and rebuild their homes soon. We hope we come back next year and will look forward to meeting all the wonderful staff here again.
Mohamed B, Singapore
,
10-Jun-2019
-
16-Jun-2019
The pictures on the website don't do this place any justice. It's absolutely stunning. This place is a paradise and a joy to have a receive this fabulous service. We've been waited on hand and foot by the many staff members who have been happy to help with anything. There is plenty to do here and there is need to leave. Gusty, Arya, Munir and all others staff members were amazing. The chef Agus has prepared many delicious meals and the meal choices were fantastic - Nanny wants to take him home now. I would recommend this place to anyone who is looking for a family break away with stunning views and excellent service. I will be back.
Mara G, Malaysia
,
01-Jun-2019
-
08-Jun-2019
One of the best family vacations we've had. The layout and ambience at the villa was lovely and wonderful. The sea was great with the clean beach and clean water. The food served was delicious - well prepared and served creatively. Ambience - hats to the chef staff and thank you Gusty and his team - you all were amazing, caring and proactive. Friendly service...thank you Anandita.
William R, Hong Kong
,
14-Apr-2019
-
21-Apr-2019
Amazing and I want to stay here forever. Such wonderful attention to detail, such wonderful attentive staff - its hard to find fault with our whole experience, thank so much.
Ni G, China
,
03-Apr-2019
-
07-Apr-2019
Bagus, terima kasih. Its very good and we will back again. Thank you.
Carolyn S, Australia
,
04-Jan-2019
-
11-Jan-2019
Thanks for the most wonderful week at this special place. Amazing villa - especially staff. We will miss your smile and genuine manner. All the best for 2019 and the Lombok recovery.
Francois V, France
,
16-Nov-2018
-
25-Nov-2018
Thank you to the Anandita team for making the past 10 days an unforgettable holiday in Lombok - especially the crepes, fresh fruit, coffee to the perfect pina colada. We really appreciate you guys not obliterating us at volleyball and letting us maintain some dignity. We hope to come back and see the Anandita family soon.
Amine S, Indonesia
,
05-May-2018
-
12-May-2018
What an amazing place and what a lovely people! Mr Adi, Mr Arya and Gusti were incredible. Chef Bagus is a five star chef. We can't find appropriate words to say how happy we are spending this week in Lombok. Thanks to everybody.
Marcus L, United Kingdom
,
13-Apr-2018
-
20-Apr-2018
WOW! We had such an incredible stay at Anandita. Everything was perfect - the house, the pool, the food, the grounds, the ocean. The best part was the staff! Just wonderful. Arya, Ari and Gusti took such good care of us. We could not be happier. Thank you SO MUCH for an amazing holiday.
Misha G, United States
,
04-Nov-2017
-
07-Nov-2017
Fabulous villa, fabulous staff and amazing food - just wonderful. Thank you so much for a perfect stay. Can't wait to bring my family back.
Michael W, Indonesia
,
18-Oct-2017
-
21-Oct-2017
We had an amazing experience in Lombok staying at the Anandita. The property is located in a beautiful setting with a private beach with a great view of Gili Air on the left and Mt Rinjani on the right. The staff led by Gusti are amazing and very friendly. They are helpful, polite and very service oriented. The BBQ dinner was a unique and pleasant experience too - accompanied by a splendid local band under the stars! Best wishes.
Douglas M, Singapore
,
08-Oct-2017
-
16-Oct-2017
This is our second time at the lovely Anandita and once again we have had the most amazing holiday! The excellent and friendly service by the staff truly adds to the whole experience. The food was fabulous and the effort put into the location of each meal was great. The children and adults enjoyed all of the activities like soccer, fishing, volleyball and snorkeling. Thank you Gusti and the amazing staff of the Anandita for a truly relaxing and wonderful time.
David M, Australia
,
01-Oct-2017
-
08-Oct-2017
Anandita is an amazing place made even more special by the beautiful staff. The care taken to make our stay relaxing, comfortable and care free was second to none. All of the staff made the holiday extra fun for our children by playing soccer, volleyball and activities on the beach. The food was amazing - it was like being in a five star restaurant day and night. It was so nice to wander the beach and the beautiful grounds - the beach side pavilion was probably my favorite spot! Thank you Ade, Aria, Mr Gusti and everyone who helped make our stay so special, it was a truly amazing week!
Cristina S, Spain
,
21-Aug-2017
-
26-Aug-2017
Thank you for an amazing week. The staff are super nice, always smiling and very helpful. We all felt like home at Villa Anandita. Thanks!
Josh W, Canada
,
14-Aug-2017
-
21-Aug-2017
Thank you for the most wonderful stay at your beautiful villa! The attention to details is faultless, your staff so friendly, and no request is too much for them. Mr Gusti - incredible - such a kind and fun manager, we could not have had a better time. Our family is so sad to leave. Thank you for making such memories so special to me.
Neil C, United Kingdom
,
07-Aug-2017
-
14-Aug-2017
Our stay at the Anandita has been all we dreamed of and more. What makes this place so special is the professional staff who are kind, friendly and fun to be with. We have enjoyed all the activities as well as relaxing in the beautiful grounds. Gusti and the team should be very proud of what a special place they have created here and we felt very much at home and comfortable as soon as we arrived. We will treasure the memories for many years and we will remember you all and Villa Anandita forever. We will return!
Gérard N, France
,
01-Aug-2017
-
06-Aug-2017
A marvelous stay, thanks to Gusti and his team. What a pleasure... So sad to leave... Thanks to Gusti for making diving and yoga possible!
Graham D, Australia
,
02-Jul-2017
-
09-Jul-2017
Thank you for the most enjoyable stay at your beautiful villa. We had the most amazing time going snorkeling, riding bikes, visiting the markets and meeting your gorgeous family. We especially enjoyed playing in the Staff vs Family volleyball championships!!! The setting, weather & location of the villa is stunning but most of all, we loved the friendly and always smiling staff at the villa that made our holiday so enjoyable. Now back home to start the diet after eating so much yummy food! We hope to come back one day.
Krystal H, Australia
,
16-Jun-2017
-
19-Jun-2017
What a wonderful place. We had such a great time here, we did not want to leave. Thank you to Gusti and his wonderful staff for making this such a wonderful experience. Thank you for helping us celebrate Abbey's second birthday.
Diana S, United States
,
23-Apr-2017
-
25-Apr-2017
Our stay at the Anandita was total perfection & bliss. We are sad to leave. We came from Montreal, Canada, and we get a chance to stay in luxury villas all over the world. This villa, this staff and this service are at the top! Of course, the location is amazing but really what we will remember is the service. Thank you, thank you, thank you!! We are already looking for ways to return. This has been an unforgettable birthday trip. Gusti & Staff... we love you!
Benjamin J, Australia
,
14-Apr-2017
-
22-Apr-2017
Thank you for your kind hospitality and attractive service during our family's stay at the Anandita. You have made this feel like "home". It's a beautiful setting, plus your staff were very polite, professional and welcoming. We would love to stay again.
Kate H, New Zealand
,
02-Apr-2017
-
12-Apr-2017
We have had an absolutely lovely stay at your villa. The staff has all been very professional and friendly and made our stay even better. Appreciated the personal snorkeling trip from the beach and loved using the kayaks. And of course loved the new table tennis table! Thanks again. Hopefully we will be back again.
Dan J, United Kingdom
,
16-Feb-2017
-
23-Feb-2017
Thank you all for the most amazing holiday! You have all made our stay here at the Anandita truly memorable! We are all very sad to be leaving!!!
Alexander L, Denmark
,
28-Dec-2016
-
06-Jan-2017
Wow, to all the Anandita team, you have a most beautiful villa, in the most serene surroundings. Gusti, you were a wonderful host. You organise activities with such enthusiasm, bike riding, snorkeling, parties, BBQs. You were terrific! Your staff are a credit to the villa, friendly and knowledgeable. Thanks for a fantastic new year celebration along with an unforgettable birthday celebration.Gusti gave us such personal care, taking my mother shopping for a hat and giving a tour, to taking a bunch of us snorkeling along the reefs offshore. The food staff were great working with all of our requests and doing their best to cater to the spicy food requests along with the kids who could not handle it. We got to try local fruits in season and various local dishes. Kudos to the grounds crew who keep the landscaping immaculate and the pool so clear. It made for such pleasant times lounging the pool, out at the bale or even in the common room. Thank you!
Penny S, Hong Kong
,
19-Dec-2016
-
25-Dec-2016
Spending the last week here as a family has been a very special experience for us. The warm hospitality was complemented by the sensational facilities, making the week an amazing one. Thank you Gusti and the team for all the personal touches. You made us feel as though we were old friends returning.
Kuntesh G, India
,
04-Nov-2016
-
08-Nov-2016
We had a great time!!! Thank you Gusti & staff for the wonderful service. We are going back with wonderful memories from this beautiful place!!! Kids will miss you. Thank you.
Daren D, United States
,
31-Oct-2016
-
04-Nov-2016
The pinnacle of perfection and a delight at every turn. The house, the staff, the sun and sand. The Anandita truly became our second home. ;-) Cheers from Chicago, till we meet again!
Ilona B, Germany
,
17-Oct-2016
-
22-Oct-2016
Dear Gusti & Staff, after 5 years, we decided to come back to Anandita, where we felt just like at home and enjoyed every second. Gusti is the best manager of Indonesia. Kedek is a first class cook. Ari and Arya are super servants. They all celebrated all menus and activities perfectly. There was nothing that we missed. Thank you very much for a perfect holiday.
Marcel B, Switzerland
,
08-Oct-2016
-
14-Oct-2016
We really enjoyed our stay here in the paradise "Anandita". The beautiful garden, all the different flowers, the friendly and funny staff, the excellent food, the great volley ball games, and the wonderful view over the sea, all made our stay fantastic and unforgettable. Thank you so much and especially for the wonderfully decorated evening at the beach! We will never forget you and this place.
Julian B, United States
,
02-Oct-2016
-
07-Oct-2016
Really, really enjoyed our 4 days here! The villa facilities exceeded our expectations, especially after the 2 hours drive in the dark from the airport. But sooooooo worth it. Gusti and his staff are very lovely ~ friendly and helpful on every occasion, but quite discreet. We especially enjoyed the afternoon games of volleyball and football. Gusti makes an excellent referee. We had great food, welcome cups of tea, lots (lots lots) of coca cola. Floated about in the, oh so bee-u-ti-flu pool (is there a better one in Asia?) and avoided all forms of activity. If only we had been motivated to leave this wonderful sanctuary, I'm sure there would have been many things to do, but we didn't. We just completely relaxed. Being dragged back to Singapore very much against our wish to stay here forever. An absolute gem. Thank you Gusti & Team.
Stephanie G, Indonesia
,
10-Sep-2016
-
12-Sep-2016
The service is TOP NOTCH!! Mr Gusti & team are very friendly and tend to our every needs 24 hrs! Villa Anandita is SUPERB!! Great views, great villa, great facilities, great pool, each and park. Thanks for such a great holiday!
Noorin M, Philippines
,
05-Sep-2016
-
10-Sep-2016
What an incredible stay at the Anandita! The setting was absolutely perfect: great pool, very green, right near the water, and an amazing villa. Even better was the staff, extremely friendly and accommodating. We will be sure to come back and recommend Anandita to our friends.
Alina, Singapore
,
29-Aug-2016
-
04-Sep-2016
Gusti & Crew, what a marvelous experience you created! Everyone was so welcoming and warm, and no request was too difficult. The last night was magical. The details on the table, the crowns, the music, the bonfire were spectacular. I will definitively be coming back again. Finally, every single person, gardeners, chefs, kitchen staff, security and you Gusti, are the warmest, kindest & most generous people. Thank you so much.
Sophie R, United Kingdom
,
12-Aug-2016
-
18-Aug-2016
We spent a fantastic week at Villa Anandita. Felt like home thanks to your kindness and energy! Great mix between activities and rest times, and the villa is so beautiful! We really enjoyed our time with you! Sayonara to the full team!!
Jetske U, Netherlands
,
03-Aug-2016
-
12-Aug-2016
After having visited Bali, Lombok and the Anandita was the best stop in our holiday. We loved to be here, enjoying the warm personal touch of the staff and the lovely surroundings. This villa was in no way any less than the 5 stars hotels we visited in Bali. Highlights were the boat trip to the Gilis where we eventually did see turtles, and the daily volleyball competition with did with the ever smiling staff. The children loved it. A special thanks to Gusti and his relentless efforts to make our stay unforgettable. Terima kasi!
Nancy T, United Kingdom
,
24-Jul-2016
-
31-Jul-2016
During our 7 days in this little piece of heaven, we have thoroughly enjoyed ourselves. The staff were incredible (we love Erni!) and knew what we wanted before we did! Would thoroughly recommend a snorkeling trip to Gili Air + Meno (saw amazing turtles which we swam with!) we did not do much else but would recommend steering clear of Hotel Tugu as food is overpriced and nowhere near as good as the wonderful chefs here. Definitely BBQ on the beach was a highlight. We will definitely be coming back again. You can't get paradise like it!
Catherine W, United Kingdom
,
07-May-2016
-
16-May-2016
The staff so well led by Gusti, Ernie, Adi and Febi were so kind and attentive. Their Balinese/Lombok wide and beautiful smiling faces shall be a long memory for us. Above all, the peace and tranquility away from our busy worlds in London, Shanghai and (to a lesser extend) Malta, was the quintessential element of this holiday. A great way for our granddaughter Apolline aged 6 months old to start her holidaying life. Thank you Gusti & the team, Ade, I look forward to tasting your caipirinha next time we come. We shall return.
YI MENG Q, China
,
30-Apr-2016
-
04-May-2016
Beautiful view, delicious food and the service and hospitality of the staff impressed us deeply. Staying at the Anandita is like a living in paradise, under the coconut trees, and with the staff all around us like angels. The food quality here is as good as in a 5-star hotel, but at the Anandita you get much better value for the price. Hope to come here again soon.
Candy E, Australia
,
24-Apr-2016
-
26-Apr-2016
Amazing and relaxing couple of days, could not be any better! Definitely recommend to absolutely everyone in the world. Amazing venue for any occasion. Very relaxing, the staff were amazing and really made the place work. Thanks for the amazing time, too bad it went so fast.
Robyn P, Australia
,
18-Apr-2016
-
24-Apr-2016
Anandita was the perfect place to celebrate Robyn and Theo's 50th birthday! The night of the birthday celebration is a night we will all treasure for many years to come. Anandita is luxurious and spectacular, however it is the staff who work here that make this place so special and a "second home" that you don't want to leave. Every day you are greeted with a warm smile and friendly face and there is no request too difficult for the staff. Highlights of our stay here would have to be the beach barbecues, our trip to the Gillis, riding the scooters and the magical 50th birthday celebration for Robyn and Theo with amazing decorations, fabulous food, fireworks and the talented band "Hang on". Thank you to all at Anandita. We are already looking forward to coming back one day soon. Thank you!
GERON D, Belgium
,
03-Apr-2016
-
06-Apr-2016
Trois jours inoubliables dans une villa sublime grace à la gentillesse du personnel et une belle soirée avec le grand "Crazy band". Merci.
Kylie F, Hong Kong
,
29-Mar-2016
-
03-Apr-2016
We have found paradise. We are 4 couples living in Asia and we chose the Anandita for one of our's 40th birthday vacation. We definitely made the right choice! Gusti & the team were amazing - nothing was too much trouble and he went out of his way above and beyond, to ensure we were well looked after. He organised boats, parties, bands, paddle boards, bike rides, happy hour - our requests were always met with a smile & can attitude. The food was delicious. Ida was such a smiley, friendly face to greet us all day and look after us. The whole team are a credit to the Anandita. Gusti takes great pride in his job and really made our stay special. On our final night the staff played traditional music for us after dinner - they call themselves "The crazy band". It was very lovely. Thank you Gusti, Ida and the team, for making our stay at the Anandita such an amazing, enjoyable experience. We all cannot wait to come back. We might even bring the kids next time. ;-)
Halle P, Australia
,
22-Mar-2016
-
29-Mar-2016
BEYOND AMAZING !! We travel continuously and this has been an absolute stand out experience for us. Such professional service, in the almost isolation of a perfect paradise.
Peter P, Hungary
,
07-Mar-2016
-
14-Mar-2016
We are Asia-fan travellers. We have stayed in many 5-star hotels and villas over Asia: in Bali, Pangkor Laut (private island), Bintan, Seychelles, Maldives, Krabi, Phuket, Koh Samui etc, but this holiday in villa Anandita was the best! The staff, the food, the garden, the beach, the service and of course Gusti and our friends' hospitality is unforgettable!!! We felt like kings during our stay, We will be back! Thank you!
Tomas U, Singapore
,
21-Dec-2015
-
28-Dec-2015
Big thanks again & again to Gusti and all the lovely staff of Anandita, Ernie, Ida, Alex and the rest of the team. Our son Tom prepared this vacation in your villa for our Christmas holiday and it was one of our best time of our life! The dining at the beach we enjoyed so much, especially our Christmas eve dinner with the band & Christmas day dinner with the music and the dancers. Memories of your place will remain with us for very long time in our retirement life. Thank you.
Gunter S, Indonesia
,
13-Nov-2015
-
19-Nov-2015
The place, the property, the staff, the food - everything was amazing. Thank you Gusti, Ernie, Ida, Alex and all the people from the team. We will recommend you and hope we will come back. See you soon!
Teresa E, Indonesia
,
30-Oct-2015
-
02-Nov-2015
Oh my goodness, what a holiday, what a magnificent villa and surroundings. Simply HEAVEN ON EARTH. Staff were the best we have come across, and we have stayed in many villas in Bali and all over the islands. Nothing was too much trouble for Mr Gusti all the way down to ground staff. I would suggest anyone thinking of coming to the villa should order Indonesian food for the first day and when you get here, then pick your menu, as the way it is written on the website can be confusing. We celebrated a birthday while here and we were blown away with how special they made it. Food, fireworks, decorations, entertainment were beyond our expectations! Wow. As soon as we got home, we were booking to come again. Until next time!
Calvin P, Singapore
,
26-Oct-2015
-
30-Oct-2015
This has been a wonderful holiday, the first one in our memory where we have had the luxury of just relaxing and enjoying leisure activities away from the bustle of city life. We have been completely spoilt by the first class service of Gusti and the staff at the villa. Every need of ours was anticipated and met beyond our expectations. We will not hesitate to highly recommend our experience to our friends and to come back again for our next family holiday. Thank U!
Kimberly L, Singapore
,
20-Oct-2015
-
24-Oct-2015
What a wonderful, relaxing stay in beautiful Anandita! The beauty of the villa and grounds was only surpassed by the warm smiles of the fantastic staff. You were all so eager to make our stay as special as possible. Our final evening on the beach with the beautiful decorations and the crazy band was a night to remember! Thank you thank you Gusti and friends!
Neil L, Singapore
,
11-Oct-2015
-
18-Oct-2015
This has been one of the best holidays we have ever had. Gusti and the staff have been amazing. The beach, villas, pool and grounds have exceeded our expectations. We will definitely be back! Thank you so much for some great memories, and all your hard work.
Richard M, New Zealand
,
05-Oct-2015
-
10-Oct-2015
What an amazing place the Anandita is. We have had a wonderful holiday, kayaking, snorkeling, biking and so much more. The staff are amazing. We have been so looked after and what a beautiful local food we have eaten. Thanks so much. Will be back.
Gail T, Canada
,
02-Oct-2015
-
05-Oct-2015
We all could not be happier! Every detail was perfect, plus the staff and food exceptional. We loved our stay! Thank you so much.
Abdul Malik B, Malaysia
,
25-Sep-2015
-
28-Sep-2015
Fantastic private resort overall. Ever attentive staff led by Pak Gusti. Efficient outside arrangement like hotel pick up, local tour, massages etc. Room also great. Beautiful arrangement for dinner.
Gain J, South Korea
,
19-Sep-2015
-
21-Sep-2015
It was such an amazing staying at Anandita, with lovely staffs! We stayed only two nights here but had a wonderful holiday. The meals were very delicious. Staff was extremely kind and lovable, and especially every dinner setting was beautiful and romantic. Once again, we really appreciate to Gusti and staff for their warm hospitality. Definitely we would love to come back to the Anandita.
Kate K, Australia
,
05-Sep-2015
-
12-Sep-2015
It is with an enormous amount of gratitude and pleasure that we thank the entire staff of Anandita for a wonderful week. We especially enjoyed the dinners on the beach, market tours and the "experience of a life time" bike ride! This beautiful villa and unique experience has given us all the opportunity to relax and indulge ourselves. Memories will remain with us for a very long time. Our photos will be a constant reminder of your wonderful country and the warmness of your people.
Rhian C, Singapore
,
01-Sep-2015
-
04-Sep-2015
Absolutely blown away by this place. Beautiful setting, outstanding pool and conveniently located for GiIlis and golf despite feeling miles off the beaten track. A great hidden gem. Nothing but great things to say about the staff, always on hand and keen to help (even with the baby). Gusti is a star. Will definitely be back.
John Bramley, Australia
,
21-Feb-2015
-
28-Feb-2015
Fantastic week, Everything perfect. Gusti and the staff looked after us as if we were royalty.
Jane W, United Kingdom
,
20-Dec-2014
-
27-Dec-2014
We feel lucky to have found Villa Anandita and enjoyed a wonderful, happy family Christmas amongst the excellent staff who became our friends and family too for the week. It's not cheap, but you pay for Paradise and 8 of us wallowed in it's peace and tranquility. Having said that, we had plenty to do with snorkeling amongst the coral reef, sea kayaking, cycling round the local roads, ping pong, snooker, swimming, volleyball, golf, massage...in fact not enough time to do excursions further away as so happy to be at the Anandita almost full time. The staff, led by the bubbly, laughing Gusti were all delightful and full of enthusiasm to make our stay the best ever and nothing was too much trouble. We got to know everyone from The two brilliant chefs, Ida, Erni, the smiley gardeners, the security who helped us with our kayaks and Alex who not only met us at the airport but seemed to be everywhere helping us on boat expeditions, to cleaning our rooms. Gusti had many wonderful surprises for us and organised our days and evenings with such pleasure and delight on his face, but was just as happy to leave us in peace by the pool. We have already recommended it to our friends who in turn have already a possible plan in mind for a holiday there. In summary, a fabulous oasis amongst the genuine and smiley and welcoming people of Lombok. A well designed house for the climate with superb landscaping, close to the beach and a 25 minute kayak from the Gilly Islands (if you are feeling fit!)
Yolande Dick, Singapore
,
06-Jul-2014
-
14-Jul-2014
Villa Anandita was absolute heaven! A very typical Bali style decorated villa with pavillions, but an unusually large garden and a pool like a resort hotel lagoon. So much space to walk around and feel freedom from the outside world to relax in a beautiful setting. Watching sunsets with margaritas and staff that waited on us hand and foot. Each day was filled with activities which the Villa Manager arranged for us - He was full of so much enthusiasm, that made our stay memorable. We went to the most amazing waterfalls we had ever seen. We also went on a short boat ride with him to Gili Air and Gili Memo and swam with the turtles and fed bread to colourful fish. This was the most memorable trip. The beach had lovely white sand and the water was clean enough to swim when the tide came in. When the tide went out, you could walk amongst the seaweed and coral and discover all sorts of sea creatures from starfish , octopus and much more. The staff prepared 3 meals a day for us, which we had to order in advance the night before. The meals were ok, but nothing to rave about. We had a lovely meal up at the new resort Lombok Lodge which we recommend and was recommended by friends. Overall a very pleasant stay and a great family holiday. We really felt we unwound in this place because of the relaxed atmosphere, which is exactly what we were looking for with our family. We do recommend this Villa, but if you like your food like us, we advise you take your own nibblies like cheese, olives, crackers, chips, nuts etc as this is difficult to get in this area. We took these items in our luggage from singapore and I think this really helped.
Sacha Smith-Laing ., United Kingdom
,
26-Mar-2014
-
27-Mar-2014
We absolutely loved Villa Anandita - a true tropical paradise. Staff were incredibly friendly and welcoming, special thanks to Gusti who is just wonderful. An extremely comfortable and luxurious home from home. Huge thanks to the whole team.
Kevin K, Indonesia
,
23-Jan-2014
-
25-Jan-2014
Really nice stay, very welcoming staff. The premises are stunning, we loved the big pool with jacuzzi and the garden. The gardens runs into a private beautifull beach. Very clean, safe and comfortable atmosphere. We liked the pool table inside and the nice decorated dining area. Thanks Villa Anandita for a very nice stay, hope to see you again soon.
John O, Australia
,
09-Jan-2014
-
17-Jan-2014
Villa Anandita was a fabulous location for a relaxing family holiday. Gusti and all the staff ensured we wanted for nothing and made the break one of the most memorable we have had as a family. Would be delighted to be able to return again - we felt like family.
David Cullerier ., Indonesia
,
01-Nov-2013
-
05-Nov-2013
fantastic villa in a wonderful place with all facilities and great staff
Luc De Coker ., Belgium
,
14-May-2013
-
17-May-2013
The trip from airport to the Anandita takes unfortunately 2 houres. On arrival there is a perfect service in an unique environment. Palmtrees and a fantastic prestine beach. For diving a perfect location. The boat from Gili Air Dive picks you up on your private beach, a pleasant experience again. The villa is near the hotel Tugu, you are just a little walk away on the beach for a cold Bintang beer. The manager, Gusti, uses the hotelprices as a reference. Be prepared to pay 350.000 IDR instead of 130.000 IDR for a Balinese massage, what we paid in the Villa The Mahatma House in Bali. Same for the foodprice, much to much food and a 30 % extra on the grocery prices.
Philippa Spencer-Carr, Australia
,
11-Apr-2013
-
20-Apr-2013
overall excellent experience, made more memorable by polished personal service.kids had a great time. would come again for sure
PA, Indonesia
,
10-Mar-2013
-
11-Mar-2013
Fantastic beachfront villa, perfect for families and groups to enjoy. Beautiful beach and pool. Gusti and staff go well beyond the call of duty to impress guests. We will definately be back!
NC, Australia
,
21-Sep-2012
-
23-Sep-2012
The direct access o a private beach was absolutely fantastic - the reef closely provided lots to see when snorkelling. The beach area was kept pristine. The villa is some distance from the airport and it took almost 2 hours to get through the small streets in Lombok to arrive at the villa. On arrival, everything was a advertised in the website - beautiful. Staff were very friendly and helpful.
AM
,
30-Jul-2012
-
09-Aug-2012
Paradisiac stay, beautiful villa and magnificent sunsets, adorable and discreet staff. Ideal for family/friends gathering and for scuba diving fans.
Ellery Joelle, Singapore
,
07-Apr-2012
-
15-Apr-2012
This is a beautiful villa set in a wonderful location, right on the beach with loads of open areas for kids to run around. The staff at this villa are absolutely incredible could not do enough to make our stay more enjoyable with a special mention to Gusti. We had such a relaxing and happy stay here.
Dmitri Kolontaevskii, Australia
,
20-Feb-2012
-
25-Feb-2012
The villa and stuff is just amazing, they been treating us as a King family. Many thanks to all stuff, but especially to Gusti - all our requests was done before even asking. Super service! Ten stars **********villa.
Bernd Wiedemann, Germany
,
23-Nov-2011
-
30-Nov-2011
Excelent! I think we will book this Villa again.
Anisha Putri, Indonesia
,
28-Aug-2011
-
29-Aug-2011
Very good service