Request Online Inquiry
If you require any further information please do not hesitate to ask. Our reservation specialists are well versed on all our villas, however in the unlikely event they cannot answer your question immediately they will endeavor to respond as quickly as possible.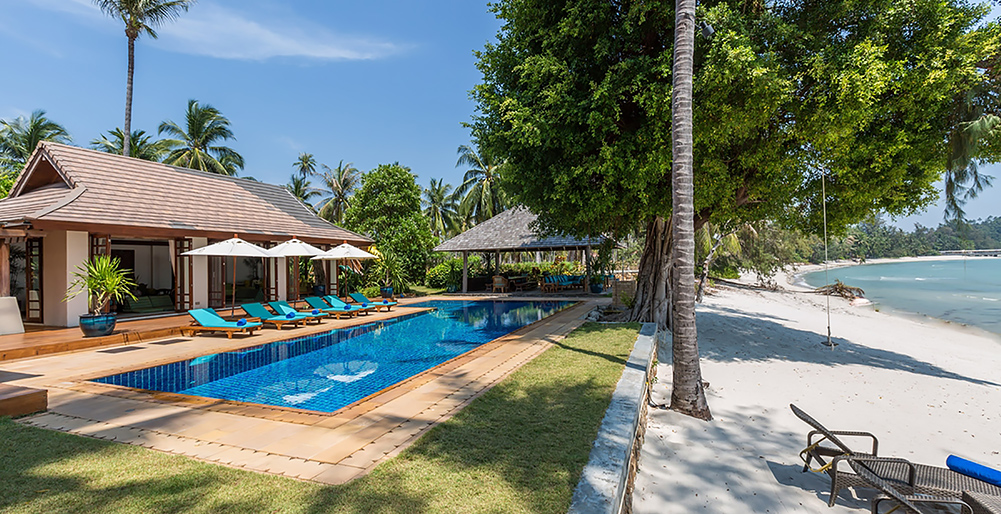 Birdsong greets you as you drift out of sleep; mynahs and bulbuls and flower peckers competing for air time. They love the tropical gardens at Villa Waimarie: the yellow and red ixora bushes, the red, pink or white hibiscus, the scarlet flame of the forest bushes and, towering above all, the majestic African tulip tree that drops goblet-size orange flowers on the lawns.
A winding brick path takes you through the lush gardens and then here it is: the peaceful water ("Waimarie" in the Maori language) of the Gulf of Siam and the almost deserted white sand of Lipa Noi Beach.
Sip your coffee in the large shady sala next to the pool of this heavenly Samui villa as you gaze out across the water. Close to the shore it's pale green. Then comes a band of dark amethyst, giving way to aquamarine stretching to the horizon. Five islands pick up the morning sunlight and behind them the mountains of mainland Thailand form a blue-grey graph against the sky.
Villa Waimarie has six ensuite guest rooms, configured in three cottages, each with a connecting door so that families can stay … connected.
Close to the beach are the spacious dining pavilion and the lounge pavilion, with its huge sink-into sofas and armchairs.
The friendly staff – villa manager, chef, housemaids and gardeners – ensures every request is met efficiently, and always with a smile.
Families love this place. Nanny service can be provided and for older kids there is the villa's own tennis court, along with two sea kayaks and two stand-up paddle boards and all the gear for beach volleyball.
And every one of them feels special.
Read more
Back to top