Request Online Inquiry
If you require any further information please do not hesitate to ask. Our reservation specialists are well versed on all our villas, however in the unlikely event they cannot answer your question immediately they will endeavor to respond as quickly as possible.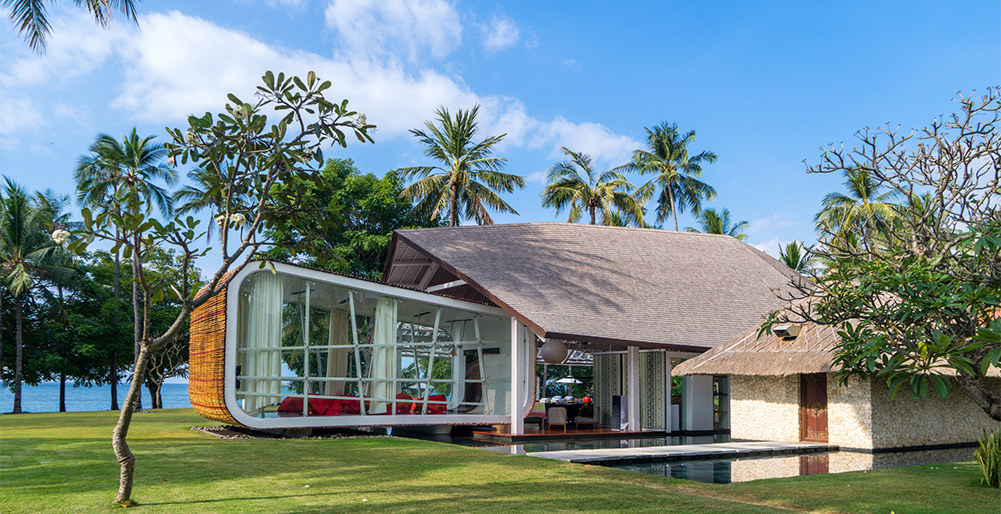 Villa Sapi is quite simply what dreams are made of. A masterpiece of design on the peaceful island of Lombok, this six-bedroom oasis is bordered by the pure white sands of Sira Beach against a backdrop of soothing seas, soaring peaks and sensational sunsets. With contemporary architecture, three swimming pools plus a children's pool, a stand-alone two-bedroom guesthouse, a tennis court, exemplary service and gourmet cuisine - this is tropical living and barefoot luxury at its very best.
Villa Sapi is a place where guests can truly escape; secluded and lusciously private but by no means isolated, its prestigious neighbours include the Sire Beach Golf Club, Hotel Tugu and The Oberoi, and the coral-fringed Gili Islands, with their superb dive sites only a short boat ride away.
Canadian architect David Lombardi's concept of 'Function over Form' leaves Villa Sapi's guests with a sense of discovery and surprise at every turn, from the traditionally styled, grass-roofed building that houses the main kitchen to a futuristic home theatre.
The view from the villa's open-sided living and dining room, bedrooms and bathrooms is unrivalled. Guests are again spoilt for choice with views of the ocean, mountains, forest and colourful fishing boats by day, and the moon twinkling on the water at night.
A full team of staff is on hand at Villa Sapi to look after every guest's need with superb service and cuisine. An extensive array of activities is available to villa guests, including golf, snorkeling, diving, waterfall hikes and mountain trekking, cycling, day trips to the nearby Gili Islands, cooking classes and more. Villa Sapi is sure to deliver a truly unforgettable, supremely relaxing and ultimately luxurious holiday on beautiful Lombok.
Read more
Back to top