Request Online Inquiry
If you require any further information please do not hesitate to ask. Our reservation specialists are well versed on all our villas, however in the unlikely event they cannot answer your question immediately they will endeavor to respond as quickly as possible.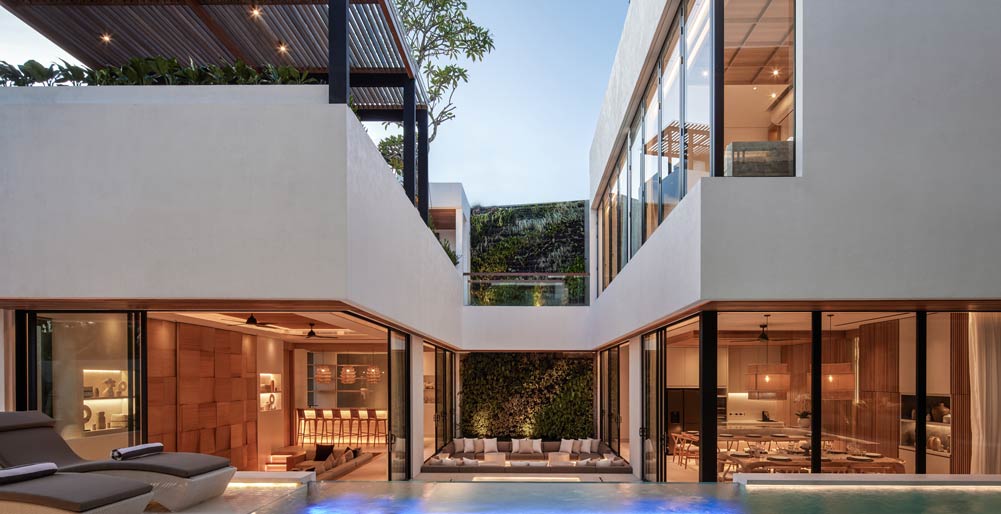 If you're looking for a centrally located, family-friendly villa in Bali, look no further. Villa Nini Elly, a swanky villa newly built in 2022 is the perfect holiday home for multi-generational families travelling with children, seniors and those young at heart.
Leave the world outside as you step into pure luxury. An oasis you wouldn't want to leave, Villa Nini Elly beckons you within, with an infinity pool stretching out across the width of the villa. Refresh yourself with a cold towel and settle into the plush sofas in the sunken living room as a wooden retractable wall opens up to reveal a large flat-screen television that it skillfully hides.
This disabled-friendly home features ramp access throughout the ground level, a rare facility not found very often in Balinese villas, making it a great place to bring your extended family. With six bedrooms spread over two levels, there's plenty of space for everyone. While the elders will love thoughtful features such as benches in the showers and shallow steps leading into the pool, the children will find the fish in the koi pond fascinating and movie nights on the rooftop theatre a magical experience. Young adults wouldn't mind stepping out for a quick visit to one of the many beach clubs within a 2km radius. You are, after all, in the heart of Canggu, with all that it has to offer a five-minute drive away.
Custom-built for the owner's personal use, the villa boasts super-luxury amenities and fittings. Toto-outfitted bathrooms, jacuzzis in both the master bedrooms (plus a sauna in one), intercom throughout the house, wireless phone charging, and smart home features such as mood lighting make this a hit with those who appreciate the comfort modern technology brings.
Managed by a team of staff ably led by an English-speaking Villa Manager, this is where you can allow yourself to relax and not worry about a thing. Enjoy three-course meals cooked by the villa's private chef and served with aplomb either in the air-conditioned dining room or alfresco on the rooftop. Canggu's hipster cafes, vegan restaurants, spas and boutique stores are mere minutes away. But such are the charms of Villa Nini Elly, that you may never wish to leave.
Read more
Back to top