Request Online Inquiry
If you require any further information please do not hesitate to ask. Our reservation specialists are well versed on all our villas, however in the unlikely event they cannot answer your question immediately they will endeavor to respond as quickly as possible.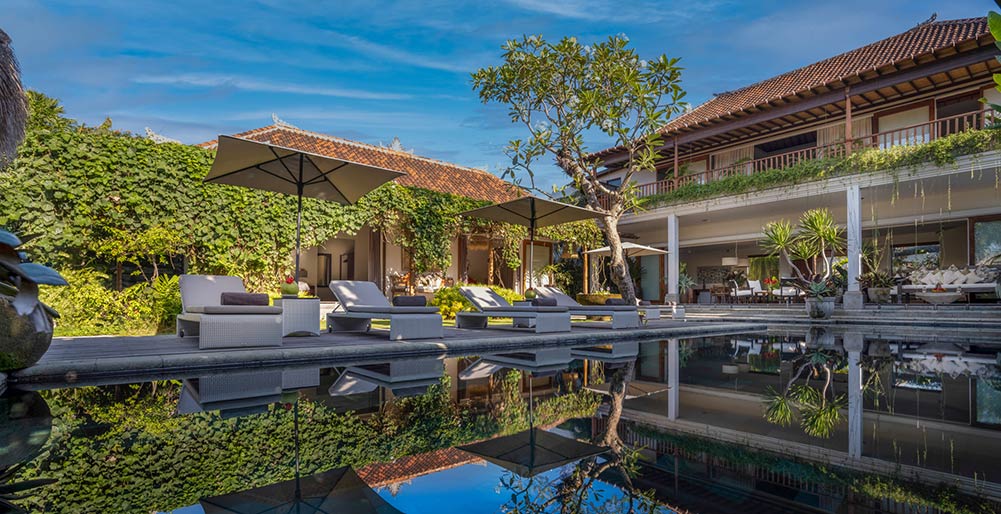 A scenic villa with paddy views, Villa Mandalay Dua is a quiet and peaceful haven for those looking to immerse themselves in Bali's lush countryside. There's no distraction here, no honking of cars or the cacophony of loud music - just birdsong and the quiet twinkling of stars on a dark night.
The villa is built over multiple pavilions, with the main pavilion hosting the living and dining room on its ground level. Sliding glass doors roll back to reveal an enticing pool and allow the sea breeze in. A comfortable lounge takes up one corner of the room, with cushioned wooden sofas arranged around a flat-screen television. The large dining table can accommodate up to 10 guests and adjoins an open kitchen with a breakfast island surrounded by bar stools. The room has a very earthy feel, using local materials like stone, wood and straw.
The jewel in Villa Mandalay Dua's crown, the master bedroom, takes up the entire upper level of the main pavilion, boasting enviable views from its private balcony and a sense of privacy. The guest bedrooms too have been laid out with guests' privacy in mind, with two of them sharing a separate poolside pavilion and the last one located near the entrance, with garden views.
Evenings are a relaxed affair at Villa Mandalay Dua, sipping a cup of coffee on the covered veranda outside the living room or sundowners by the pool. A private putting course in the lower gardens keeps the family busy, while the team of staff ensures that everything is in order. Delicious meals can be prepared by the in-villa chef who is adept at western, Asian and local cuisines.
The villa can be booked separately or in conjunction with its neighbouring Villa Mandalay, offering a total of 11 bedrooms to accommodate up to 22 guests. Tanah Lot Sea Temple is merely 10 minutes away and a car with driver can be hired on request, should you want to sightsee. But with a villa as lovely as Villa Mandalay Dua, chances are that you will rarely wish to leave its peaceful compound.
Read more
Back to top