Request Online Inquiry
If you require any further information please do not hesitate to ask. Our reservation specialists are well versed on all our villas, however in the unlikely event they cannot answer your question immediately they will endeavor to respond as quickly as possible.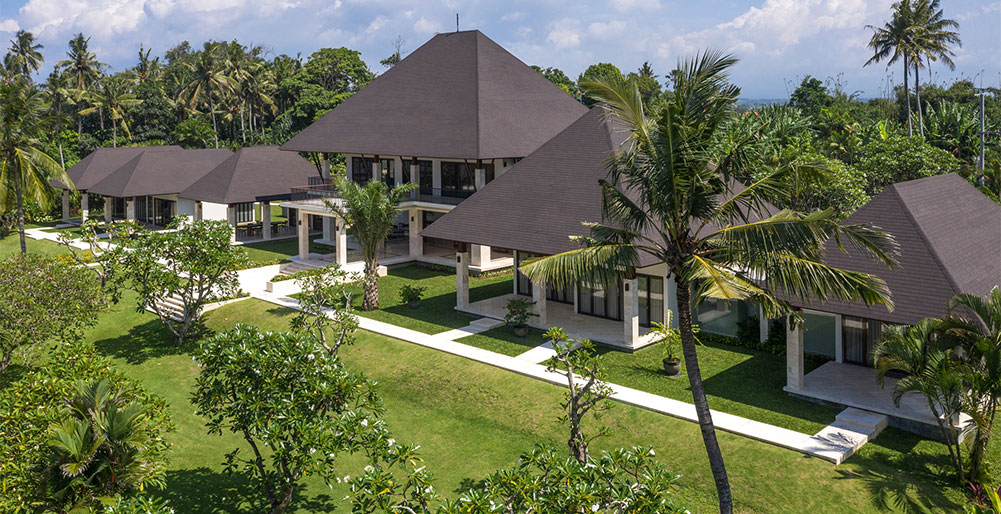 Away from the crowds, Villa Kailasha offers a tranquil respite in Bali's Tabanan regency. This marvellous property sprawls over 11,000 sqm of land, surrounded by coconut groves on three sides and the endless ocean in front.
You will feel like you're staying in your own private boutique hotel, such is the expanse of the property. Privacy is guaranteed, with bedrooms spread across different pavilions. Yet, each of the nine rooms offers a relaxed and luxurious stay amidst tropical greenery.
With accommodation for up to 18 guests, Villa Kailasha is perfect for large get-togethers, business or yoga retreats, and small personal functions, though there is nothing small about the expanse of its lawns. The grounds are impeccably maintained and dotted with flowering trees and swaying palms. They hold within them a 14-metre swimming pool bordered by sunbeds looking out towards the twinkling blue ocean beyond a glimmering black sand beach.
The double-storey main pavilion is the social hub of the villa, offering both air-conditioned comfort on the upper level and the option to enjoy breezy evenings in the lower-level lounge. Meals are a delicious affair, crafted by the in-house chef and served in the open-sided dining pavilion, its tapering wooden roof adding drama to the already picturesque setting.
With televisions in every room and an air-conditioned multi-purpose room in the main pavilion, there's plenty to do in the villa. The incredible Kelating Beach is a three-minute walk from the villa. The charm of Villa Kailasha is in its serenity, away from the bustle of everyday life, a quiet and scenic place to relax, renew and reconnect.
Read more
Back to top