Request Online Inquiry
If you require any further information please do not hesitate to ask. Our reservation specialists are well versed on all our villas, however in the unlikely event they cannot answer your question immediately they will endeavor to respond as quickly as possible.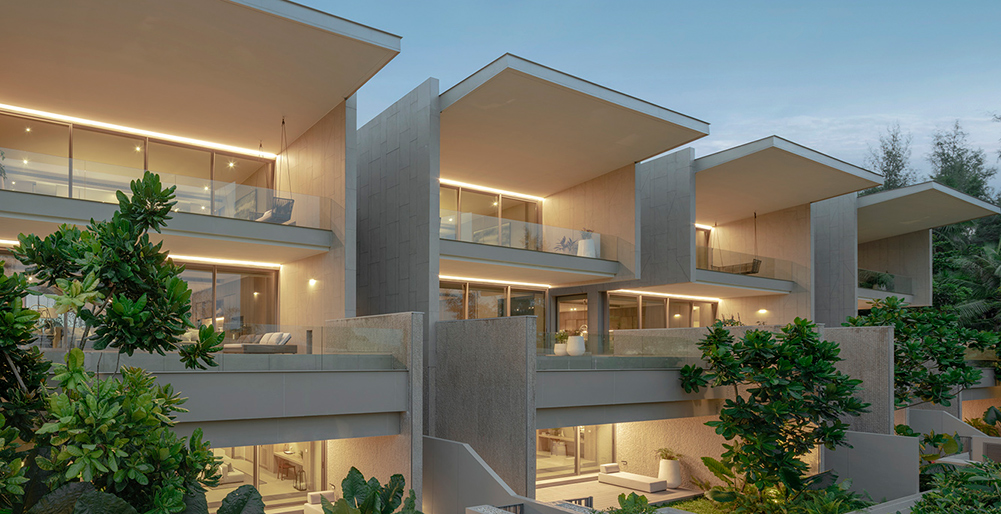 Set within the exclusive Veyla Residences with breathtaking views over Natai Beach, Veyla's Sea Villas feature monochromatic interiors that weave artisanal crafts into a modern yet minimalist design. With an outstanding location on an unspoilt beach, these Sea Villas are the perfect Phuket escape for families or groups of friends seeking luxurious tranquillity blended with the charm of a slower pace of life.
Each of the four Sea Villas features chic and spacious living and dining areas. Sea-facing terraces, an array of beautifully designed social zones, and floor-to-ceiling sliding glass doors enhance the grand views of Natai Beach. Natural light permeates the villas while the sliding glass doors seamlessly merge the indoor and outdoor living spaces.
The untouched natural landscape of Natai Beach, a ten-kilometre stretch of silky white sand north of Phuket island, is mere steps away. Go for long walks on the sand or enjoy activities such as snorkelling, kayaking and stand-up paddleboarding for days filled with beach fun. Phuket International Airport is a short, thirty-minute drive away, and many of Phuket's highlights such as golf courses and beach clubs are within easy reach. If you're looking to explore the local neighbourhood, you will be astounded by the natural beauty of Phang Nga, with picturesque trails, stunning waterfalls and other natural wonders close by.
At your service is a welcoming team of staff including a chef, highly skilled in Thai cuisine, and a friendly Villa Manager who will ensure that your every need is met - whether it is inside or outside the villa.
For larger groups of friends or families, the Veyla Sea Villas offer an exceptional choice of accommodation. Situated side by side, the villas can be rented together or individually, boasting private swimming pools, easy access to the beach, and spectacular Andaman Sea views.
Read more
Back to top