Request Online Inquiry
If you require any further information please do not hesitate to ask. Our reservation specialists are well versed on all our villas, however in the unlikely event they cannot answer your question immediately they will endeavor to respond as quickly as possible.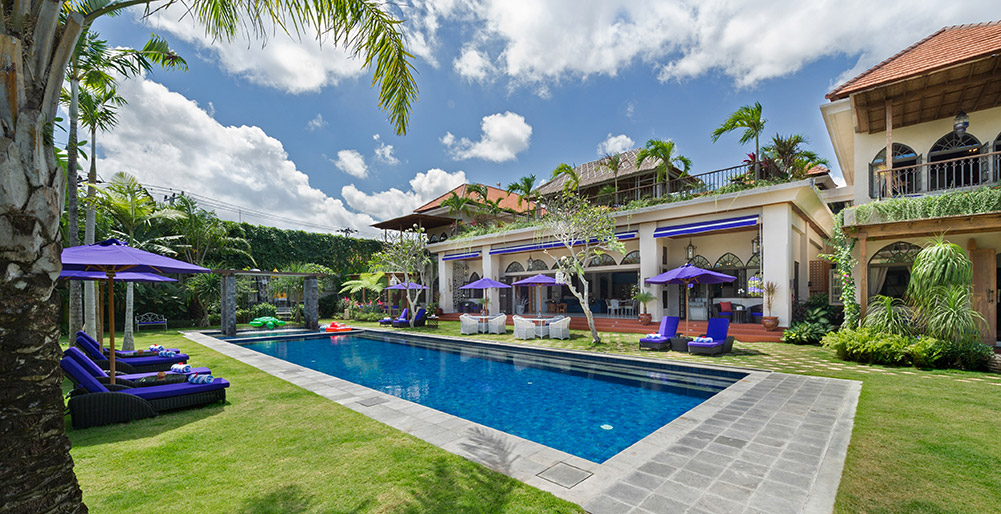 This wonderfully opulent villa combines sophisticated European design with a magnificent Balinese setting amidst lush tropical gardens in the heart of stylish Seminyak. The beguiling Moroccan-inspired interiors and architecture blended with the French owners' sense of panache and style, transports guests into the pages of a spellbinding 'Tale of The Arabian Nights' when staying at this resplendent six-bedroom oasis.
Villa Sayang d'Amour provides the picture-perfect setting for sophisticated gatherings around the 20-metre swimming pool, elegant moonlit dinners or fabulously chic rooftop parties, whilst also providing wonderfully intimate spaces for private repose and relaxation. Villa Sayang D'Amour has thoughtful design and sense of scale, large enough to be majestic yet offering intimate and comfortable spaces for relaxation and contemplation. Enjoy a delicious meal illuminated by the warm glow of the chandeliers or watch a famous Balinese sunset on the rooftop surrounded by the perfectly landscaped tropical garden. During the balmy days, luxuriate on the lounge chairs under ample umbrellas and watch the children play in the custom-made cubby house or the specially designed kids' splash pool.
The villa provides and oasis of luxury and glamour minutes away from some of the best restaurants, shopping and nightlife that Bali has to offer (walking distance to W Hotel and Potatohead).
The warm and friendly staff is dedicated to ensuring the villa is true to its name. Discreetly and efficiently, they attend to guests every need ensuring their stay is one that is, indeed, filled with 'sweet love' as its name suggests.
Read more
Back to top