Request Online Inquiry
If you require any further information please do not hesitate to ask. Our reservation specialists are well versed on all our villas, however in the unlikely event they cannot answer your question immediately they will endeavor to respond as quickly as possible.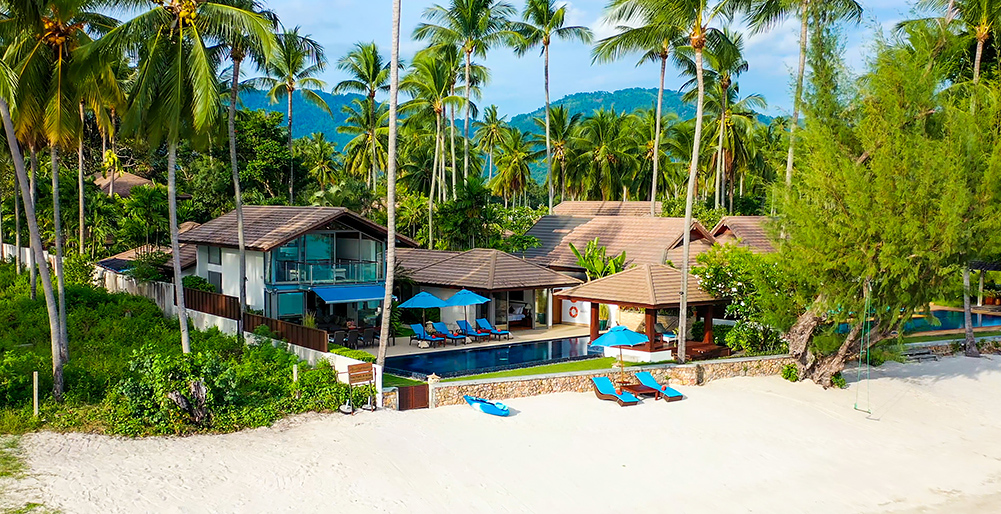 The view is almost too much to bear. The sky a deep solid, tangible blue overhead, with not a cloud, fading to a slight mistiness near the horizon, which is punctured by razor-edged islands that rise black against the light. The sea picks up the colours, twists them into turquoise, indigo and cobalt, then flings them back up towards the sun, which presides over all in its sultry magnificence.
The sea. That's the meaning of Akuvara in the ancient Sanskrit language. This delightful jewel of a villa sits next to Haad Lipa Noi, Samui's prettiest yet quietest beach – a stretch of near-white sand edged with straight-soaring coconut palms and gently whispering casuarina trees.
Akuvara has a quiet homeliness to it. Its scale is friendly, approachable, and enjoyable. For a family or a small group of friends, this Samui villa, with its 13 x 5-metre infinity-view pool, is the perfect tropical beachside getaway.
Its architecture is modern and uncluttered, with glass walls to take full advantage of that glorious sea view.
Modern it may be, but the lovingly kept garden and the sand-coloured pathways that lead through it blend calmly into the landscape. Friendly statues dot the lawns that separate the four bedroom pavilions, and ten-times-lifesize, whimsically colourful tokay gecko bas-reliefs climb the walls to surprise and delight the unwary.
Akuvara is not all about lazing in the sun, of course. There's a kayak for the more adventurous to explore the sea, and games of pool, beach football or beach volleyball are all easy to organise. And that's not forgetting the many delights of Samui island that lie within easy reach by car. Nowhere is far.
As the sun leaves its throne and slides down the canopy of the sky, the colours change to the brilliant oranges, pinks, reds and greens of a spectacular tropical sunset. It's probably time for sundowners overlooking the sea.
Read more
Back to top