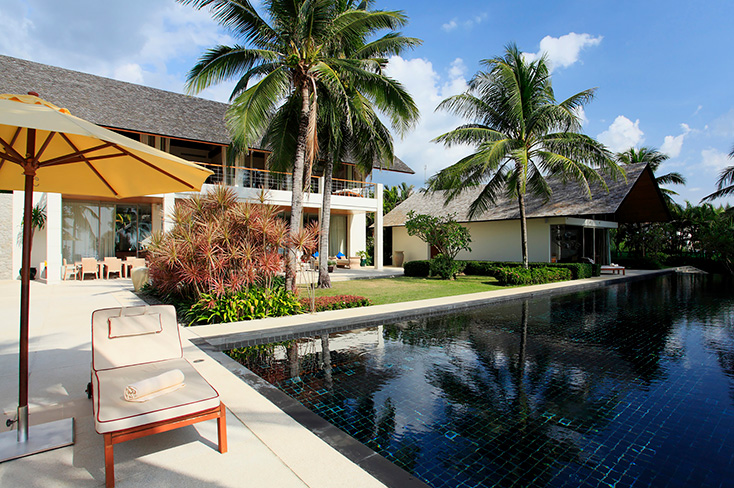 Anna M, Thailand
,
05-Mar-2023
-
25-Mar-2023
We had 10 days surrounded with care and love. We are happy to be in this place. Thank you very much to Kim and her colleagues who took care of us. Everything was perfect. I hope see you next time!!
Cheryl L, Singapore
,
23-Feb-2023
-
26-Feb-2023
Excellent service!! We came here for a company retreat and they took great care of us. They served us great food - recommend the Pad Thai noodles! They were quite accommodating with our requests. Relaxing vibes - Definitely use the pool and enjoy a swim. It's serene!
Leroy M, Singapore
,
14-Feb-2023
-
18-Feb-2023
Thank you for a wonderful time!
Julie T, United Kingdom
,
30-Jan-2023
-
09-Feb-2023
We stayed at Talay Rom to celebrate two important birthday - one with a superb meal is the sat by the beach and another night of celebration at the Café Del Mar at Kamala Beach, Phuket. We have loved the peace tranquility of Natai beach, the villa and its beautiful gardens. We have swim in the sea everyday, secluded (especially good at the south end of the beach by the rocks) enjoyed massages and strolls on the sand. We saw phosphoresce while enjoying the surf at night. Above all the staff have been fantastic. We have catered so well and been looked after so well. Big thanks to Tam & Team!
Tiffany Y, Hong Kong
,
25-Jan-2023
-
29-Jan-2023
Tam, thank you so much for helping and looking after us so well, also thank you for your team as well, my family, Raymond and I did had wonderful time, hope to see you again!
Alexander J, Singapore
,
30-Dec-2022
-
06-Jan-2023
Baan Taley Rom is a wonderful slice of paradise. A truly special place for our family reunion. The staff was incredibly helpful, the villa had a great layout and the chef did prepare some superb meals. Lastly, the beach and sunsets usually play a huge role in this gem of a holiday spot. We will be back. Thank you all!
Anton T, Thailand
,
22-Oct-2022
-
30-Oct-2022
Our major group of friends have really enjoyed staying here. We've lived here for about a week, however it felt like the time has flown by in a second, since this place is almost good as heaven. Special thanks for the team which helped us through our whole stay in here. Moreover, we really appreciate we've had a great opportunity to celebrate a birthday of one of our friends. The feeling of hospitality & tranquility of this place accompanied us for our whole holiday. The reason for this is probably the perfect team, which was helpful, kind & very patient for our needs, especially Oi has been helping a lot. We'd like to come back here once. We'll carry so many vibrant memories from here through our life! With love from your Russian friends.
Valentin S, Singapore
,
14-Jul-2022
-
18-Jul-2022
What a great little break we had have after two years of covid. We very pleased with the friendly service and the delicious Thai food.
Rasavadi K, Thailand
,
10-Apr-2021
-
13-Apr-2021
Our family spent a week here, we all had a good time and enjoyed our stay here. The living area is roomy, airy and spacious with plenty of natural light. Excellent view of the beach and sea with lots of coconut trees. Nice outdoor seating area, great food. With the impressive services of the Elite Havens team. We are looking forward to coming back again soon!
Ott TripId: 1221365 T, Canada
,
22-Nov-2019
-
30-Nov-2019
We would really like thank you, especially the great staff at Villa Baan Talay Rom. Our vacation was beyond wonderful. The food was awesome and service was exceptionally good and friendly. One of the best places to spend a vacation with kids (2 to 8) The pool was occupied most of the day light. Hopefully we will be back soon
Philip H, United Kingdom
,
14-Apr-2019
-
28-Apr-2019
We have loved every minute here. I thought that every staff member was amazing and so kind!! Torin
David B, Thailand
,
20-Jan-2019
-
22-Jan-2019
Our 3rd Visit to the beautiful Baan Talay Rom. Love the beach access and spent most of their time in the swimming pool. Needless to say we will be back, wonderful holiday
Jasmine A, Australia
,
01-Nov-2018
-
06-Nov-2018
Our story at Villa Baan Talay was nothing short of extraordinary. The staff was absolutely amazing, we were always greeted with a warm smile and they were very attentive to our needs whether we had a request or not. We really wish we could take the chef home, she was exquisite. The house keeping staff went above and beyond our expectations. Our stay was made simple and seamless. Excursions and necessary taxis, we felt safe knowing that the trusted company was booked for us. Our stay here was worth every penny and we are looking forward to when we can come back.
Natalie F, Hong Kong
,
29-Sep-2018
-
03-Oct-2018
Thank you for a wonderful stay. The facilities were perfect to us. Kids loved the place especially the fish pond and the beach. The staff were friendly and kind. Food was amazing. Chef's talent can create many different types of cuisine. Fantastic.