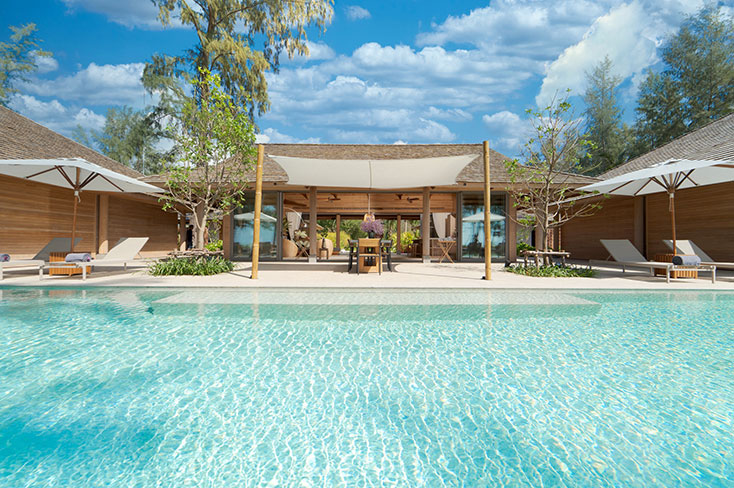 Pierre-Olivier D, Switzerland
,
09-Oct-2022
-
12-Oct-2022
I came to the Pines to celebrate my 35th birthday with my family and friends and I had an amazing time. Not only was the house beautiful and very well kept, but the food was very, very delicious and the staff extremely welcoming. We did not want to leave and almost extended our stay at the villa! This proves how amazing it was. I am hoping to come back very soon
Max P, United Arab Emirates
,
14-Aug-2022
-
21-Aug-2022
The perfect tonic and retreat. You have such a spectacular spot - as exemplified by nature's fantasy show at our last sunset. We must do so much more to safeguard natural world solitude - this is special. So much fun and many memories…Thank you for letting us stay in your beautiful villa. It has been amazing. Max Palethorpe (UAE), 14 - 21 August, 2022
Arne V, Norway
,
30-Jun-2022
-
13-Jul-2022
"The service was excellent and caring. Food was fantastic every day. Nice decor and good taste."
Passapol C, Thailand
,
02-Jun-2022
-
05-Jun-2022
Thank you for taking care of us. It's been an amazing weekend here… Everyone here has been so lovely. We feel like home…
Ben J, Singapore
,
07-May-2022
-
14-May-2022
Thanks for the wonderful stay! We felt wonderfully looked after, from the food to how they were fantastic with my daughter Arabella. We had the best week and we look forward to being back soon!
Mr. Florian H, Philippines
,
02-Apr-2022
-
23-Apr-2022
Three wonderful weeks here in this evening set-up house with wonderful staff. Thank you!
Federico C, Thailand
,
09-Feb-2022
-
13-Feb-2022
Our family came here for our son's birthday. We love here so much. All are perfect. Beautiful place feel like home, very private and staff is very nice and friendly! We would love to come back again!! One request I want to have healthy food menu such as detox program.
Eleana A, Germany
,
26-Dec-2021
-
02-Jan-2022
Being able to reunite as a family during the pandemic in this beautiful place was absolutely magic. The scenery is soothing for the soul, the service was outstanding and we loved everyone of the staff. The food was amazing and the decoration for New Year's Eve so delightful. Big thank you to Khun Nawarat for organizing everything. We will recommend the Pines to our friends.
Sorapoj T, Thailand
,
18-Dec-2021
-
22-Dec-2021
Villa the Pines did not disappoint!! It feels like a home away from home. We will be back to enjoy this paradise again. Thank you to all the great staffs for their help. They were wonderful. Thanks again & Happy Holidays! K Ying family & friends
Patrick V, Thailand
,
13-Nov-2021
-
16-Nov-2021
Impression of the villa: - High privacy - Very good service staff with service mindset, pay attention to every detail - More space that is convenient for a large family - Villa cleanliness - Fitness facilities are in good condition - Tasty meals Need to improve - Entrance to the villa from the main road is under renovation - Coffee
Montonn M, Thailand
,
11-Apr-2021
-
13-Apr-2021
Impressions for this trip here - Impressed with the service and attention to detail. Everyone liked the food that the chef made. It was very delicious. Eva (my daughter) loved all the food and loved swimming in the pool. Must also mention the high level of cleanliness. We will come back again for sure.
Alasdair F, Thailand
,
16-Dec-2020
-
20-Dec-2020
Love does not need a reason, everything in love will be perfect. My lover and I spent a perfect holiday here and we are very satisfied. Wish you all Merry Christmas and Happy New Year. Wish we will have the free time to bring our children together here next time.
Khun B, Thailand
,
10-Dec-2020
-
13-Dec-2020
Most amazing experience in Phang-Nga! Thank you so much from me for the great weekend! It's so peaceful and calm. We are definitely coming back! Special thanks for Noom for accommodating our every thing!
Alexey O, Montenegro
,
19-Jan-2020
-
31-Jan-2020
Everything was great! Staff paid close attention, did all on time and coordinated well. Food was amazing, can't differentiate from restaurant. Enjoyed unbelievably good nature, atmosphere and attention to guests. Big thanks for the holiday. Excellent holiday. Beautiful sea and beach. Super girls. Very tasty food, calm holiday time.
Steve C, Thailand
,
06-Jan-2020
-
12-Jan-2020
We are the first guests to stay at The Pines! It has been a memorable experience. We love the place and the scene of the view in the evening. The house is impeccable. Love the decoration! The staff extremely well-trained and the food is as good as a 5-star restaurant. If you enjoy a quiet sunset and the sound of the waves, then come to The Pines. Congratulations!