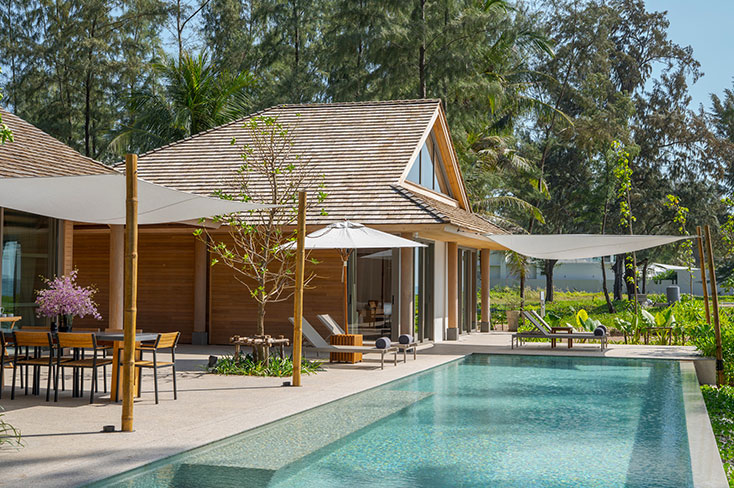 Arwa A, Saudi Arabia
,
18-Aug-2023
-
25-Aug-2023
We had and amazing experience during our stay at The Pines. The team were extremely nice and helpful, they made our stay comfortable and cozy, and from the pool was good and the overall experience as well I believe that The Pines villa was one of the top five thing in Phuket. Thanks Oi and her amazing team for the hard work and efforts. From Abdullah and Arwa Best regard to all, Naif is always happy here.
Abdullah A, Saudi Arabia
,
28-Jun-2023
-
04-Jul-2023
AMAZING TEAM LED BY KIM,ARM,MYAO,SHAM. WE FELT LIKE HOME, CARE QUALITY COMMUNICATION AND FRIENDLINESS. THANK YOU ELITE HEAVEN, YOU WILL ALWAYS BE MY FIRST THOUGHT WHEN VISITING THAILAND IN FUTURE FROM ME & MY FRIENDS WE LOVED YOU THANK YOU
Brandon L, Singapore
,
08-Jun-2023
-
11-Jun-2023
A special thank you for the team, @ Pines. Aoi, Charn, Bo and team ! We were very spoil by the hospitality and service at The Pines where food, turn-down service and excellent and thoughtful house-keeping kept all of us in good spirit for 4 days. Sincerely runs all of us Tony, Brandon, we thanks the Pines team for making the stay at beachfront pines our trip for the year.
Marcia P, United Kingdom
,
24-May-2023
-
07-Jun-2023
A big thank you to Aoi and the team for ensuring we had a very memorable stay here & The Pines. Nothing was too much trouble and they were always at hand to help. We had outstanding meal throughout our stay, which was 14 days. So no mean feat. A lovely villa made all the special by the team. Thank you. Mark, Rob, Jon, Jane, Ellis
Elissa L, Thailand
,
28-Apr-2023
-
01-May-2023
Perfect getaway from Bangkok for our extended family of 8 people Excellent staff carting to all our needs. We stayed in the entire time and enjoyed Thai/ seafood dinner by the in house chef. Highly recommend to friends & family Eve
Wei-Tim L, Singapore
,
20-Apr-2023
-
24-Apr-2023
20/4/23 - 24/4/23 Our weekend family & 8 stayed in 5 villas. We want to thank the staff for the enjoyable time we had at The Pines. The food (especially the Thai food) was excellent and plentiful, the staff efficient and hospitably and the facilities excellent . The icing and the cake was the brilliant. We would be back again. Thank you M.S. Loko (Singapore ) and family
Changhai W, China
,
17-Apr-2023
-
20-Apr-2023
Very good. Fine surrounding, thoughtful service from staff, located at beautiful and undisturbed beach.
Aaron C, Hong Kong
,
07-Apr-2023
-
12-Apr-2023
7 - 12 Apr We had a most wonderful family already here at The Pines. The house is nice, The beach long. The sand of wave remind us of our earth that we need to preserve. Excellent & Friendly staffs Thank you Thank you for the delightful stay at villa The Pines. There are a wonderful trips to do here. For example when you are hot from the afternoon sun, you can jump into the refreshing pool. I want to say thank you to the chef for cooking wonderful meals, and to the engineer to locking after the bikes. Our family had the best time and we hope that we can come back someday. Thank you for everything. From Hong Kong
Jochen B, Germany
,
02-Apr-2023
-
07-Apr-2023
To the staffs at the villa at the beach. Our gratitude we want to reach, For making our stay in Phuket is fine, and courting memories that will shine. Your hospitality was beyond compare every moment we spent, We cant help but share from the food to the service, you all excellent. Thank you for taking us so well. We felt at home in your worm embrasure. And appreciate every smile on your face, Thank you, thank you we cant say it enough, Our experience at The Pines was more than enough ! The Berger Family
Chris R, Singapore
,
18-Mar-2023
-
23-Mar-2023
Thank you so much for lovely visit! The beach, staff and villa were gorgeous. We will try to make it back soon :) Love from Canada and Singapore!
Peide Z, China
,
25-Feb-2023
-
02-Mar-2023
Beautiful Villa. Nice Staff. Perfect foods. Thanks all of you. Big Family from Shanghai. We have a wonderful time in the Pines villa. We hope come again next trip.
Tiago A, Portugal
,
18-Feb-2023
-
22-Feb-2023
Thank you for a wonderful stay at The Pines! We left at home. Thanks to Pron and team for making us feel very comfortable! I cant wait to come back again! All the best, Maria 22 - 02- 2023 Amazing house Super beach !! We had an unforgettable time at The Pines, also thanks to the great and very friendly staff & Sura :) Thank you Pnom & all the team! We will definitely recommend. 21 Feb 2023 The house we stayed in Phuket was amazing! Extremely well decorate and clean! The staff of The Pines were very friendly and respectful, and did everything possible for us to have and excellent stay! Thank you Pim The Pines is a great family - friendly Home in Thailand! The beach is just a dram, the service is implacable and the house itself is amazing! Unforgettable vacation and stay here. Khob Khun Mark Mark Calarina The Pines is a Elite Haven. Thank you to Pnon and all the team for making our friendly, lovely so much! Portugal
Susanne K, Germany
,
21-Jan-2023
-
11-Feb-2023
We had a very amazing time here. Thank you ever so much for the most wonderful stay here in Phuket. Everything was perfect, the location was excellent and had the most magical sunsets, the food was delicious from both a task and presentation perspective, the service was second to none and we will most certainly never forget the wonderful memories we have made here over the last 3 weeks.
Kenny C, Singapore
,
20-Oct-2022
-
25-Oct-2022
October 24, 2022 The stay at The Pines has been amazing. Chef Chompoo, Khun Deaw + the team have been attentive, friendly and are absolute delight. Kenny + Friends 24 Oct 2022 We had a fantastic time at The Pines, whilst the property is outstanding and impeccably maintained. it was the staff really made our time here special. Khun Deaw and the team were outstanding, and the food from Khun Chompoo brilliant. special mention must go to Khun Deaw, who went out of his way to make our stay comfortable, always attentive and obliging. He is a star! Rajiv, Sunalit, Siena and friends Singapore,
Pierre-Olivier D, Switzerland
,
09-Oct-2022
-
12-Oct-2022
I came to the Pines to celebrate my 35th birthday with my family and friends and I had an amazing time. Not only was the house beautiful and very well kept, but the food was very, very delicious and the staff extremely welcoming. We did not want to leave and almost extended our stay at the villa! This proves how amazing it was. I am hoping to come back very soon
Max P, United Arab Emirates
,
14-Aug-2022
-
21-Aug-2022
The perfect tonic and retreat. You have such a spectacular spot - as exemplified by nature's fantasy show at our last sunset. We must do so much more to safeguard natural world solitude - this is special. So much fun and many memories…Thank you for letting us stay in your beautiful villa. It has been amazing. Max Palethorpe (UAE), 14 - 21 August, 2022
Arne V, Norway
,
30-Jun-2022
-
13-Jul-2022
"The service was excellent and caring. Food was fantastic every day. Nice decor and good taste."
James Bryan C, United Kingdom
,
21-Jun-2022
-
26-Jun-2022
Thanks for everything! Just a short trip this time. James + Wawa
Passapol C, Thailand
,
02-Jun-2022
-
05-Jun-2022
Thank you for taking care of us. It's been an amazing weekend here… Everyone here has been so lovely. We feel like home…
Ben J, Singapore
,
07-May-2022
-
14-May-2022
Thanks for the wonderful stay! We felt wonderfully looked after, from the food to how they were fantastic with my daughter Arabella. We had the best week and we look forward to being back soon!
Anna W, Thailand
,
04-May-2022
-
07-May-2022
We had a really lovely stay here at The Pines for three nights. The staff were very friendly and helpful. The rooms and facilities are wonderful. We would love to come back again in the near future xoxo Anna, Oui, Aroke , Varonika.Arte, Ploy, Ayya, Tharin
Mr. Florian H, Philippines
,
02-Apr-2022
-
23-Apr-2022
Three wonderful weeks here in this evening set-up house with wonderful staff. Thank you!
Federico C, Thailand
,
09-Feb-2022
-
13-Feb-2022
Our family came here for our son's birthday. We love here so much. All are perfect. Beautiful place feel like home, very private and staff is very nice and friendly! We would love to come back again!! One request I want to have healthy food menu such as detox program.
Eleana A, Germany
,
26-Dec-2021
-
02-Jan-2022
Being able to reunite as a family during the pandemic in this beautiful place was absolutely magic. The scenery is soothing for the soul, the service was outstanding and we loved everyone of the staff. The food was amazing and the decoration for New Year's Eve so delightful. Big thank you to Khun Nawarat for organizing everything. We will recommend the Pines to our friends.
Sorapoj T, Thailand
,
18-Dec-2021
-
22-Dec-2021
Villa the Pines did not disappoint!! It feels like a home away from home. We will be back to enjoy this paradise again. Thank you to all the great staffs for their help. They were wonderful. Thanks again & Happy Holidays! K Ying family & friends
Patrick V, Thailand
,
13-Nov-2021
-
16-Nov-2021
Impression of the villa: - High privacy - Very good service staff with service mindset, pay attention to every detail - More space that is convenient for a large family - Villa cleanliness - Fitness facilities are in good condition - Tasty meals Need to improve - Entrance to the villa from the main road is under renovation - Coffee
Montonn M, Thailand
,
11-Apr-2021
-
13-Apr-2021
Impressions for this trip here - Impressed with the service and attention to detail. Everyone liked the food that the chef made. It was very delicious. Eva (my daughter) loved all the food and loved swimming in the pool. Must also mention the high level of cleanliness. We will come back again for sure.
Alasdair F, Thailand
,
16-Dec-2020
-
20-Dec-2020
Love does not need a reason, everything in love will be perfect. My lover and I spent a perfect holiday here and we are very satisfied. Wish you all Merry Christmas and Happy New Year. Wish we will have the free time to bring our children together here next time.
Khun B, Thailand
,
10-Dec-2020
-
13-Dec-2020
Most amazing experience in Phang-Nga! Thank you so much from me for the great weekend! It's so peaceful and calm. We are definitely coming back! Special thanks for Noom for accommodating our every thing!
Alexey O, Montenegro
,
19-Jan-2020
-
31-Jan-2020
Everything was great! Staff paid close attention, did all on time and coordinated well. Food was amazing, can't differentiate from restaurant. Enjoyed unbelievably good nature, atmosphere and attention to guests. Big thanks for the holiday. Excellent holiday. Beautiful sea and beach. Super girls. Very tasty food, calm holiday time.
Steve C, Thailand
,
06-Jan-2020
-
12-Jan-2020
We are the first guests to stay at The Pines! It has been a memorable experience. We love the place and the scene of the view in the evening. The house is impeccable. Love the decoration! The staff extremely well-trained and the food is as good as a 5-star restaurant. If you enjoy a quiet sunset and the sound of the waves, then come to The Pines. Congratulations!