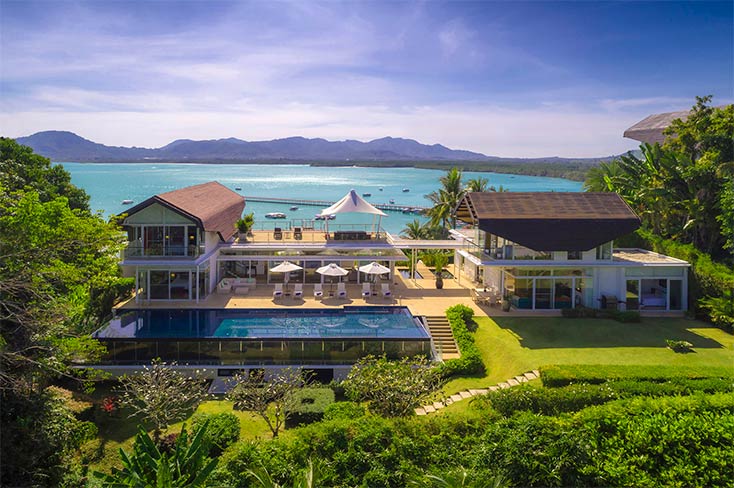 JEMSHEED K, Bahrain
,
15-Jul-2022
-
28-Jul-2022
A Big Thank you to the amazing staff at villa Sapna who made the last 13 days at this absolutely gorgeous villa some of the most memorable. Spoilt in every way, especially the lovely food. The superstar Staff. Chef Nang Jaa Priew Kwan "Nang" totally made our trip. going the extra mile every time, from booking events, trips. We thought were simply impressible to find. She Really is M.V.P
Barry G, United Kingdom
,
09-Jan-2022
-
16-Jan-2022
Had a truly wonderful stay in the villa. The view truly spectacular. What truly had made this holiday unforgettable are Riam & Jo Jo. Their attentiveness to detail, friendliness & helpfulness is unrivalled. The food was outstanding & Riam was always of assistance before we knew we even needed. Thank you for making us feel so welcome! Barry, Jan & Cheryll .
Khun P, Thailand
,
11-Apr-2021
-
14-Apr-2021
An amazing day in a nice paradise. This is a very good place and nice welcome. Great place to be safe! The staff is very good and they pay attention to every detail, making a great impression. Aunty Jai cooked very delicious dishes in every meal. Our family was very impressed. We will come back again.
Joanne F, Singapore
,
14-Nov-2019
-
17-Nov-2019
Please can we take "X" home in our pocket? For weekend in your beautiful villa. Staff are wonderful, food sublime. This is our second visit to Villa Sapna and we are happy at choosing it again.
Cheuk Hong N, Hong Kong
,
07-Oct-2019
-
10-Oct-2019
Wonderful villa. Great views. Incredible hopeful, warm and professional staffs. All in a perfect holiday. Thanks for a memorable holiday of the lovely Thai Hospitality.
Sanjay P, India
,
09-Aug-2019
-
12-Aug-2019
Wonderful villa. Perfect for a relaxed holiday. We have enjoyed our three days here, looked after extremely well by Ek, chef Kwan and rest of the staff. Thank you for exceptional service, yummy food in the well maintained surrounding.
Alessandra C, Italy
,
24-Dec-2018
-
03-Jan-2019
What a wonderful holiday! Amazing villa and the most gracious, available, kind, professional team at our villa. Everyday was welcomed with a smile. Every requests satisfied by the entire team. Thanks for making our holidays special!
Justin K, Thailand
,
14-Nov-2018
-
18-Nov-2018
Thank you for taking good care of us. We enjoyed our stayed alot. The food was very yummy.
Jayne M, Thailand
,
03-Nov-2018
-
06-Nov-2018
This was our second trip at this villa and it didn't disappoint. A beautiful villa, friendly and attentive staff and some of the best food we've had in Thailand. We will be back.
Marissa Z, Singapore
,
06-Oct-2018
-
08-Oct-2018
Thank you for a wonderful stay. The house is amazing and the service was fantastic. Would love to come back and visit again.
Sonia B, Thailand
,
18-Sep-2018
-
22-Sep-2018
Thank you so much for your warmth and hospitality. The food, your kindness was incredible and made our holiday even more worthwhile. Thank you is not enough. Hope to see you soon!
Rebecca C, Hong Kong
,
14-Jul-2018
-
17-Jul-2018
This is a wonderful villa and wonderful service. The staff are very nice and helpful. Will come again.
The Tripathis, Dubai
,
06-Jul-2018
-
13-Jul-2018
This is our third visit to the villa, which will give you some idea of how much we love it. The place is being very well looked-after and retain its charm, visit-after-visit. The staff have been very welcoming, looking after our every need. They go about their business in a quiet, unobtrusive manner, yet get so much done. Thanks to everyone and special thanks to Bhandaris. We hope to be back soon.
Dongqi W, China
,
29-Jun-2018
-
02-Jul-2018
Thank you very much for the wonderful care for our stay here at the villa for all three nights all food were awesome and one of the best I've ever had in Thailand. All the staff are friendly and nice. You've all given an unforgettable trip. Thank you all.
Claire S, Hong Kong
,
31-Mar-2018
-
07-Apr-2018
Thank you so much for a wonderful stay in this special villa. We have loved swimming in the gorgeous pool and relaxing in the comfortable rooms. Most of all we have enjoyed the wonderful food and the immense kindness and thoughtfulness of Ning and her team. We would love to come back some day.
Xi Y, China
,
13-Feb-2018
-
17-Feb-2018
We family members enjoyed our 2018 Chinese spring festival here and it's amazing. The villa itself looks perfect, even beyond our original expectation. The staff team are really wonderful. They prepare every meals delicious and lovely for us, and special meal for my 13 month old son. They even prepare special Chinese New Year dinner for us. We love them all. If we'll come back to Phuket again, this villa will definitely be our choice.
Shinezaya B, Mongolia
,
22-Dec-2017
-
06-Jan-2018
Our family had a beautiful vacation and the villa provided every comfort that we needed during our stay. The kids loved the pool and yards, whilst adult read books and relaxed. We had one of the most amazing vacation so far, and already planing for next year. Staff led by Ai were amazing, best service and we could not get enough of the food. Each meal was delicious. Thank you for having us and I'm sure the villa will make good memories for many other families.