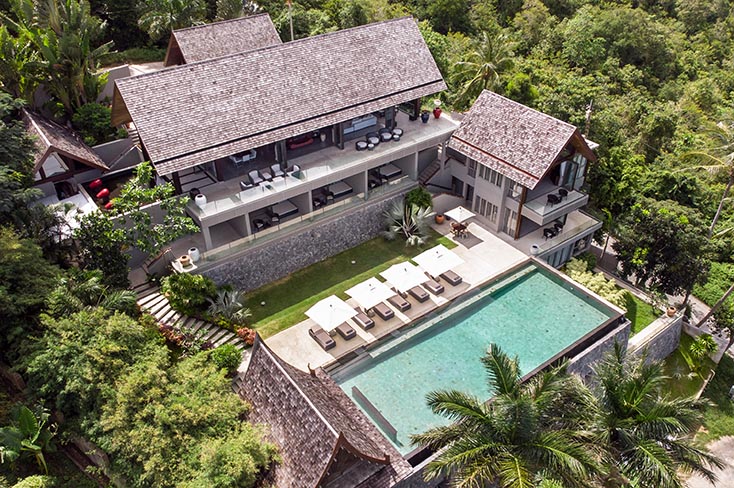 Karl G, Hong Kong
,
05-Oct-2022
-
09-Oct-2022
By Anthony Szeto Hong Kong October 2022 Nothing cooler than when you pass a place and wish that you were staying there, only to find out that you are! That's what happened as we were driven to Suralai from the airport. Our driver passed it and I said to my wife how gorgeous the property was, but the driver was just turning around so he could drop us off closer. Talk about great first impressions. Suralai is one of the best kept secrets, known by the select few. I only found out about it by seeing pictures of it on my friend's social media postings when they stayed there. It's a privately owned residence with six bedrooms, but being on our honeymoon we took the place for just the two of us. The views are nothing more than spectacular. The beautifully designed Thai villa is situated on a high point of the mountain overlooking Koh Samui. Only about 10 minutes drive from the famous Fisherman's Village, and seeing Koh Samui isn't big anyway, it's convenient to get around from by car. The st
Amanda B, Australia
,
09-Aug-2022
-
26-Aug-2022
This holiday was so amazing! First of all ,the staff was so kind and helpful . All the food was amazing and it was such a mental stay Thank you so much M, T jai &job made our holiday wow amazing defiantly coming back!
Rebecca F, Singapore
,
06-Jul-2022
-
13-Jul-2022
Lynn & Karl 3/07/2022 We made Villa Suralai our rendezvous home, coming in from Melbourne, Victoria, (The Cox family) and Singapore (The Farewoods family). Upon arrival, we felt the beautiful aura of the amazing view, the soft sea breeze and the wonderful villa accommodation. We had such an amazing, relaxing 7 days here being pampered and spoiled with the best Thai food, local massages, pool dipping, reading and watching Wimbledon. Khun Tee and the Suralai team have been amazing and we are certainly coming back one day soon. Suralai you have been a dream. Here's to memories made with brilliant friends. Amazing Thailand!
Jean Claude P, France
,
17-Feb-2020
-
23-Feb-2020
Thank you so very much to the team that has made life so easy and so pleasant in the villa. We all really enjoyed our stay at Suralai villa, we spent 6 beautiful days and we will be back again. The villa was really superb an Idyllic for a family vacation.
Shen W, China
,
18-Jan-2020
-
21-Jan-2020
Thank you so much for K.Tee and the Team, great service and friendly staff.
Toby A, United Kingdom
,
22-Dec-2019
-
29-Dec-2019
Many thanks to Tee and his team for making my eightieth birthday (and our Diamond Wedding) so memorable. A beautiful setting, comfortable, well furnish villa and amazing food. Just wonderful!
Temi B, United States
,
24-Oct-2019
-
30-Oct-2019
The Suralai Villa was nice and the sisters I spent the week with were beautiful! This villa is beautiful, makes me appreciate great time and even more. The staff were very nice and willing to service. Would recommend. I love the ambiance of this place. Awesome spot and lovely staff. Had a blast with the group.
Andrew P, Australia
,
10-Jul-2019
-
15-Jul-2019
We can not thank you in words for the magical holiday here at Suralai. Mr.Tee you are a rare person, so generous and warm. We will miss this place very much but thank you for all that you have done. See you soon We love Suralai villa and Tee and his team. Fantastic views and place with service out of this world. Happy, happy memories, Thank you. Beautiful venue, incredible staff, loved my stay here. Thank you. What a great holiday staff excellent, food delicious, very happy stay, my thanks
John H, Thailand
,
25-Jun-2019
-
01-Jul-2019
Thank you for the amazing vacation! Love every second of being here!
Paul H, Hong Kong
,
10-May-2019
-
13-May-2019
Dear Lynn and Suralai team, Thank you guys so much for having us home at Koh Samui! Lynn, you were correct, it is amazing here! We all had a fantastic time, very incredible views and very filing food. Lots of thanks to K.Tee for helping us along the way, great to have someone giving us all the right tips! Hope to see you again back in HK. Thank you Suralai Team! We are happy to stay at Koh Samui! Fantastic experience and moment, tasty food and incredible views. Great to meet you all at here. Hope all enjoy the trip and thanks again. Thank you for the excellent service your team is great host. Thank you so much! This is very nice villa! We love it!. This is the villa I spend before Thanks you so much and we love it so much. Thank you all the arrangement. The good is very good. The villa is awesome and the staff are exceptional! Love the swimming pool are the stunning views!
Steph M, Thailand
,
27-Apr-2019
-
03-May-2019
Thank you Tee and Villa Suralai!. What an incredible way to spend my thirtieth birthday. You all made our stay so wonderful, an unforgettable experience. I know we all would love to come back and stay again very soon. Much Love Thank you Tee and Villa Suralai! Such an amazing experience and stay. Hope I can return one day. What a week! Thank you Tee and Villa Suralai for wonderful time and views. An absolute treat. Thank you for looking after us! Love you all.
Leonnie D, Thailand
,
18-Apr-2019
-
22-Apr-2019
Best wedding ever. Thank you for such an amazing weekend, wedding and for taking care of us. We thoroughly enjoyed and cannot speak more highly of Mr Tee and the staff, view, service and wonderful breakfast everyday. You have set the bar so high and we would love to come back.
Li Y, China
,
04-Feb-2019
-
09-Feb-2019
Love it here and I wish to come back again very soon!
Yvonne L, Hong Kong
,
02-Aug-2014
-
05-Aug-2014
We all had a great and fabulous experience staying in the villa this vacation. Good ocean view, good staff serving team and we all had delicious Thai food serving by the good Thai chef, we are planning next trip now and please let me know if you have any promotion in other better villa.
Gracy Shah, India
,
27-Jun-2012
-
01-Jul-2012
Our stay in suralai villa was very pleasant, the pool is amazing, the view from the villa is very good , the rooms are also very spacious and above all the chef prepared delicious vegetarian food for us. In short it's a perfect place for a group of friends .I would love to go again in that villa.