Request Online Inquiry
If you require any further information please do not hesitate to ask. Our reservation specialists are well versed on all our villas, however in the unlikely event they cannot answer your question immediately they will endeavor to respond as quickly as possible.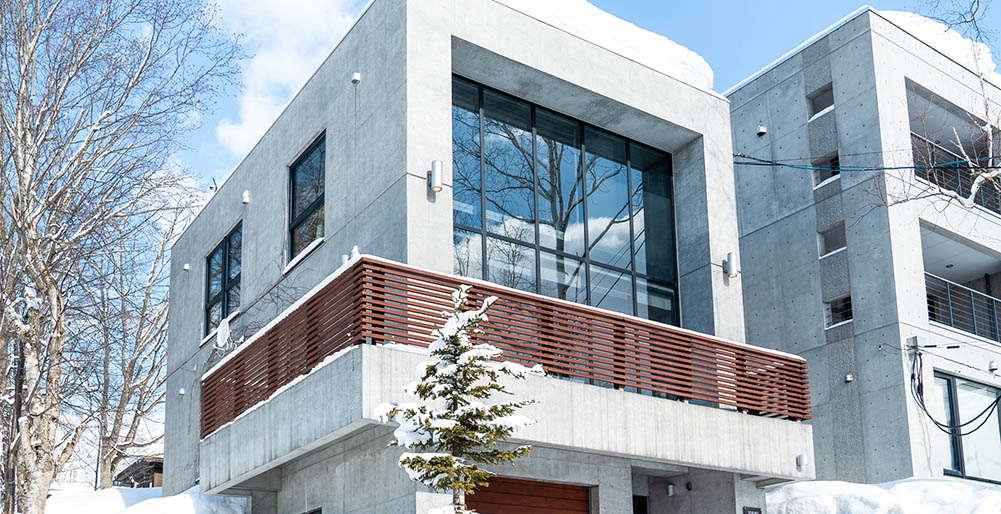 Imagine stepping inside your own stylish chalet after spending a day sliding down some of the world's best 'champagne powder' or hiking along Hirafu's lush green valleys.
Situated in Hirafu's middle village, the three-bedroom luxury Yuuki Toride Chalet is a spectacular choice if you're looking for a rental home that combines incredible vistas with sleek comfort and cosmopolitan design.
The chalet's striking industrial-looking façade has been tastefully incorporated into its interior, thanks to an extraordinary combination of concrete walls, warm wood flooring and minimalist designer furniture.
The ceiling-height windows provide plenty of daylight and create a unique feeling of being 'at one' with nature. Its contemporary open-plan kitchen has a large separate worktop with bar stools and a dining table seats eight people – perfect for enjoying excellent conversation over a home-made meal.
All three bedrooms have comfortable queen-size beds which can be set up for singles or couples. The master bedroom has an ensuite bathroom, while the two guest bedrooms share a bathroom with a shower and a bathtub.
Yuuki Toride Chalet is a mere stone's throw from some of the area's best restaurants and bars. From casual eateries to Michelin-star dining, and from quirky bars to late-night DJ sets, you're never far away from Hirafu's famed après-ski activities.
Combining a great location with excellent amenities, Yuuki Toride Chalet is a superb choice if you're looking to immerse yourself in Hirafu's stunning beauty while surrounded by sophisticated luxury, elegance and style.
Read more
Back to top