Request Online Inquiry
If you require any further information please do not hesitate to ask. Our reservation specialists are well versed on all our villas, however in the unlikely event they cannot answer your question immediately they will endeavor to respond as quickly as possible.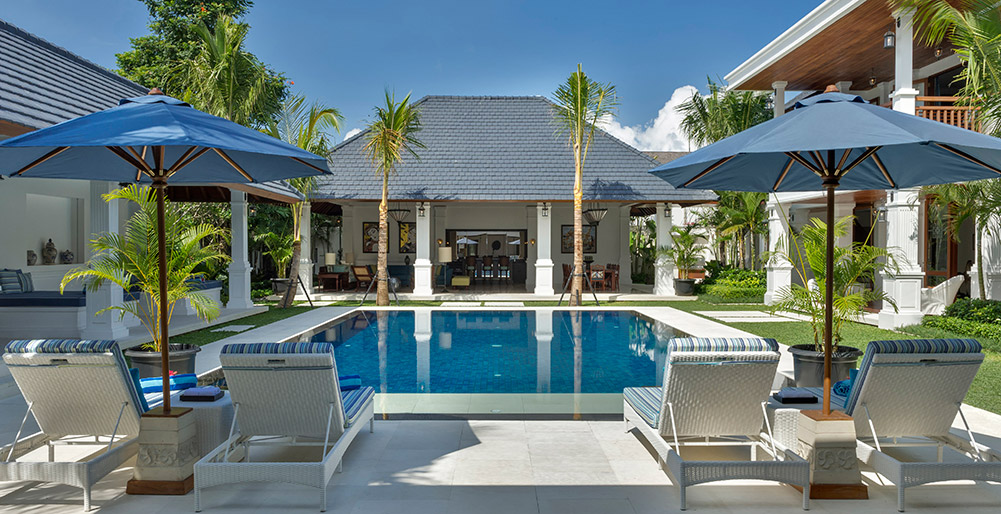 The two Windu Villas are chic and unique luxury rental properties within a private estate in Petitenget, less than a kilometre from the beach, within walking distance of some of Bali's best restaurants and bars, and only a short taxi-ride from Seminyak. When booked together, six-bedroomed Windu Asri and four-bedroomed Windu Sari offer from eight to ten bedrooms and make an exceptional, fully staffed holiday getaway for groups of 20+ friends and family.
Both villas offer luxurious accommodation in large ensuite bedrooms, with six of the ten rooms configured with flexible king or twin bed options. Generous swimming pools are set in privately walled gardens brimming with lush tropical plants. Exquisite, colourful interiors are embellished with stunning artwork and soft furnishings and modern comforts are provided in the form of state-of-the-art media rooms and music systems. Attentive staff, including a private chef, who concocts mouthwatering meals and snacks throughout the day selected from reasonably priced in-house menus, and a team of discreet butlers on hand 24 hours a day, will take care of your every need and keep the villas pristine.
The two villas each have their own distinct architectural styles and ambiance: Windu Asri echoes an elegant colonial era of Raffles-esque grandeur, with gleaming white surfaces, rattan sofas, plantation-style chairs, four-poster beds and plenty of space for breezy semi-outdoor living. Windu Sari complements its neighbour with a more traditional tropical Asian feel – fan-cooled living areas, louvred shutters, polished marble, warm teak flooring and vaulted roofs. Air-conditioned gyms – one in each villa – await those who feel the need to qualify lazy days spent sipping cocktails on sunny pool decks.
In the words of a previous guest: "To spend quality time with one's family is priceless. To spend it in these surroundings and company is a privilege".
Click on these links to find out more about six-bedroomed Villa Windu Asri and four-bedroom Villa Windu Sari, and to see how the villas can be combined to meet your holiday requirements.

Adding villa...
Back to top