Request Online Inquiry
If you require any further information please do not hesitate to ask. Our reservation specialists are well versed on all our villas, however in the unlikely event they cannot answer your question immediately they will endeavor to respond as quickly as possible.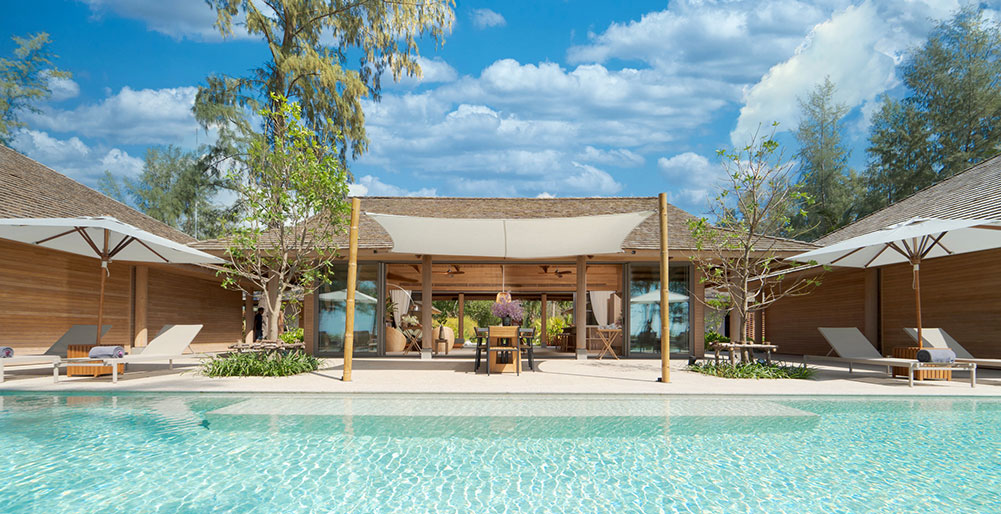 Experience barefoot living at The Pines on Natai Beach, located along Phang Nga's pristine western coastline.
Spilling onto the sands, this secluded, beachfront villa combines a modern rustic architectural style with tropical living. Lavish use of Burmese teak wood as a building material gives it a warm and earthy vibe, not taking away from the shimmering sea views which are justifiably the highlight of the villa.
Divided into five Thai-style individual living sections, each of the villa's five bedrooms enjoys privacy, either set within its own pavilion or with a separate entrance. Enjoy sea views from your bedroom, or simply by stepping out onto the inspired pool deck, or directly onto the sandy beach.
The main living area deserves to be featured in design magazines, with high wooden ceilings, a long breakfast bar on one side and a dining table taking centre stage. The front wall is entirely made up of sliding glass doors which lead to the pool deck and can be pulled back on breezy afternoons or shut for air-conditioned comfort. The living space on the right side has elegant seating and design touches such as an artistic curved floor lamp.
Besides the warm wood architecture and stunning sea views, one of the biggest highlights of the villa is a turquoise 20-metre lap pool, positioned a few steps from the beach. When was the last time you did star gazing, something that you can do from the outdoor sala at The Pines, on a clear night.
Thai hospitality at its best, you will be greeted warmly by the villa team when you check-in and they will take care of your every need during your stay. The chef is a magician in the kitchen and the Elite Concierge can arrange for activities in and around the villa such as stand-up paddleboarding, snorkelling, kayaking and village tours.
Read more
Back to top