Request Online Inquiry
If you require any further information please do not hesitate to ask. Our reservation specialists are well versed on all our villas, however in the unlikely event they cannot answer your question immediately they will endeavor to respond as quickly as possible.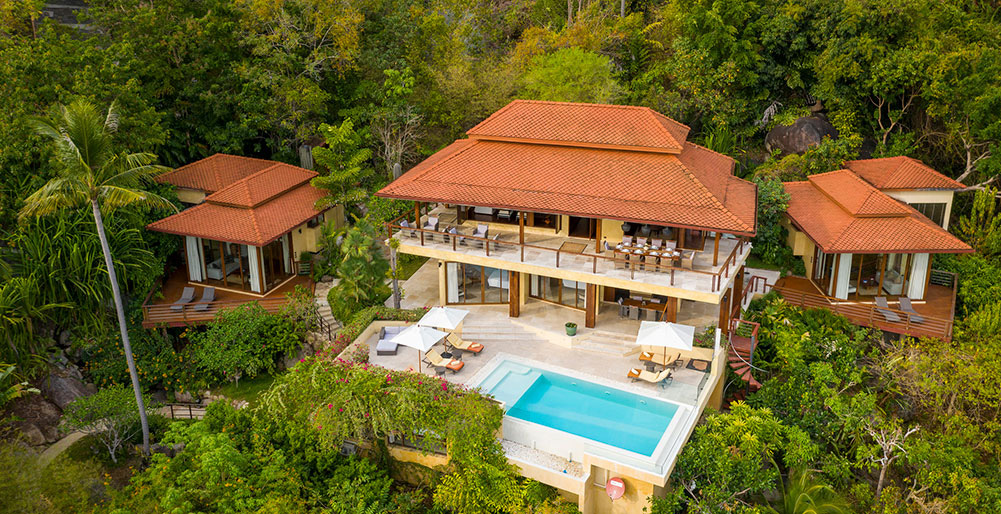 Villa Sila Varee offers the perfect island escape. Set high on a tropical hillside, nestled amongst dense vegetation with breathtaking uninterrupted views across the palm-clad south coast of Koh Samui and the mesmerising island-peppered waters of the Gulf of Siam.
Offering luxurious and spacious living in an idyllic, secluded and private setting, Villa Sila Varee has five gorgeously appointed ensuite bedrooms, a 9.5-metre infinity pool, landscaped gardens and delightfully open-plan, contemporary indoor and outdoor living areas, including a fully-fitted kitchen. Full-time staff including a private chef, villa manager, housekeepers and gardeners take care of all guest needs.
Built on multiple levels, this villa boasts contemporary Asian architecture with style and luxury in abundance. Hardwood interior floors flow effortlessly to the natural limestone terraces. Antique Burmese, Tibetan, and Balinese furniture blend with contemporary pieces, and attractive artwork adorns the high-vaulted rooms, creating a unique elegance and exotic sense of location.
Villa Sila Varee is part of the exclusive Santhikiri Estate in Laem Set, Taling Ngam, on Koh Samui's quiet and undeveloped southern shore – an area known for its pristine beaches, meditative views and amazing sunsets. It is within easy reach of a number sought after restaurants, wellness centres, waterfalls, cultural attractions and harbours, where boats venture out to those alluring islands…
This villa offers the perfect getaway for a family or group of friends seeking sophisticated relaxation, barefoot luxury and absolute privacy. Immerse yourself in Vila Sila Varee's natural environment and enjoy picture-postcard ocean views from every room.
Read more
Back to top