Request Online Inquiry
If you require any further information please do not hesitate to ask. Our reservation specialists are well versed on all our villas, however in the unlikely event they cannot answer your question immediately they will endeavor to respond as quickly as possible.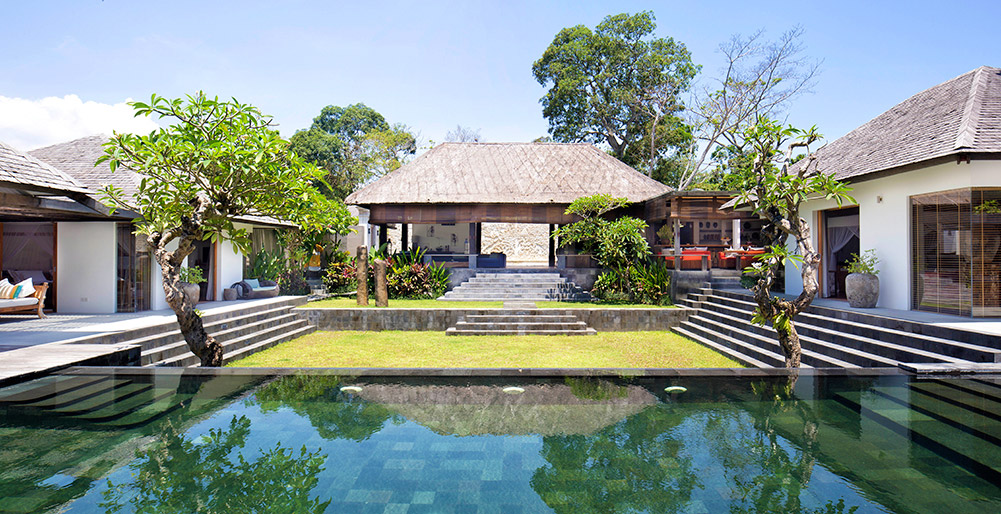 Reached along a lane winding through glistening rice fields, all is silent at this spacious villa – but for bird song, the rustle of leaves in the breeze, and the hum of cicadas. The ambiance is intimate and cosy, but the open design and lush scenery create a true back-to-nature experience – albeit one cloaked in sheer luxury.
Partly designed by Alberto Cortes and Yvonne Hulst, the designers responsible for The Purist in Ubud and The Giri Residence in Ibiza, this contemporary eco-villa, incorporates recycled wood and intricate stonework to create rich, earthy textures. Furnishings include marble bathtubs, giant earthenware pots, stone-top tables and magnificent four-poster beds made of pale wood inlaid with alpaca shell. A combination of ironwood decking, polished wooden floors and smooth cool stone create a myriad of sensations underfoot.
With four private pavilions, a 16-metre swimming pool, rooftop and riverside terraces, and spa room, there is plenty of space for groups and families to spread out, and the central design makes it easy to keep an eye on children. Villa Levi is also ideal for honeymooners and escapees who want the indulgence of a little extra space and will love the elegant master bedroom with jacuzzi nestled in a private garden. The glorious setting also makes it ideal for small weddings and events.
The smiles of the friendly staff are genuine and you will feel well cared for at Villa Levi. The chef prepares meals from a suggestion menu of western and Indonesian dishes and happily accommodates special requests. Echo Beach is an easy stroll away and those who wish to explore further afield can take advantage of the villa car and driver (at a special rate) and head to Seminyak with its world class restaurants and boutiques, or into the island's forested hinterland.
At Villa Levi you will discover tropical living at its most graceful.


Adding villa...
Back to top