Request Online Inquiry
If you require any further information please do not hesitate to ask. Our reservation specialists are well versed on all our villas, however in the unlikely event they cannot answer your question immediately they will endeavor to respond as quickly as possible.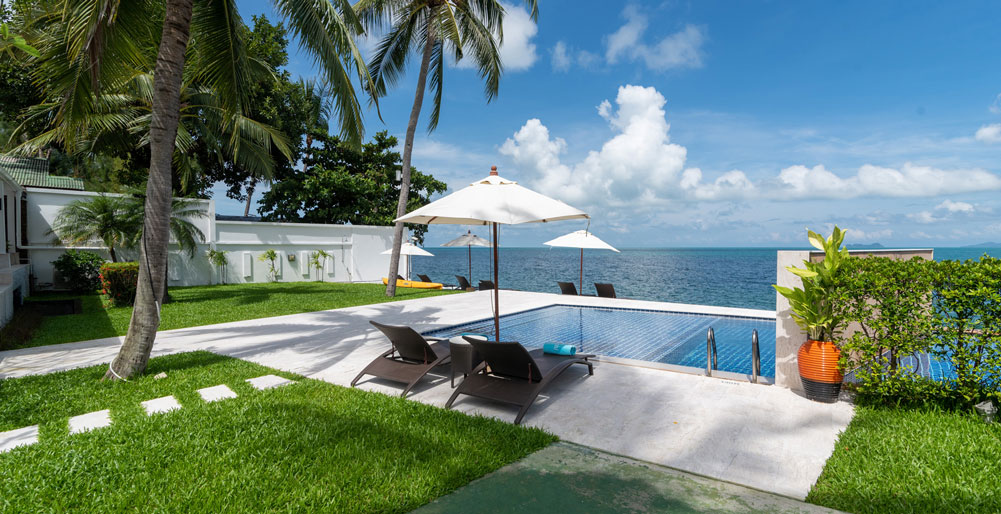 An elegant, seafront villa on Koh Samui's stunning Bang Po Beach on the island's scenic north coast, Villa Chi Samui is a peaceful, laid-back holiday home for groups of up to 10 looking to get away from the crowds.
Seamless indoor-outdoor living personifies this stylish villa, bordered by coconut palms and fragrant frangipani trees. As you step through a double wooden gate, you are greeted by a meditative statue of Lord Buddha, instantly instilling a sense of peace. Low-rise pavilions housing the main living and dining areas lead to a wide beachside deck overlooking the magnificent sea.
Running almost along the entire length of the villa, a 20-metre lap pool connects to a beachside jacuzzi and massage sala, for leisurely days. For a change of scene, you can also enjoy access to a sizeable beachfront pool and sundeck shared by the villas set within this luxury gated estate.
Villa Chi Samui has five generous ensuite bedrooms all with king-size beds. Designed with cool ceramic floors and folding glass doors allowing the tropical breeze in, the villa is tastefully furnished in a muted palette of taupe, charcoal and off-white with splashes of aquamarine and turquoise outdoors, and an extensive collection of unusual Thai artefacts.
Your island escape would not be complete without Villa Chi Samui's team of staff, who ensure your comfort and take care of all your requirements, from serving delicious breakfast to arranging for spa services in the beachside sala or the villa's own air-conditioned spa.
With its breezy living pavilions and multitude of entertainment options such as a billiards table and jacuzzi, Villa Chi Samui is also the perfect party house, besides being an elegant venue for special events with up to 40 guests.
Read more
Back to top