Request Online Inquiry
If you require any further information please do not hesitate to ask. Our reservation specialists are well versed on all our villas, however in the unlikely event they cannot answer your question immediately they will endeavor to respond as quickly as possible.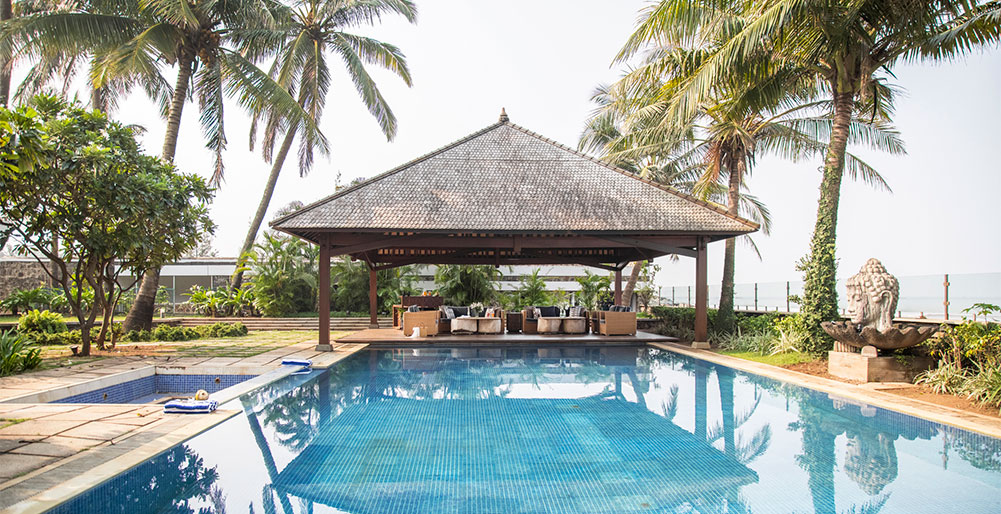 Located bang on Kihim Beach near Mandwa Jetty, the five-bedroom Villa Beira Mar leads out to sandy shores with incredible sea views. Alibaug is all about celebrity-style living and this is your chance to live the life you've always dreamed of. This gorgeous property is spread over an acre of beachfront land with gazebos, breezy terraces, a private pool and more fabulous spaces to throw a party.
Spend your mornings jumping waves with the kids, and evenings gazing at the magnificent sunset with a single malt in hand. The interiors channel a modern-Indian aesthetic, with cane furniture, attractive textiles and extraordinarily high ceilings. Shaded verandas with old-school cane reclining chairs look out towards the impeccably manicured grounds dotted with coconut and plumeria trees, and the Arabian Sea shimmering in the distance.
There's plenty of room for everyone, so don't hold back the invites. With five plush bedrooms, the villa can accommodate 10 guests, with room for two more on extra beds. A vacation here is all about enjoying the outdoors, whether from the rooftop terrace, which doubles up as a party pad, or from the numerous alfresco seating and dining areas, including an inviting pool bordered by a sea view gazebo.
Enjoy whiling away your days reading a book, lulled by the sound of the waves, or playing a match of pool with your mates. This is a scenic setting with rural charm, ideal for slowing down. Leave the upkeep of the villa to the Villa Manager and staff, who will also be happy to serve you a delicious breakfast or beverages through the day. Decadent meals can be crafted by a cook (extra charge) and villa security ensures that your holiday is stress-free. With amenities like a coffee machine, music player, TV and board games, this is an ideal venue for an extended family reunion, getaway with a group of friends or corporate retreat.
Read more
Back to top