Request Online Inquiry
If you require any further information please do not hesitate to ask. Our reservation specialists are well versed on all our villas, however in the unlikely event they cannot answer your question immediately they will endeavor to respond as quickly as possible.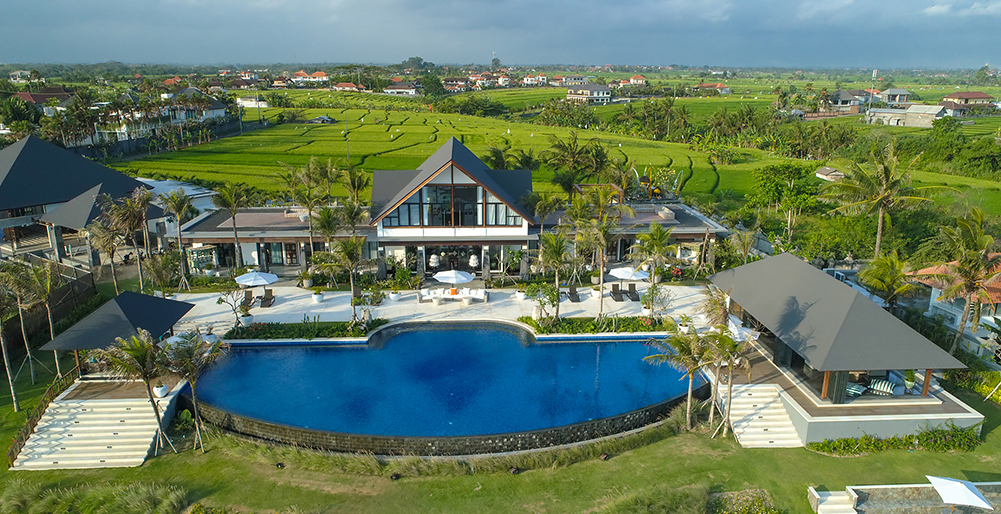 Walking into Tirtha Bayu Villa II, the vision of blue on blue will take your breath away, with the glistening water of the infinity pool melding seamlessly with the Indian Ocean beyond to create a sense of endless flow. There is beautiful symmetry too, with coconut palms, golden-tipped frangipani and lush gardens framing the view. The high-pitched roof of the central pavilion is inspired by traditional Torajan architecture, with the upper floor containing a sumptuous honeymoon suite flanked by a roof terrace with 360-degree views. The lower floor is an air-conditioned living area with two deluxe bedrooms on each side, accessed by a shaded veranda. The Torajan theme continues with elaborate hand-carved furniture and decorative reliefs throughout the villa.
Built for large family vacations, the living pavilion at the south end of the pool has glass doors that fold back to create a seamless indoor-outdoor experience. Meanwhile, a pool balé at the northern end is yet another perfect spot for you to relax and soak up the views. Should you manage to tear yourself away from the villa, just go wandering about and discover rice fields, coconut groves and shaded lanes lined with banana groves and mango trees, as well as ornate sea temples that can be reached by a clifftop path.
Blissfully tranquil, this is an ideal destination for family or friends looking for a restorative coastal escape, with professional staff to take care of all your needs, including a Villa Manager and an experienced chef. But if you want to check out the latest restaurant or boutique, trendy Canggu is only nine kilometres away.
Tirtha Bayu Villa II is a five-bedroom sister property at Tirtha Bayu Estate. The two villas, connected by an ornate Balinese gate, will provide an 11-bedroom holiday rental complete with two swimming pools, which makes a dream venue for a tropical wedding celebration.
Read more
Back to top