Request Online Inquiry
If you require any further information please do not hesitate to ask. Our reservation specialists are well versed on all our villas, however in the unlikely event they cannot answer your question immediately they will endeavor to respond as quickly as possible.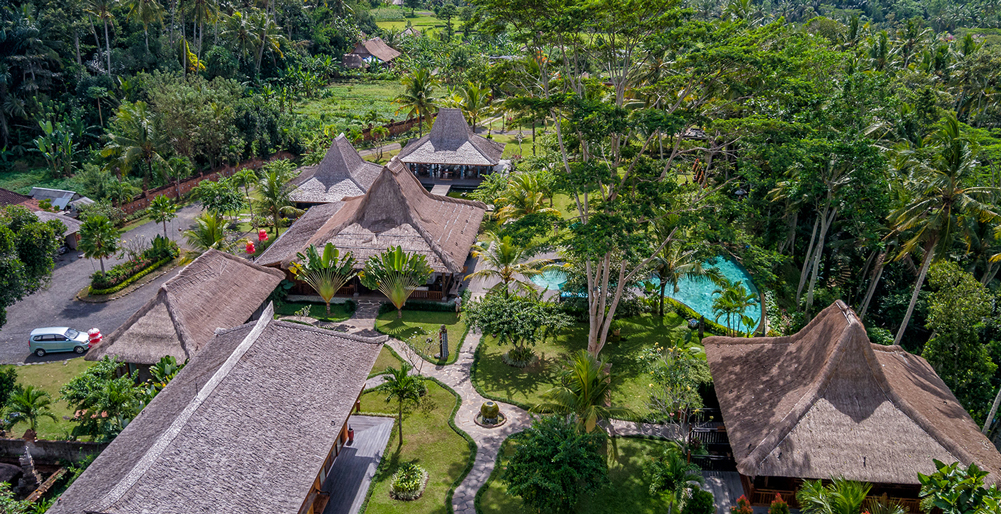 Set in a hidden valley in Bali's lush Ubud hills, Permata Ayung Private Estate is something else. Sprawling across five hectares of tropical gardens on the banks of the sacred Ayung River, it truly is a magical haven, an entire boutique property for your sole use. The estate is built as a collection of individual pavilions holding 12 bedrooms, each worthy of being called a villa in itself.
Translating as the 'jewel of the Ayung River,' this private luxury escape sleeps 24 in air-conditioned comfort. Besides gazing at the endless paddy views all around, you are spoilt for choice when it comes to entertainment options. Work out in the gym while enjoying green views outside, get a blissful Balinese massage in the stunning riverside Bamboo Spa, take a dip in the gorgeous 20-metre private pool within the tropical gardens, or watch a late-night movie in the plush home cinema.
Each bedroom is a work of art with high ceilings, day beds, terraces and lavish bathrooms with stone bathtubs. Perfect for weddings and large events, the estate boasts a romantic bridal suite, making it an inspired venue of choice. The location is also perfect for wellness holidays and yoga retreats, with birdsong and the gentle sound of the river flowing as your only distraction.
Take in the tropical vibes while indulging in organic juices, signature cocktails and enticing gourmet cuisine prepared by your private chef. When it comes to quiet time, a collection of antique wood houses from Java create large, luxurious air-conditioned ensuite bedrooms with private balconies and terraces overlooking the verdant valley.
While the architecture channels aristocratic Java, the setting is pure exotic Bali, a lush wonderland of coconut groves and frangipani trees, with soothing views of glimmering rice terraces tumbling to the river. The spirit of Bali is strong here too. Feel it in the roar of the mighty Ayung River, the ornate Hindu shrines, the stone statues peeking out from leafy foliage, and the smiles of the attentive staff, most of whom come from the village nearby and will welcome you like family.
Chances are you won't want to leave this heavenly sanctuary, but if you do, Ubud with its ornate palaces, atmospheric temples and treasure-filled museums is just eight kilometres away.
Read more
Back to top