Request Online Inquiry
If you require any further information please do not hesitate to ask. Our reservation specialists are well versed on all our villas, however in the unlikely event they cannot answer your question immediately they will endeavor to respond as quickly as possible.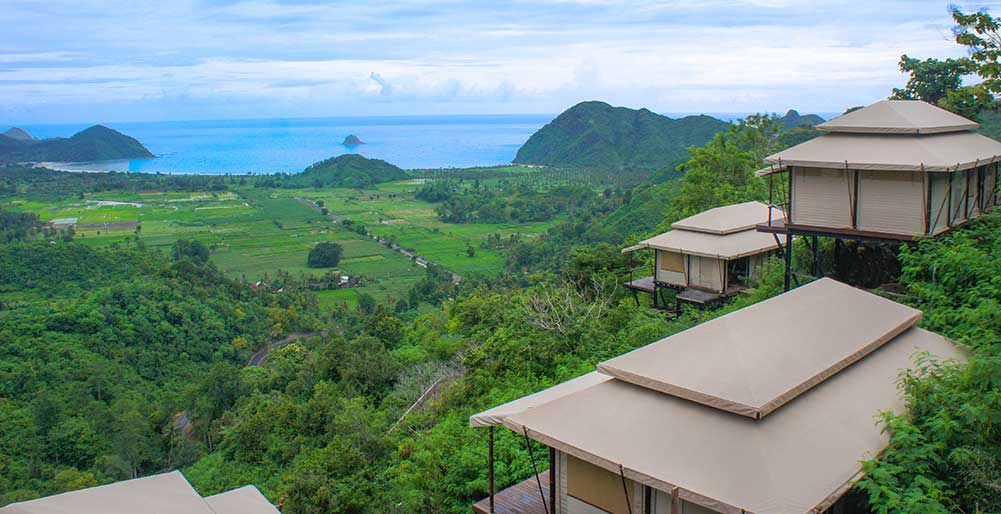 Selong Selo's luxury tents, the Kemah Collection, bring the comfort and amenities of a luxury hotel into the great outdoors. You now have the unique opportunity to experience the nearby thrills, sights and adventures of South Lombok and the surrounding beauty of nature, while not having to forgo comfort, style, first-class services and amenities in your plush accommodation.
A unique living concept, these glamorous tented villas integrate their natural surroundings with the ultimate luxury amenities. The Kemah Collection expresses a contemporary design language yet evokes a sense of camping in the wild (albeit in luxury). The beautifully designed Kemah villas are fully equipped with all modern facilities such as air conditioning, plumbing, luxury furnishings and fixtures. The spacious studio designs will have you enjoying the breathtaking views and sunsets overlooking Lombok's most beautiful bay.
Sink into your plush bed as you take in the jungle views around, or dip a toe in your private plunge pool. Complete with hot water showers and an outdoor deck for evening chats, this is the last word in 'glamping' holidays. Perfect for those who wish to experience the joys of camping or safaris, without letting go of luxurious indulgences.
Selong Selo Resort & Residences is a hillside haven with an emphasis on wellness, adventure and world-class dining. A sanctuary in beautiful Lombok where you can let go and be looked after by the ever-smiling staff. Cocoon yourself amidst nature and witness its magic as you give in to its charms.
While staying at these luxury tents, you will also enjoy access to all resort facilities such as the ocean-view restaurant, lounge, BBQ area, spa, pool, room service, 24-hour security and shuttle service to the beach.
Note: Kemahs are located on a steep forested area of the resort. Entry is via pedestrian access only and requires guests to ascend and descend multiple steps on both entry and exit.

Read more
Back to top