Request Online Inquiry
If you require any further information please do not hesitate to ask. Our reservation specialists are well versed on all our villas, however in the unlikely event they cannot answer your question immediately they will endeavor to respond as quickly as possible.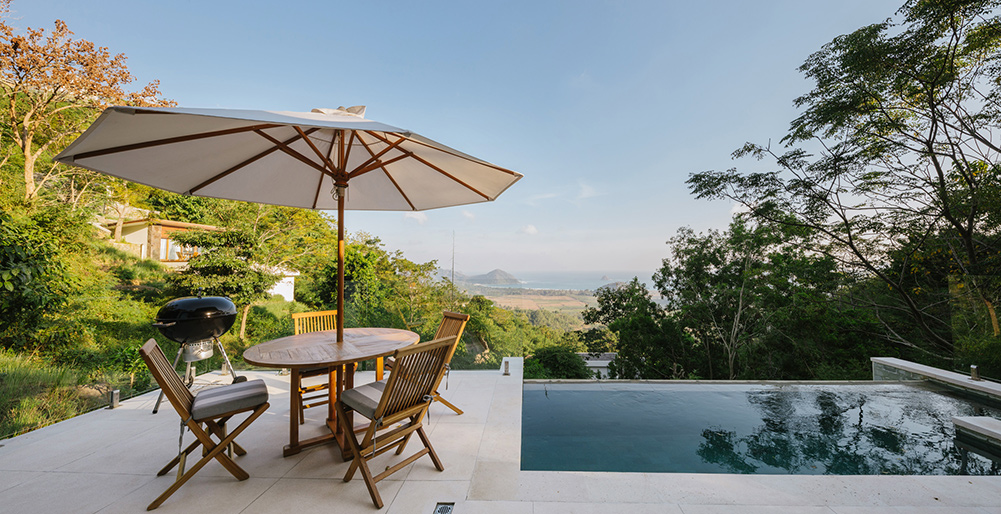 Selong Selo's stylish one-bedroom villas offer privacy and a sense of homeliness. A beautiful private infinity pool dominates the outdoors, with a pool deck and casual seating to enjoy the jungle's flora and fauna around. Built into the hillside, the deck is cleverly positioned to offer privacy as well as fabulous views.
A comfortable living room with sofa seating and a flat-screen TV is ideal for chatting up a storm, hands wrapped around a steaming cup. One corner of the living room is a kitchenette with complimentary tea and coffee making facilities. The refrigerator is well-stocked with drinking water, a complimentary bottle of milk and other chargeable mini-bar items. The master bedroom and the living room have sliding glass doors in front, allowing you to enjoy the stunning ocean views. A cosy children's bedroom is tucked into the villa, with either a single bed or bunk beds.
You are spoilt for choice at Aura, the in-house restaurant within the estate, which serves delicious Indonesian local fare as well as western classics. Sip on a cocktail as you relax in the open-sided pavilion, gazing at the sky changing colours at sunset.
Daily housekeeping keeps the villa in order and evening turndown service is included. Living at Selong Selo gives you the best of both worlds – a personal luxurious home to settle into as well as the comfort of facilities like room service, restaurant dining and housekeeping.
A shuttle is available at pre-designated timings, should you want to head down to the beach. The little C-shaped cove that you may have stared at from your villa is, in fact, Selong Belanak Beach, one of the prettiest white sand beaches in the country. Thankfully, the beach, much like the area around the estate, has a forgotten-world feel, content in the lack of crowds and cacophony that comes with them. It is also one of the best surfing spots for beginners.
Read more
Back to top