Request Online Inquiry
If you require any further information please do not hesitate to ask. Our reservation specialists are well versed on all our villas, however in the unlikely event they cannot answer your question immediately they will endeavor to respond as quickly as possible.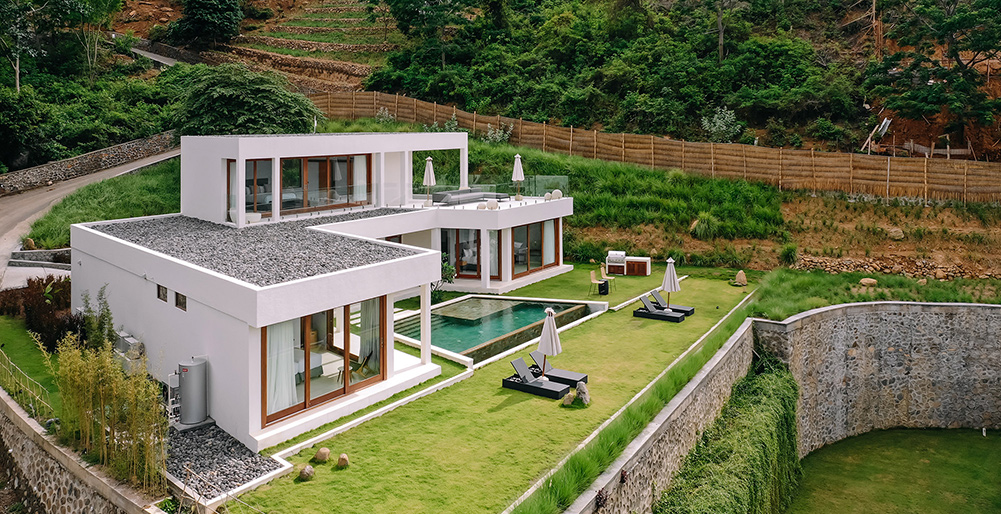 Nestled into the lush jungles of South Lombok, Selong Selo Resort & Residences is the last name in luxurious living. The four-bedroom villas are spread all over the estate, hidden into nooks within the hills, affording you complete privacy yet allowing you to admire the magic of the jungle's flora and fauna.
The villas have been built in a way that each has breathtaking views of the sea and the green hills around. They offer a sense of being far away from the worries of the world and the stresses of daily life. They are but an escape into a world where there is only the sun, the gentle breeze and the vast blue sea.
Each villa has a private infinity pool, perfect for that Instagram-worthy picture. The eye plays tricks and the blue waters of the pool seem to flow into the sea beyond. Pool decks and lawned terraces offer you the opportunity to sit back and gaze as nature paints a colourful canvas.
The villas have a minimum of one master bedroom with a king-sized bed and well-appointed guest bedrooms. Daily housekeeping services keep the villas in pristine condition. Groups of friends will love the four-bedroom villas, especially if traveling with children. With ample space to run around and entertainment options aplenty, the villas are self-contained with a well-equipped kitchen.
The estate has an in-house restaurant, Aura Lounge and Bar, which serves delicious international comfort food and elevated local fare. Room service facility is offered, should you prefer to dine in the villa.
With postcard-worthy views, the villas are perfect for intimate weddings with up to 30 guests. Should you prefer to have a beach wedding, that can be arranged as well.
The white sandy beach of Selong Belanak is a favourite with surfers and accessible by complimentary shuttle. Further away, Kuta offers an array of dining options, from elevated vegetarian fare to casual Australian dining.
With mesmerising views, sophisticated interiors and spacious living areas, Selong Selo's four-bedroom villas are the perfect escape to a forgotten world.
Read more
Back to top