Request Online Inquiry
If you require any further information please do not hesitate to ask. Our reservation specialists are well versed on all our villas, however in the unlikely event they cannot answer your question immediately they will endeavor to respond as quickly as possible.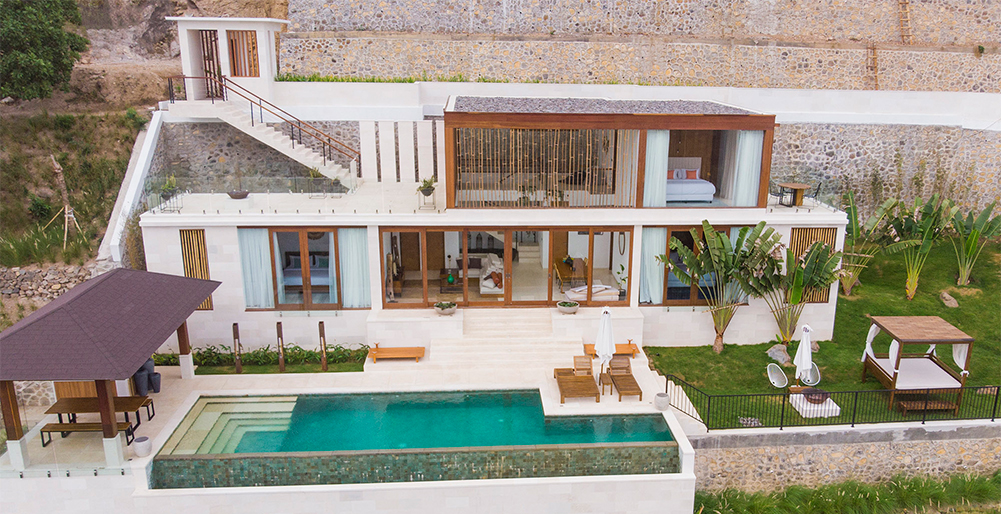 Commanding arresting views of the green valley, blue sea, and lush jungle around, Selong Selo's three-bedroom villas are perfect for a group of friends or families looking for a classy and luxurious holiday home surrounded by nature.
Tucked into crevices within the hills, each villa has unobstructed jaw-dropping views. You can spend hours just watching the sea change colours as the sun shifts. From turquoise blue to bejewelled green, the water seems to have life of its own.
If the white sandy beach proves to be too tempting, hop on to the complimentary shuttle which plies to and fro at scheduled timings. Selong Belanak Beach, with its champagne white sand and gentle waves is said to be the best on the island for beginner surfers.
The villas are elegantly appointed and built on multiple levels, to afford privacy and space. Each villa has its own private infinity pool, perfect for those postcard-worthy photographs. It is the ideal venue for intimate wedding ceremonies with up to 30 guests.
Though the villas contain a fully equipped kitchen, you can choose to order room service or dine at the spectacular in-house restaurant, Aura Lounge and Bar. Fresh locally sourced ingredients are married with imported goods to create tasty international dishes with a local flair.
The family-friendly villas are kept in order by the friendly housekeeping staff. A butler is always available for any query or arrangement to be made.
Selong Selo offers an indulgent and luxurious holiday, away from the hustle-bustle of city life. A secluded corner of the world where time is measured merely by the colour of the sky and your thoughts are only interrupted by the sound of chirping birds and tropical crickets.
Read more
Back to top