Request Online Inquiry
If you require any further information please do not hesitate to ask. Our reservation specialists are well versed on all our villas, however in the unlikely event they cannot answer your question immediately they will endeavor to respond as quickly as possible.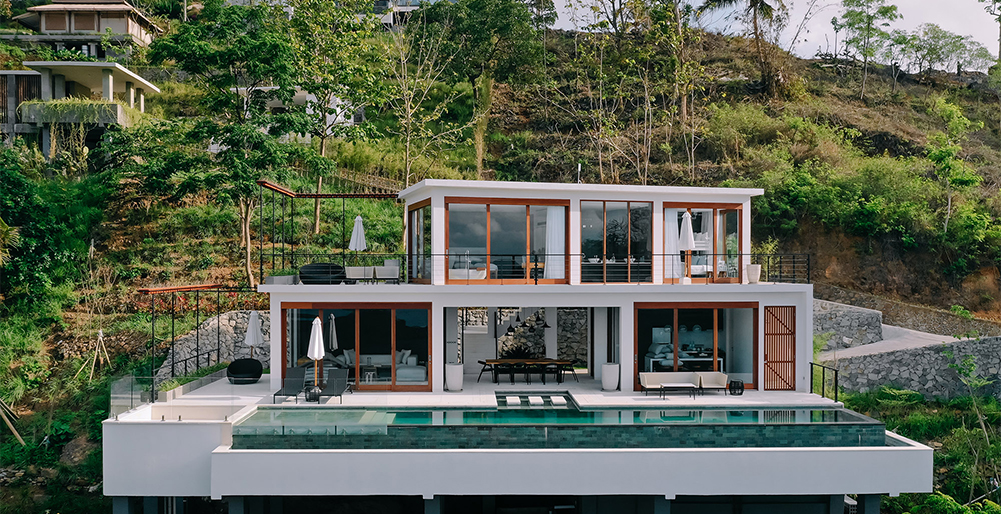 Built into the hills, Selong Selos's two-bedroom villas offer a contemporary stay in luxurious settings. The villas are all designed to maximise on the views of the bay below, a carpet of green paddy fields merging into the aqua blue ocean, separated only by a thin white line of sandy beach and surf.
Each villa boasts of a private infinity pool and a pool deck with loungers, perfect for your morning cuppa as you wake up to the sound of water, the views of the ocean and a sense of tranquility.
The two bedrooms are well spaced out, with the living and dining area between them. If you're travelling with children or elderly parents, you will appreciate the privacy that the design allows. The villa has a well-equipped kitchen, should you wish to prepare a meal for the family.
Though the villas are self-catering, you also have the option of ordering room service or dining at the estate's restaurant, Aura Lounge and Bar. Built as the focal point of the property, the restaurant is housed within an open-pavilion and has alfresco seating.
Daily housekeeping keeps the villas in pristine condition and the refrigerator is stocked with water and milk. Other mini-bar items are available on chargeable basis.
The contemporary design of the villa integrates with local sensibilities; adorned with art and furniture from the region. The overall effect is that of quiet sophistication.
With a bird's eye view of the bay and the valley below, Selong Selo is merely 15 minutes away by shuttle from Selong Belanak Beach. The gentle waves are perfect for beginner surfers and a multitude of casual dining options make the white sandy beach a great place to head to for sunset.
Selong Selo is the last name in luxury, secluded and tranquil, seemingly shielded off from the world and the inevitable stresses of city life.
Book now to avail our introductory rates, valid for the soft launch of Selong Selo Resort & Residences. Kindly note that parts of the estate are currently under construction and there may be visual or audible disturbances, although minimised due to its vast acreage spread over the hillside. A wonderful kids club as well as a wellness centre and yoga sala will be completed soon and a picturesque beach club is slated for completion by early 2020.
Read more
Back to top