Request Online Inquiry
If you require any further information please do not hesitate to ask. Our reservation specialists are well versed on all our villas, however in the unlikely event they cannot answer your question immediately they will endeavor to respond as quickly as possible.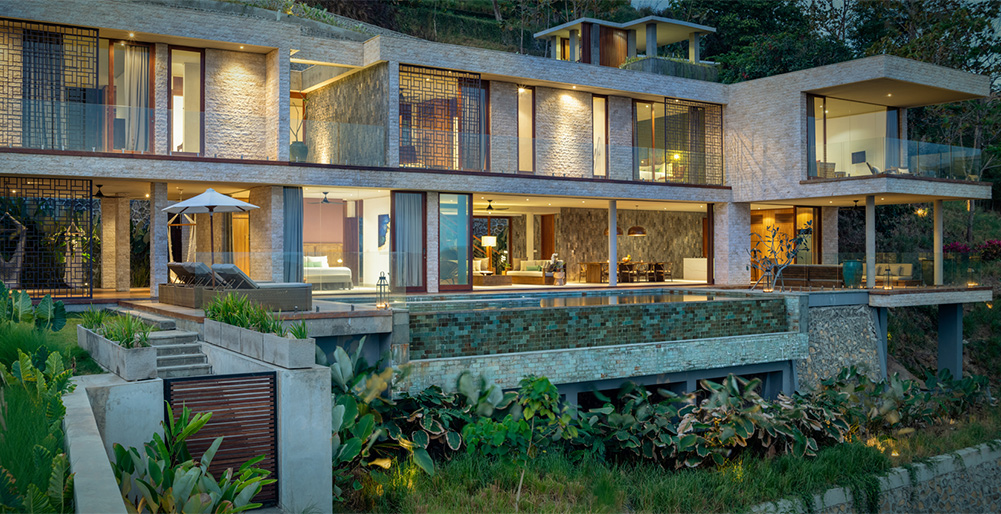 The ultimate indulgence, Selong Selo's seven-bedroom villa is the crown jewel of the estate. Nestled into a private enclave, the villa complex is made up of three separate villas – one grand five-bedroom with two adjoining studio units. The villa can be rented in its seven-bedroom entirety or as a five bedroom home, with the two studios being rented out separately. Enjoy a back-to-nature, luxurious living experience, as you soak in the jungle's sights and sounds and tune out city life.
Designed by award winning architects, the villa integrates contemporary design with traditional elements, featuring natural timber and stone. Spectacular living areas with floor-to-ceiling windows and glass sliding doors blur the boundaries between outdoor and indoor living.
The well-equipped open-plan kitchen has an adjoining patio with relaxed seating, perfect for languid evenings spent sipping cocktails and munching on snacks. The main swimming pool has sunken bar stools at one end, positioned for the best ocean views. A lovely wooden deck is resplendent with four hammocks, to bring out the child in you.
The master bedroom, two guest bedrooms with a connecting terrace and one children's room are all housed on the upper level of the main villa. Children will love their room with six bunk beds and an ensuite bathroom with multiple rain showers. The fifth bedroom is downstairs, on the living level, and opens up directly on to the pool deck.
Two separate self contained studio units sit above the main building and have individual private pools. These are perfect for couples without children who prefer to retreat to a peaceful haven.
Housekeeping attendants keep the villa in order and in-room dining is available. Aura Lounge and Bar serves a range of international and local delicacies as well as an array of refreshing cocktails. The white Selong Belanak Beach is accessible by shuttle and is said to be the best on the island for beginner surfers.
Selong Selo's seven-bedroom villa is what dreams are made up of – with panoramic views stretching till infinity and even luxury conceivable, it is most understandably, Lombok's most sought-after residence.
Read more
Back to top