Request Online Inquiry
If you require any further information please do not hesitate to ask. Our reservation specialists are well versed on all our villas, however in the unlikely event they cannot answer your question immediately they will endeavor to respond as quickly as possible.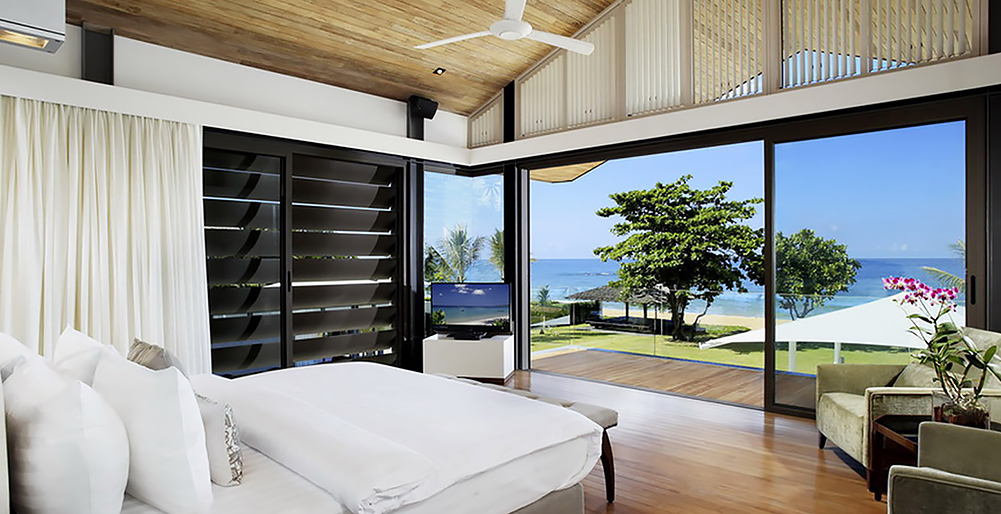 With its endless space, chic furnishings, contemporary open-plan design, vast private swimming pool and spectacular beachfront location, this six-bedroom villa to the north of Phuket Island is befitting royalty.
Villa Cielo melts into the ocean and sunset views at the private Sava Beach Villas estate, a peaceful tropical paradise on the near-deserted, 10-kilometre-long Natai Beach, under half an hour's drive from Phuket airport. A luxury destination for families and groups, this sleek escape offers all the modern trappings of a dream home-away-from-home, including a pool table, bar, barbecue, state-of-the-art kitchen and home theatre system. The villa's stunning beachfront setting also makes an idyllic venue for a wedding or other special event.
Looking out towards the horizon from one end of the black-tiled 25-metre infinity pool, it's hard to tell where the sky begins and the sea ends. Pops of colour offset the villa's natural theme of white and timber, which flows through to everything from the spacious bedrooms to the chic living room, sun deck and canopied poolside party and dining area.
A gazebo lies to one side of the garden fronting the beach, the perfect spot for an afternoon nap, yoga, meditation or simply to gaze at the gentle ebb of the waves. Equipped with a TV/family room and a wide lawn for outdoor play, this villa has plenty of tricks up its sleeves and kids are in no danger of getting bored. Cielo guests also have complimentary access to the estate's well-equipped gym, where they can enjoy workouts with a view.
Guests are royally looked after by a villa manager, two housekeepers and a Thai chef specialising in local seafood dishes, as well as western cuisine and kids menus.
Though Villa Cielo is within an easy drive of the buzz of Phuket's popular beach resorts and under half an hour away from Phuket airport, this tranquil spot on Natai Beach couldn't feel more exclusive. And with five star resorts The Aleenta and Iniala Beach just along the sands, guests will find some excellent dining options if they do want to venture beyond the comfort of their villa.
Click on these links to find out more about seven-bedroomed Villa Tievoli, six-bedroomed Villa Amarelo, Villa Essenza and Villa Malee Sai, and four-bedroomed Villa Roxo and Villa Aqua to see how the Sava Beach Villas can be combined to meet your holiday requirements.
Read more
Back to top