Request Online Inquiry
If you require any further information please do not hesitate to ask. Our reservation specialists are well versed on all our villas, however in the unlikely event they cannot answer your question immediately they will endeavor to respond as quickly as possible.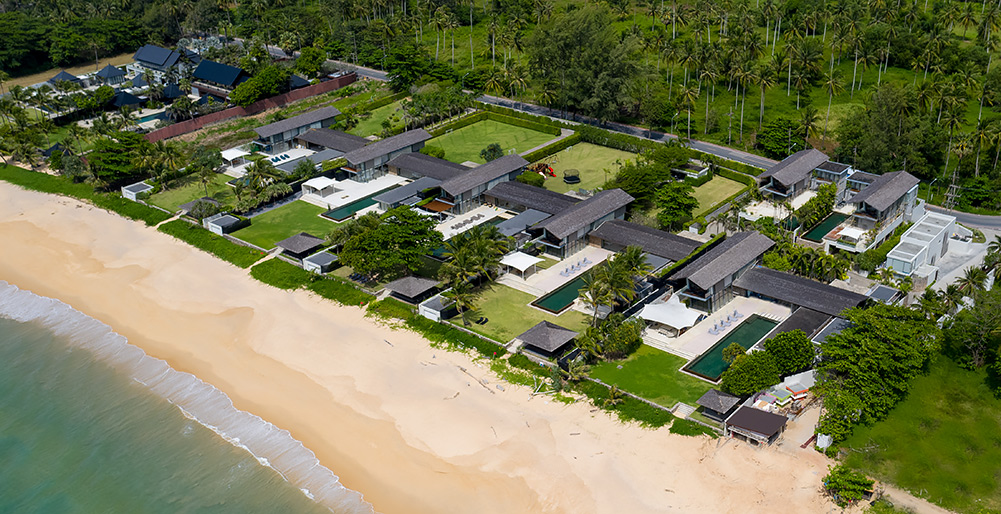 An exclusive estate comprising seven luxury beachfront villas, Sava is a private playground located an hour's drive north of Phuket on Thailand's secluded Natai Beach.
Each of the Sava villas boasts an ultramodern design with contemporary interiors, floor-to-ceiling windows, an open-plan layout, infinity pools and plush indoor and outdoor lounging areas.
Ideal for hosting special events, family gatherings or group holidays, the villas range in size and feature between four and seven bedrooms. Each villa has a TV room or a media corner, furnished poolside sun deck, barbecues and a canopied outdoor dining area. Some of the larger villas also come equipped with an in-house spa and beauty salon, games room with a pool table, garden or beachfront gazebos, as well as wide, manicured lawns.
While the chic holiday homes on this luxury beachside estate share access to a gym, there's also 200 metres of white sand frontage and sparkling seas within which to keep active; ideal for swimming, kayaking and stand-up paddleboarding.
Sava Villas are fully staffed, each with its own private chef, housekeeping team and a villa manager. Drivers, babysitters, spa therapists and yoga instructors can be arranged on request at an additional cost.
Click on these links to find out more about seven-bedroomed Villa Tievoli, six-bedroomed Villa Amarelo, Villa Cielo, Villa Essenza and Villa Malee Sai, and four-bedroomed Villa Roxo and Villa Aqua to see how the Sava Beach Villas can be combined to meet your holiday requirements.
Read more
Back to top