Request Online Inquiry
If you require any further information please do not hesitate to ask. Our reservation specialists are well versed on all our villas, however in the unlikely event they cannot answer your question immediately they will endeavor to respond as quickly as possible.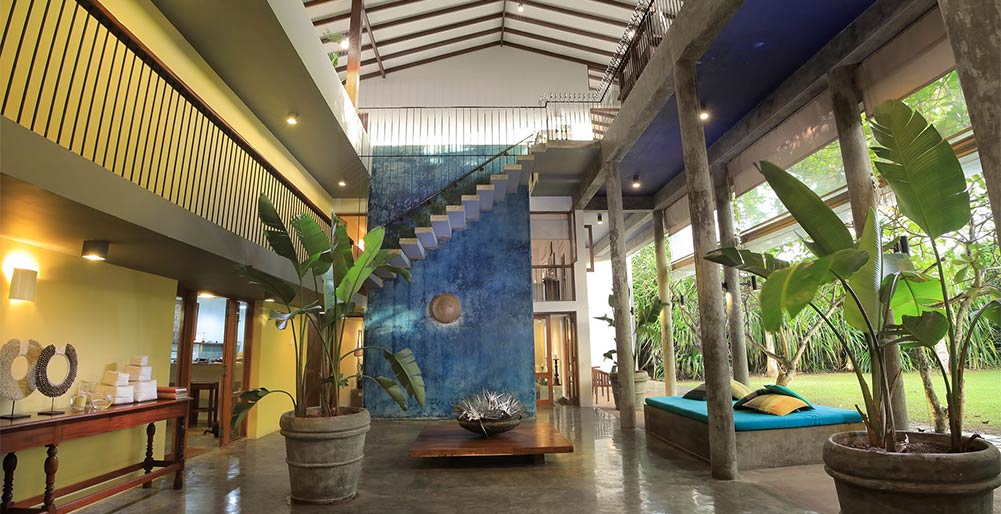 Saffron & Blue had its name inspired from the coral-coloured sands of Thambapanni Beach and clear azure skies. True to its name, this 4 bedroom elite haven in Kosgoda, Bentota is a mixture of hues and flavors – a reflection of its owner's exquisite taste and wealthy experience. Ranil de Silva, an Ad man founding Leo Burnett, Sri Lanka's largest advertising agency, has successfully expressed his likes, his inspirations, his description of the places he has seen and his multi-faceted creativity through the personal handpicking of every single piece of furniture in his plush holiday home. This complemented the villa design of Channa Daswatte, a leading renowned Sri Lankan architect whose work extends to the sub-continent. He is a protégé of the late Geoffrey Bawa, the world-famous architect himself.
The villa boasts huge spaces, modern facilities, jacuzzi and outdoor pool, mezzanine area in the rooms and fine art collection. In-villa staff provides for every guest's needs, from housekeeping services to special dietary requirements!
At Saffron & Blue, food is very important. The resident chef and his assistant were personally trained by celebrity Chef Koluu. Planning meals is extremely thrilling knowing that an amazing chef is there to fix one's cravings. Barbecue party? No problem! The villa has an outdoor barbecue facility that is enjoyable on a moonlit night, whole-day swimming in the beach or pool parties. Lunches and more formal dinners may be served from the dining room with a table that hosts up to 12 guests. The daily complimentary breakfast may be served from the semi-outdoor nook that features a cement table and wooden barstools.
Though utterly tempting to stay in the comfort of the villa confines, guests will find it delighting to visit the local markets selling all kinds of delicacies, spices and fresh produce. Experience turtle hatchery, wide beaches, beautiful bays and enchanting reefs of Kosgoda.
Read more
Back to top