Request Online Inquiry
If you require any further information please do not hesitate to ask. Our reservation specialists are well versed on all our villas, however in the unlikely event they cannot answer your question immediately they will endeavor to respond as quickly as possible.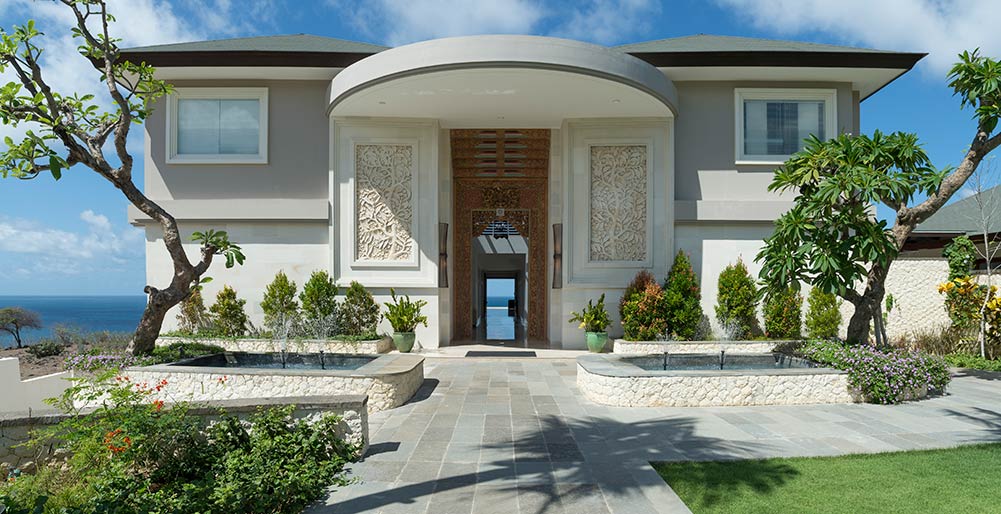 The Pala is one of four exceptional villas that make up the Pandawa Cliff Estate – a hidden paradise located high above the ocean on Bali's southernmost tip.
As the estate's name suggests, the villas are positioned on the clifftop overlooking the golden sands of Pandawa Beach. This is spectacular, unadulterated Bali at its best: far from the hoi polloi of Seminyak and Kuta, yet less than half an hour's drive from the airport and many of Bali's top attractions, including the revered sea temple of Uluwatu and the fine dining establishments of Jimbaran and Nusa Dua.
Together, The Pala, Villa Rose, Villa Markisa and Villa Marie offer a total of 21 bedrooms, capable of sleeping 42 adults. This, coupled with the superbly landscaped clifftop gardens, extensive decked areas, huge team of professional yet personable staff and purpose-designed guest facilities, make The Pandawa Cliff Estate a wedding and special event venue par excellence. The four villas also share a sports centre with full-size tennis court, squash court, gym and spa.
The Pala is a truly magnificent six-bedroomed property with an ambiance that is regal and yet intimate. An extraordinary choice of elegant living space is positioned to the front of the villa, opening to the pool, gardens and ocean. Four equally sized and very private ensuite guest rooms are each divided by sliding screen doors to create either a private lounge or children's bedroom. The fifth guest room lies below the villa's luxurious second-floor master suite, which grants its occupants an ocean and beach panorama that defies description. No less than four dining areas, a spa treatment room, fitness room and children's playroom contribute to The Pala's many spaces for ultimate holiday rest and relaxation.
A skilled private chef heads the estate's staff kitchen, and he and his team prepare and serve a wide range of gastronomic delights from a restaurant-style menu. The villas are neatly maintained by a small army of housekeepers, gardeners and pool attendants, and guarded by a team of diligent security staff, while two seven-seater cars with drivers are on standby for guests who wish to explore this delightful corner of the island of the gods.
Read more
Back to top