Request Online Inquiry
If you require any further information please do not hesitate to ask. Our reservation specialists are well versed on all our villas, however in the unlikely event they cannot answer your question immediately they will endeavor to respond as quickly as possible.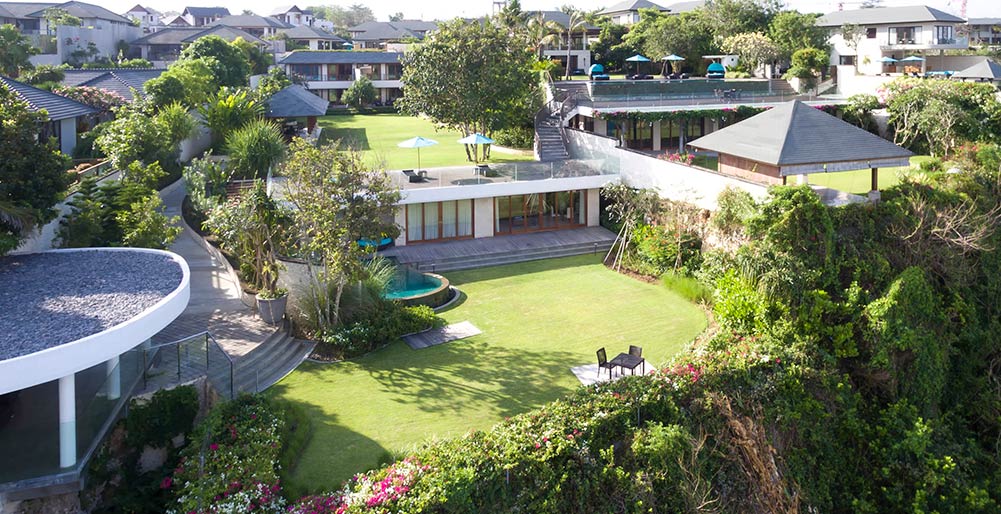 The Pandawa Cliff Estate is a stunning collection of four exceptional private villas that may be combined to sleep up to 42 guests. Exclusively located high above the ocean on Bali's southernmost tip, the estate's emerald lawns, panoramic sea views and 21 bedrooms make this one of Bali's most sought-after wedding and special events venues. Together, the villas offer six swimming pools, a full sports centre, a spa and multiple living and dining areas. Whether booking two or all four villas, families, groups of friends and those looking to celebrate in style will find Pandawa Cliff Estate hard to beat.
As the estate's name suggests, the villas are positioned on a cliff-top overlooking the golden sands of Pandawa Beach. This is spectacular, unadulterated Bali at its best: far from the hoi polloi of Seminyak and Kuta, yet less than half an hour's drive from the airport and many of Bali's top attractions, including the revered sea temple of Uluwatu and the fine dining establishments of Jimbaran and Nusa Dua.

Pandawa Cliff Estate's superbly landscaped cliff-top gardens, extensive decked areas, huge team of professional yet personable staff and purpose-designed guest facilities, not to mention a splendid amphitheatre-style garden space, make this a wedding and special event venue par excellence. The estate also offers a sports centre with full-size tennis court, squash court, gym and spa, as well as a dedicated playroom for the kids.

A skilled private chef heads the estate's staff kitchen, and the team prepares a wide range of gastronomic delights from a restaurant-style menu. The villas are neatly maintained by a small army of housekeepers, gardeners and pool attendants, and guarded by a team of diligent security staff, while up to three seven-seater cars with drivers are on standby for guests with an urge to explore.

Click on these links to find out more about six-bedroomed The Pala, four-bedroomed Villa Rose, six-bedroomed Villa Marie and five-bedroomed Villa Markisa. Or visit the Pandawa Estate website to see how the villas can be combined to meet your holiday requirements.

Read more
Back to top