Request Online Inquiry
If you require any further information please do not hesitate to ask. Our reservation specialists are well versed on all our villas, however in the unlikely event they cannot answer your question immediately they will endeavor to respond as quickly as possible.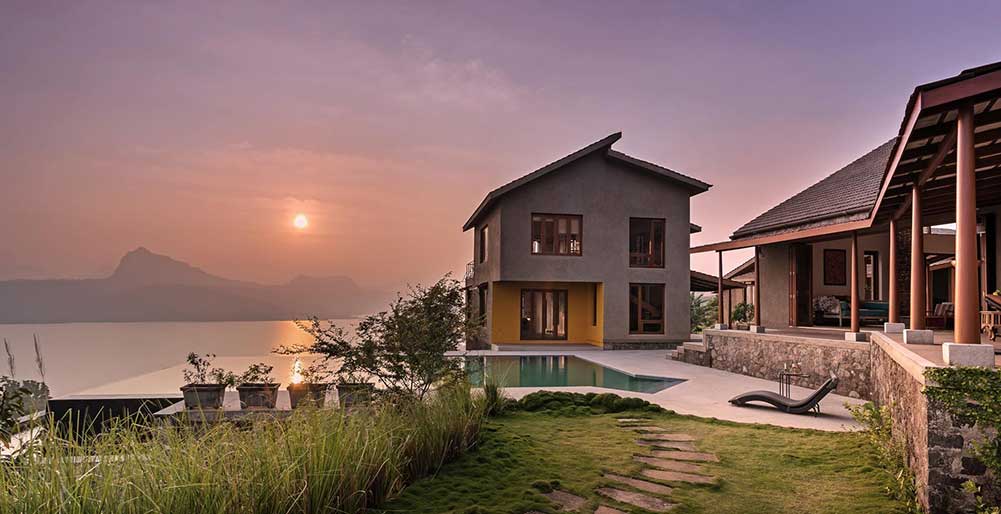 As the name suggests, peace and tranquillity await you at Om Anantha. Overlooking the Sahyadri Hills and the serene Pawna Lake, Om Anantha emerges inconspicuously with earth-toned structures. The villa seems to invite endless water views in from every corner with glass walls and seamless double-height windows framing these wondrous views.
Settle into this marvellous home that sits on the banks of an enchanting water body bordered by hills. Follow the meandering terrain through pebbled lawns into your four-bedroom holiday home. Relish the privacy that you may take for granted here, with independent living and bedroom blocks tucked into the estate. Take a dip in the splendid infinity pool and allow your surroundings to take your breath away.
Om Anantha is a sonnet of contentedness and composure. The living and dining areas feature tall ceilings, allowing the sun to intermingle and cast beautiful shadows throughout the day while offering picture-perfect views of the outdoors. With open-air bathrooms, and beautiful decks and patios, the bedrooms are perfect for those lazy, breezy afternoons.
Unwind and disconnect from city life at Om Anantha as you bask in the peaceful atmosphere and make the most of the villa staff's stellar service. And if you're looking for some excitement, you can head out to conquer the nearby forts of Tungi, Tikona or Lohagad. The Villa Manager will be happy to arrange for transport on a chargeable basis and take care of any other requirements that you may have.
Read more
Back to top