Request Online Inquiry
If you require any further information please do not hesitate to ask. Our reservation specialists are well versed on all our villas, however in the unlikely event they cannot answer your question immediately they will endeavor to respond as quickly as possible.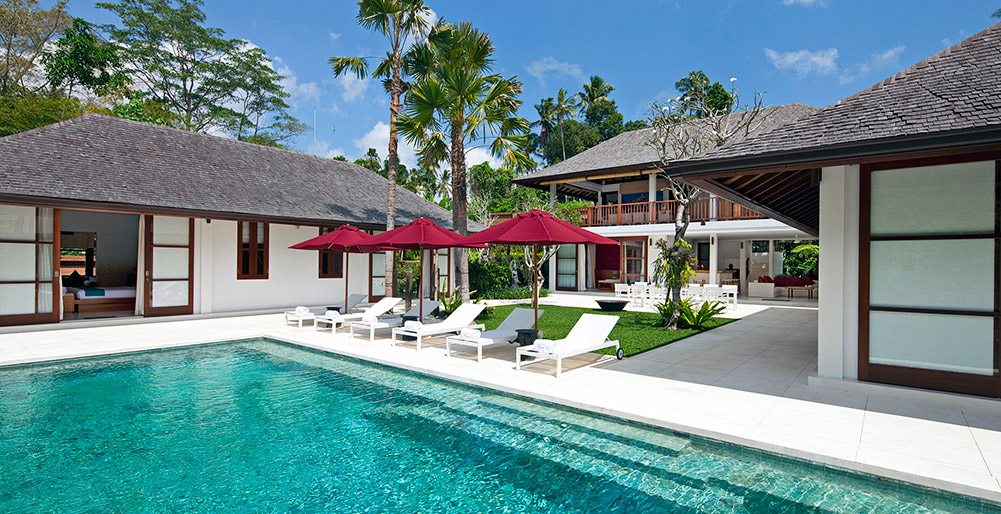 Nyanyi Villas is a serene riverside sanctuary, comprising two independent, neighbouring villas built into the banks of the Yeh Penet River in Bali's beautiful and verdant Tabanan regency. Against a gorgeous backdrop of towering trees and thickets of giant bamboo, guests will be serenaded by the song of the river and the sounds of nature. Here, iridescent blue kingfishers, monitor lizards and other creatures are commonplace.
Together, the two Nyanyi villas – five-bedroomed Villa Atacaya and four-bedroomed Villa Iskandar – offer a choice of four, five, eight or nine-bedroom rental options. As well as a shared driveway, parking area and a 400-square metre space when both villas are booked together.
Both designed over three levels, these elegant contemporary villas each offer plenty of living space, indoor and outdoor dining areas, gardens and sunny pool decks with private 15-metre swimming pools. A choice of balconies, sun decks and riverside pergolas provide endless options for relaxation, massage and yoga. Villa Atacaya also boasts a open-sided lounge/bar area adjacent to an air-conditioned TV room.
Complemented by sophisticated facilities, caring staff and superb service, Nyanyi Villas are great for families and groups of friends who are looking for a luxurious close-to-nature escape.
This peaceful out-of-town location feels like it is miles from anywhere but is actually only 13 kilometres from the restaurants, nightlife and shops of Petitenget and Seminyak. A car and driver is available to guests at each villa for up to 8 hours a day (at a special rate), to whisk you off for a night on the town or for a visit at the picturesque Tanah Lot sea temple.
Click on these links to find out more about five-bedroomed Villa Atacaya and four-bedroom Villa Iskandar, and to see how the villas can be combined to meet your holiday requirements.
Back to top