Request Online Inquiry
If you require any further information please do not hesitate to ask. Our reservation specialists are well versed on all our villas, however in the unlikely event they cannot answer your question immediately they will endeavor to respond as quickly as possible.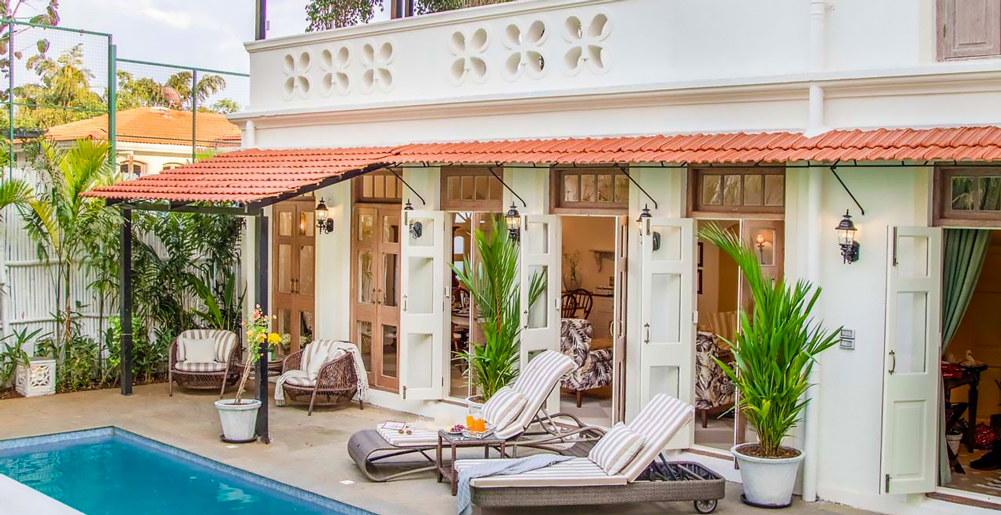 Weaving together contemporary and timeless design influences, the Monforte villas evoke a sense of luxury and nostalgia all at once. Located in a secluded part of the trendy area of Assagao, this gated villa community reflects the closely-knit Goan Portuguese culture and is a great option for large groups holidaying in Goa.
The two-storied Monforte Villa H preserves the sanctity and charm of Mediterranean architecture with its arches, open spaces and earthy-toned interiors. The cosy living and dining area cocoons you in air-conditioned comfort, opening out onto the gorgeous private pool deck for breezy evenings. However, you are spoilt for choice here – should you dine alfresco at the six-seater outdoor table by the pool or head upstairs to the charming terrace lounge replete with an outdoor bar, sofa seating and an Indian-style lounging charpoi (bed).
Retreat to one of the three ensuite bedrooms when you seek a bit of privacy. Fitted with modern amenities and classy furniture, the rooms will make you feel right at home. Two bedrooms feature double beds and kids will love the third room which has twin beds in bright hues of blue.
If you'd like to explore the area around, Assagao has it all— from peaceful churches and colourful Portuguese mansions to quaint little cafés and busy shops. The Villa Manager will be happy to take care of all your logistical needs such as arranging transport should you wish to go sightseeing or beach hopping, booking you a spa treatment to enjoy within the villa premises, or hiring a cook so your group can relish lavish home-cooked meals whenever your heart desires. Whether you're a small family or large group spread across different villas within the Monforte complex, your time at Monforte is sure to be special and unforgettable.
Read more
Back to top