Request Online Inquiry
If you require any further information please do not hesitate to ask. Our reservation specialists are well versed on all our villas, however in the unlikely event they cannot answer your question immediately they will endeavor to respond as quickly as possible.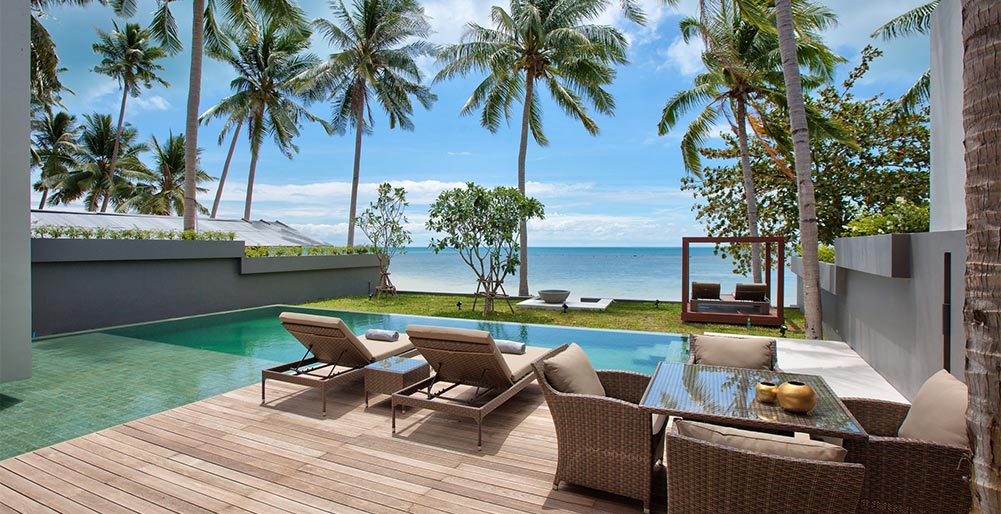 Villa Neung redefines modern beachfront luxury living on one of Koh Samui's most picturesque palm-fringed beaches. Located at Laem Noi on the island's north-west coast, just 30 minutes' drive from the international airport, Villa Neung is part of a prestigious and secure community of three-bedroom beachfront holiday villas.
The absolute beachfront villa has a T-shaped infinity pool with loungers scattered about its deck. A lawned terrace separates the pool from the sandy beach and eventually spills out onto the golden sands, where an idyllic swing hangs from a tree, and a lovely deserted beach stretches out on both sides.
Contemporary in design and thoughtful in its layout, the villa features an open-sided living pavilion, furnished with a comfortable U-shaped sofa facing a flat-screen TV, and a dining table for up to eight guests. A fully-fitted, western-style kitchen and breakfast bar runs along the other end. The living area steps down onto a deck that hugs the swimming pool, dotted with casual seating and sun loungers.
The lawned garden by the beach has an open sala at one end- an unbelievable spot for relaxing massages, with the starlit sky above, greenery around and the gentle sound of the breeze and waves breaking on the seashore as background score.
Literally translated as Villa One, Villa Neung's three bedrooms are stylish, with wooden flooring and eclectic light installations hanging from the high ceilings. Ensuite bathrooms in the two guest suites are finished in grey terrazzo and fitted with vanities and walk-in rain-showers, while the bathroom in the master suite also features a grand freestanding terrazzo tub. Sonos sound-system, designer furniture and high-end bathroom amenities all contribute to this five-star holiday experience.
A friendly villa manager, highly skilled cook and team of helpful staff are on hand to take care of your every need. They will prepare and serve meals and can organise spa treatments, candlelit dinners on the beach and even yoga instructors, should you so wish. For boating, island tours or other activities in and around Koh Samui, get in touch with the Elite Concierge and they will ensure your holiday is a memorable one.
Villa Neung is ideal for families or a small group of friends, looking for a stylish tropical beachfront holiday away from the crowds. It is all about the sand, the sea and the stars.
Back to top